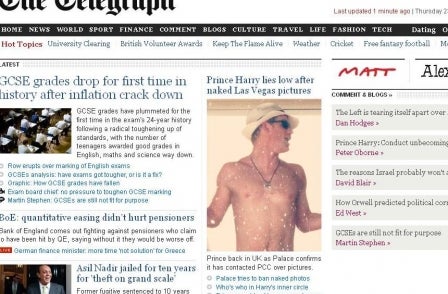 The adoption of a metered paywall by Telegraph Media Group does not appear to have had any major effect on the site's overall traffic.
The paywall went live in March and ABC-audited national newspaper website figures for April have now been released. This was the first full month where the metered paywall was in operation.
The new figures show overall traffic for Telegraph.co.uk up both month on month and year on year in April.
Telegraph.co.uk remained the UK's third most popular national newspaper website with just over 3m unique browsers* a day (up 5.8 per cent month on month).
The paywall limits readers to 20 free articles per month, after which they are invited to take out a free trial and then a subscription (prices start from £1.99 a month).
The ABC figures suggest that the 20-article limit is set high enough for the paywall to have very little impact on overall site traffic. This means that Telegraph Media Group appears to be gaining the benefits of extra subscription income without sacrificing advertising income.
The Telegraph today reduced the meter on the international version of its website from 20 free articles to 10. The Telegraph claims that 90 per cent of readers who take up a free trial subscription after reaching the limit go on to take out a paid-for one.
Meanwhile, Mail Online remained the UK's most popular national newspaper website with 7.8m 'unique browsers' per day in April and 119m over the course of the whole month. Mail Online said that 16 April was its most successful day ever, with 9.6m browsers accessing the site.
Mirror Group was the fastest-growing UK national newspaper website in April, up 78 per cent year on year to 1.2m browsers a day. Its growth rate far outstripped that of The Sun (up 11 per cent to 1.7m browsers). The Sun is set to go behind a £2-a-week paywall as of 1 August.
Looking at the monthly ABC totals, Mail Online reached 119m 'browsers', with Guardian.co.uk in second place on 82m, followed by Telegraph Media Group on 59m, The Sun (27.7m), Mirror Group (25.1m), The Independent (24.3m), Metro (9.8m)and the Evening Standard (3.9m)
*ABC counts 'unique browsers', which are different devices counted by publishers' servers. So they could count the same person logging on with different devices, and more than one person using the same device. The monthly totals are likely to be inflated by the fact that some devices will be counted more than once if 'cookies' are deleted.
UK national newspaper website figures for April 2013 (source ABC)
Name of site: average daily browsers, change year on year
MailOnline:

7,833,182, up 39 per

Guardian.co.uk: 4,771,866, up 23.1 per cent
Telegraph.co.uk: 3,041,594, up 29.8 per cent
The Sun

: 1,698,572, up 11 per cent

Mirror Group Digital: 1,176,217, up 78 per cent
The Independent: 1,131,150, up 62.5 per cent
Metro: 406,187, up 38,5 per cent
Email pged@pressgazette.co.uk to point out mistakes, provide story tips or send in a letter for publication on our "Letters Page" blog