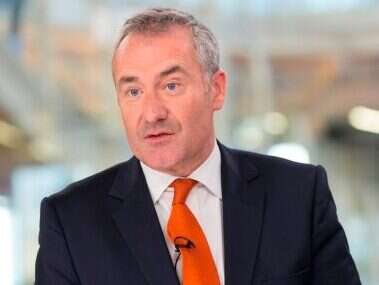 This pages rounds up all the latest developments about GB News in one place. Includes: Hiring and firing, latest ratings and other developments.
10/10/22: Monty Python star John Cleese is joining GB News in 2023, to host a regular show produced by Andrew Doyle. Further details of the show have not yet been announced.
Press Gazette has also published a comment piece by 25-year-old GB News royal reporter Cameron Walker about being thrown in the deep end for coverage of the Queen's death, and how his worries that the broadcaster would not be able to compete with the established channels proved unfounded.
1/9/22: GB News presenters Alex Phillips and Colin Brazier, who both joined the channel at launch, have left amid a shake-up of the daytime schedule in September 2022.
Ex-Labour MP Gloria De Piero, who has been with GB News since its June 2021 launch, will team up with ex-Sky News presenter Mark Longhurst on a new weekday show GB Newsday. She currently hosts The Briefing With Gloria De Piero on Mondays, Tuesdays and Thursdays between 12pm and 1pm.
Patrick Christys will move from co-hosting To The Point with Mercy Muroki on weekdays between 10am to 12pm, to host his own GB News Live programme in the late afternoons.
GB News commentator Calvin Robinson will present a new show,  Calvin's Common-Sense Crusade, on Sundays while married MP couple Esther McVey and Philip Davies will co-present a new Friday programme in addition to their Saturday 10am to 12pm slot.
GB News has also hired Telegraph assistant comment editor Olivia Utley to join its politics team in October. Utley already appears as a commentator on the channel.
Editorial director Mick Booker said: "Our strength as a small start-up is our ability to innovate and move quickly to stay ahead, keep growing and keep listening to our audience. Our new programming also leverages our
growing investment in newsgathering across England, Scotland, Wales and Northern Ireland."
Arlene Foster to lead Orange Parade commentary
14/6/22: GB News has said it will broadcast live from Northern Ireland's annual Twelfth of July  following the BBC's decision to drop live coverage.
GB News presenter and former First Minister of Northern Ireland, Dame Arlene Foster, who will lead commentary of the event, said she was "incredibly proud of GB News for stepping up to fill a void left by the national broadcaster."
She said: "One of the reasons I joined GB News was to bring a better understanding of Northern Ireland life and culture to a wider UK audience. GB News stands for inclusion, of all regional voices, and the Orange Parades are core to our voice in Northern Ireland."
GB News ratings versus TalkTV: One year on
Press Gazette has compiled a comprehensive round up of GB News audience data after its first year including social media platforms and comparisons with TalkTV.
One year milestone
The new chairman of GB News Alan McCormick has told staff they should "feel sincerely flattered" by the launch of TalkTV and other experimentation in the UK broadcast sector.
McCormick, who has become the new permanent chairman of GB News' parent company All Perspectives Ltd following the departure of Andrew Neil, also told staff GB News was "without doubt the most exciting media start-up in Britain for decades".
"Only a year ago, we were little more than a dozen staff with a lease on an empty basement. The speed of our growth has been astounding, and unparalleled," he said.
National anthem kicks off daily programming
GB News began playing the National Anthem to kick off its daily live TV and DAB radio programming on Tuesday 18 January.
An instrumental version of God Save The Queen now airs at 5.59am each day, accompanied on TV by "stunning scenes" from across the UK.
Editorial director Mick Booker, who left his role as Sunday Express editor to join GB News, said: "We always promised we would celebrate what's good about our country when we can, and the Queen's 70-year reign is definitely worth celebrating… We think it's a lovely way to start the day."
Comedians join GB News line-up
The broadcaster also revealed the 13-strong line-up of comedians from "across the political spectrum" that will appear on its now seven-nights-a-week newspaper review programme, Headliners, at 11pm.
GB News claimed the one-hour show, for which Mark Dolan, The News Quiz contributor Simon Evans and Money Pit host Dominic Frisby will share hosting duties, will be "the paper preview show that won't send you to sleep like the others".
Andrew Doyle, an executive producer and guest on the show, said: "Comedians are well informed on politics and current affairs – it's the source of a lot of our material – but critically, we're not journalists commenting on journalism. This is the key to making Headliners a fast-paced and witty riff on the traditional paper preview format."
The comedians joining Doyle on rotation will be Steve N. Allen, Rhona Cameron, Nick Dixon, Josh Howie, Leo Kearse, Sajeela Kershi, Erich McElroy, Diane Spencer, and Ian Stone.
DAB Radio GB News simulcast launched
The broadcaster began simulcasting a DAB radio service on 4 January, launched by the new breakfast team of ex-ITV star Eamonn Holmes and Isabel Webster.
Colin Brazier, who had been hosting the evening slot that originally belonged to Andrew Neil, moved to a two-hour 4pm drivetime show to capture the traditional radio audience of that time slot.
Chief executive Angelos Frangopoulos said there would also be a "huge extra investment" in GB News's digital service in 2022.
He said: "With radio, we're turning traditional media on its head because everyone will be able to continue with the same channel whether they're at home, travelling, or at work.
"We set out to innovate and shake up news media and that's what we're doing, whether it's on mass reach television and DAB radio, online, apps, live on YouTube, or digital platforms, GB News will be wherever audiences want us to be."
Staffing reaches 200
GB News has now reached almost 200 staff members, up from around 140 at launch.
The news of Holmes's arrival came as it was revealed former BBC News presenter Simon McCoy will leave GB News in January for "personal reasons".
GB News chief executive Angelos Frangopoulos told The Telegraph McCoy was an "outstanding broadcaster" and said: "We remain open to ways we can work with him again in future."
Holmes joined after 15 years at This Morning and said he had "admired GB News from the beginning for its clever mix of punchy debate but delivered with warmth and even some fun".
Stephen Dixon joined after 21 years at Sky and said: "I'm inspired by the energy, fun, and absolute passion at GB News to shed light on the real concerns of the Great British public, wherever they live in the UK. It's many years since I felt this excited to get to work."
Dixon now hosts the weekend breakfast programme with former Good Morning Britain host Anne Diamond.
Other changes in January included the launch of The People's Question Time in the 8pm slot, Alex Phillips hosting We Need to Talk About… at 2pm on weekdays targeting women, and Alastair Stewart's weekend discussion programme also airing on Friday afternoons.
The channel also promised more coverage of live news events from around the UK.
Launch of half-hourly news bulletins
Previous post-launch changes have included the introduction of half-hourly bulletins to supplement its main menu of comment.
The channel responded to feedback from viewers who wanted its presenter personality-led broadcasting style to be balanced with traditional news bulletins.
The change was planned as early as July when head of digital Rebecca Hutson said responses to viewer feedback would include morning news bulletins and refreshing the sets which had been criticised for being too dark.
The subject drew a slight from News UK on the announcement of its own upcoming channel TalkTV, when it said it would broadcast "proper hourly news bulletins".
Andrew Neil exit
Andrew Neil stepped down as chairman and host of his own primetime three months after the GB News launch.
He had only presented his own show for two weeks after the channel's launch before going on a summer break to his home in France. Ex-Sky News journalist Colin Brazier, who had hosted the 8pm show in Neil's absence, will now officially take it on as his own.
Brazier said it will be "nice to have my name above the door" but that Neil had "been an inspiration to all of us at GB News".
Neil, 72, said on Monday 13 September: "I am sorry to go but I have concluded it's time to reduce my commitments on a number of fronts."
But he since vowed to never appear on the channel again and on 24 September the Daily Mail published an interview in which he launched a blistering attack against his former bosses.
Neil revealed that he was wooed to the channel on a £4m four-year-deal, after being offered more money to join News UK's planned TV expansion. He said getting the job of chairman as well as lead presenter clinched the deal for him.
He said technical glitches and lack of budget made him come close to quitting after his first week. In the end he lasted just two weeks at the channel but spent two months on paid leave. He said: "This would have killed me if I had carried on." And added that working for GB News was worse than being on IRA and jihadi hit-lists.
Having been assured GB News would not be a UK version of Fox, Neil is now concerned about the direction of the channel: "Look at the direction of travel. They bring in these shock jocks in the morning and evening – Mark Dolan and this Patrick Christys. You've already got Dan Wootton."
Read on to the next page for our full GB News briefing:
Email pged@pressgazette.co.uk to point out mistakes, provide story tips or send in a letter for publication on our "Letters Page" blog