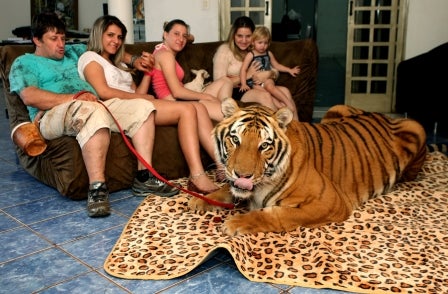 The most popular UK news provider on YouTube at present isn't ITN, Press Association or The Guardian. It's a comparatively little known agency called Barcroft Media.
Citing figures provided by Social Blade, owner Sam Barcroft told Press Gazette that his news agency attracted some 22m views on YouTube in November – making it the fifth most popular channel worldwide in the news category on the network, ahead of the likes of Associated Press and CNN. It currently has some 279,000 subscribers.
Former Fleet Street photographer Barcroft launched the agency 10 years ago in the back-bedroom of his flat in Tottenham. Today it has a staff of 50 (rising to 100 if you include casuals) and is an example of what can be achieved for a nimble-footed journalism business in the digital age.
Like Mail Online, Barcroft Media has achieved its success thanks to the scale which comes with producing digital content with global appeal.
He describes Barcroft's editorial focus as on the "amazing side of life".
A browse through the most popular videos on the Barcroft TV YouTube channel gives a flavour of what the agency is about:
My Seven Foot Butt: Supersized backside (600,000+ views)
The Bravest Girl On Three Wheels (110,000-plus views) – about five year-old girl who manages to ride a bike despite losing four limbs to meningitis.
Flying Lion: Buffalo Launches Predator in the Air (31.9m views)
World's First Kim Jong-un Impersonator Wows Onlookers In Hong Kong (450,000 views)
Barcroft, who is now 38, started off working for showbiz agency Rex Features in 1993 before joining the Sunday People as assistant picture editor in 1995 and then going freelance in 1999. Barcroft Media was launched in 2003.
In the early days of the agency, he says, "eighty per cent of the assignments were for newspapers, we rushed around doing any jobs in London the papers didn't have a photographer to do".
Six years ago, like many bigger news organisations, Barcroft Media moved into video with a £50,000 loan spent on post-production equipment and cameras. He says: "We ran around shooting lots of video" – but few clients wanted to buy it, so the TV gear was mothballed.
The real growth in the agency started around four years ago – surprisingly, as a result of the UK media downturn.
Barcroft says: "About three or four years ago the assignments started to dry up and people started spending a lot less money on commissioning. We decided to start coming up with our own exclusive stories.
"Newspapers and magazines didn't have resources to find their own exclusives any more."
Then, three years ago, Barcroft Media moved back into TV and he says that since then the market has grown "exponentially".
The success has been fuelled by YouTube, and by taking a different approach to video. It has seen the agency double in size over the last three years.
Barcroft says: "We've all tried to be print journalists learning how to do TV and it just doesn't work because they are very different beasts. You have to get TV people in to help do it properly.
"You can't assume because you've got excellent journalists they'll be able to produce excellent TV. They are a different audience interested in different things."
He says that whereas broadcast news orgnisations are producing video for TV and see YouTube as a byproduct – Barcroft tries specifically to create video content which is "shareable" online.
He says: "The films are short, presented really simply so that people have an immediate reaction to them and want to share them with their friends."
Whereas 10 years ago much of the growth in journalism was around showbiz content, Barcroft says his audience are increasingly interested in real-life stories.
Barcroft Media gets advertising revenue from YouTube via the Rightster network of channels which it is part of. It also has a video channel on the MSM and Daily Motion websites and sells stories, pictures and video to websites around the world – with Mail Online among the major clients.
After visiting China as part of a trade delegation last year, Barcroft Media signed a deal to appear on that country's answer to YouTube – Youku. Barcroft says that in November Barcroft TV had 11m views in China.
He says that Barcroft originally started putting videos on YouTube as an afterthought. But as well becoming a useful source of revenue in its own right, YouTube serves as an excellent way of marketing content to prospective customers – Barcroft says.
Barcroft Media has a "sales strategy" for every story, he says,  with each piece of work attracting "multiple income streams".
"We are helped by the fact that online everyone follows up everyone else…
"It can be hard to assert your copyright when you are just dealing with words…but if you own the pictures and video people will pay to licence that from you."
The first client for any story will pay an exclusive premium and then it will be sold to a variety of different news providers worldwide.
Barcroft has newsrooms in London (Shoreditch), New York and Delhi. The India operation includes a picture desk and video distribution centre which operates 24 hours a day, 365 days a year.
On the reporting side, the agency has four multimedia journalists in India, five in New York and five in London.
Around seven per cent of Barcroft's YouTube views come from the UK with 30 per cent coming from the US – illustrating the extent to which it has become a global business.
Barcroft says: "If we could only access our UK customers we wouldn't have a business model. Anyone trying to make money from online has to try to embrace the biggest possible audience that they can."
He says the focus is on quality over quantity – with a total output of around 20,000 images a year, 30 to 40 exclusive video segments a week and 30 to 40 stories a month.
One of Barcroft Media's biggest scoops of recent years was obtaining the first pictures of the Boston bombers – something which Barcroft says was down to "real shoe leather journalism".
It also had the exclusive last year on the US man who tried to cross the Atlantic suspended underneath 370 helium cluster balloons.
TV work has included a TV documentary for Channel 5 about women who are Fat for Cash and a series of half-hour films for US TV called Body Bizarre.
Pictured bellow is is the exclusive story of a Brazilian family which keeps a tiger as a pet.
A number of other documentaries are in production by Barcroft with each finished project generating spin-off stories and videos which can be sold separately.
Barcroft says: "We are pragmatic at the moment and price for all areas of the market."
He says that some stories are sold for "thousands every day" while others are covered by generating small payments from a number of different sources.
He adds: "The great thing about YouTube is you create your own audience and your own stories in the way you want them to be created. Unless you are the editor of a publication, you don't have that freedom.
"We have a real creative buzz about being able to shape our own content."
Barcroft himself is based in Hay on Wye, where he lives with his wife and three children, and he says that most of his time is now spent on TV production and leading the strategic and creative direction of the business.
He says: "My iPhone means I'm still able to be involved in the editorial agenda as much as I can be."
There's no doubt that there is huge public interest in what Barcroft Media produces – but what does he think about the future of journalism which is in the public interest?
"I think there's a resurgence in important journalism. The upsurge in infotainment that we've all been part of over the last 20 years won't change.
"But people are already demanding more transparency and that people in power are held to account much more than they were five years ago.
"The Guardian are proving that there's an enormous market for those sorts of stories."
Barcroft cites stories which his agency has uncovered exposing the plight of child labourers in India and about street children in Ukraine around the time of last year's football European Championship: "I'd like to do more of it I and wish the money was there for that sort of journalism."
The agency is privately-owned and Barcroft declines to be drawn on financial specifics, but he has big ambitions: "The model is a company like Vice which 20 years ago was just a small free magazine and now is valued at £1bn."
He adds: "The future is golden at the moment. I'm really proud of what we've done but it is just the beginning hopefully."
Barcroft believes the next five years are going to be just as tough as the last five for big media companies, but at the same time he says:"It's a huge opportunity for every journalist – because people are consuming more media than ever before."
Email pged@pressgazette.co.uk to point out mistakes, provide story tips or send in a letter for publication on our "Letters Page" blog