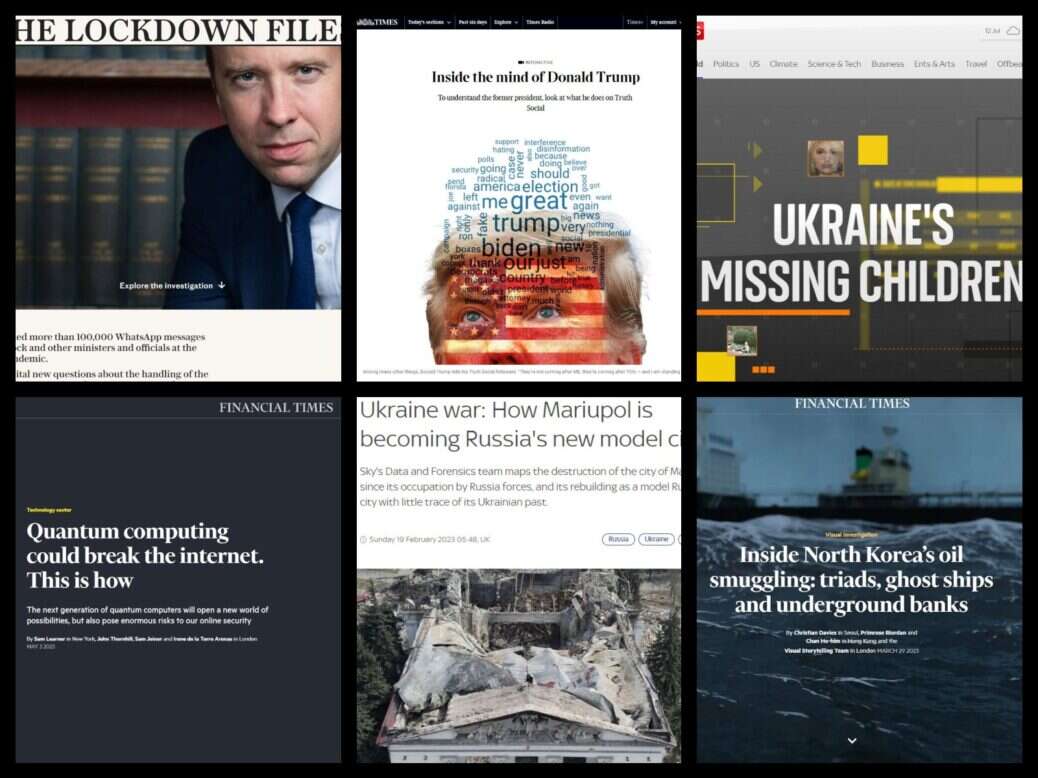 Press Gazette has announced the shortlist for the 2023 Future of Media Awards.
These are the awards for the best in digital journalism and publishing innovation.
Unlike the British Journalism Awards (entries for which are open now) – the Future of Media Awards have an emphasis on the best digital products, rather than just the journalism. The judges were looking for technical excellence, evidence of audience and commercial success and editorial brilliance.
These awards were open to news publishers based anywhere in the world.
The winners will be announced at the Hilton Bankside Hotel in London on 6 September. Entrance to the day-long Future of Media Technology Conference and Future of Media Awards that evening is £345+VAT. Finalists will be contacted with details of a discounted ticket offer.
Future of Media Awards 2023 finalists
Audience Growth, sponsored by InsurAds Tech SA
Reach – Whatsapp Communities: "After months of research, building prototype systems and taking learnings from newsletter publishing Reach PLC has launched its first wave of WhatsApp Communities delivering news, sport, entertainment and one off events directly to thousands of people – no algorithm."
Reach – Nationals Social Media Team: "Beyond Facebook and Twitter, Reach expanded its focus to YouTube and Snapchat, reaching new audiences and fostering nationwide conversations through original videos."
The Sun: "Dramatically increased its US audience, and transformed The Sun's digital revenues and outlook. This year it was regularly the fastest-growing news website in the US with record audiences, record yields, record revenues."
Kyiv Independent: "Its digital audience grew by 8148%, from 13,500 unique users in January 2022 to 1.1M unique users in May 2023. It has become an internationally recognised news brand and one of the main sources of trusted news on Russia's war against Ukraine."
The BV magazine: "Since its launch in 2020, The BV has successfully established itself as a respected digital publication representing the culture and lifestyle of rural Dorset. Through its efficient and profitable operations, continuous assessment and refinement, and a small but dedicated team, it has achieved significant growth and reader engagement."
Metro.co.uk: "The Audience team that has grown off-platform revenue by 219% year-on-year, doubled North American audiences and ensured website readers stayed engaged (with 7% growth in recirculation and 29% increase in average session duration)."
Data Journalism
Sky News and Tortoise Media: Westminster Accounts
Anti-Corruption Data Collective: Investigations revealing French and German energy companies' links to the Russian military supply chain
Bloomberg: Consumers Foot the Bill for Traders 'Manipulating' UK Power Market
Her Campus Media: Our Body Our Rights
British Medical Association – The Doctor Magazine: The other, lesser health service and Further than ever
The Sunday Times: The Crimes With No Charges
Digital Storytelling
Telegraph: The Lockdown Files investigation
The Times: Inside the mind of Donald Trump
Sky News: Ukraine's Missing Children
Financial Times: Inside North Korea's oil smuggling: triads, ghost ships and underground banks
Financial Times Visual Storytelling Team: Quantum computing could break the internet. This is how
Sky News: How Mariupol is becoming Russia's New Model City in Ukraine
Innovation
Reach: Daily Star's Lettuce v Liz Truss live stream: "Despite having no budget and less than 24 hours of planning, the team managed to create a captivating and highly engaging event that caught the attention of not only their audience but people around the world."
Reach: Whatsapp Communities: "After months of research, building prototype systems and taking learnings from newsletter publishing Reach PLC has launched its first wave of WhatsApp Communities delivering news, sport, entertainment and one off events directly to thousands of people – no algorithm."
SoPublishing: "SoCMS is a cutting-edge, custom-built platform featuring a seamless writing-subbing-publishing workflow and AI-powered content management automation responsible for efficiently freeing up 25 per cent of journalists' working weeks over the past year, with no loss of accuracy allowing for more time for quality research, investigation and storytelling."
Financial Times: FT Edit: "In its first year, FT Edit achieved around 140,000 downloads, a subscription conversion rate well above the benchmarks that Apple has for news apps, and consistently high engagement among its readers. For the readers, it has become a habit that helps them overcome doom scrolling and understand the news."
PinkNews: "In the past year PinkNews launched over 20 new video shows, including flagship fashion show 'Closet Critic.' Snapchat channels gained more than 3 million new subscribers in the last year. A 'Video Everywhere' strategy has seen the production team channel the wealth of that vertical video expertise into more platforms."
News and Current Affairs Website, sponsored by Quintype Technologies
The Telegraph
Insider
FT.com
PinkNews
Sky News Mobile
Bloomberg UK
News Media App
Stonebow Media – MyLocal (Lincolnshire)
informed News
The Spectator
FT Edit
PinkNews
Newsletter
The Bristol Cable: The Bristol Round-Up
Reach: The Northern Agenda
The Spectator: Evening Blend
Financial Times: Inside Politics
Which: The Weekly Scoop
TES Daily
The Economist: Cover Story
Bloomberg: The Readout
Online Video
The Times and Sunday Times: Simon Parker
Reach: Daily Star's Lettuce v Liz Truss live stream
The Independent: The Body in the Woods
Bloomberg: The Deadly Side of TikTok Viral Challenges
The Economist: How China crushed Hong Kong
The Times: British Gas breaking into the homes of the vulnerable
Podcast
The Times and Sunday Times: Stories of Our Times
Daily Mail: The Trial of Lucy Letby
Whistledown Productions for BBC Radio 4: Please Protect Abraham
Financial Times: Hot Money
Tinkertown Provisions: My Inevitable Murder: A True-ish Crime Podcast
The Economist: The Prince
Specialist/B2B Journalism Website
Schools Week
Carbon Brief
Insider: Venture capital and startups team
Mark Allen Group: Farmers Weekly
Financial Times: Due Diligence
New Scientist
---
Thank you to the Future of Media Awards judges:
Dominic Ponsford, Aisha Majid and Charlotte Tobitt from Press Gazette
Glyn Mottershead, senior lecturer in data journalism at City University
Cecilia Campbell and Henning Johanneson from United Robots
Chris Walker from Be The Best Communications
Sandy Warr, head of podcasting at City University
Janet Kersnar, executive editor at The Business of Fashion
Jeremy Waters, editor in chief of What's New in Publishing
Chris Stone, executive producer of The New Statesman
Adam Tinworth, consultant and lecturer
Alan Hunter, co-founder of HBM Advisory
Leon Hawthorne, broadcaster and media executive
Martin Ashplant, managing director of TEchPro at Future
Dominic Young, CEO Of Axate
James Morris, director of MA interactive journalism at City University
Denis Haman, CEO of Glide Publishing Platform
Serena Kutchinsky, assistant editor at Sky News
Jane Singer, professor of journalism innovation at City University
Email pged@pressgazette.co.uk to point out mistakes, provide story tips or send in a letter for publication on our "Letters Page" blog