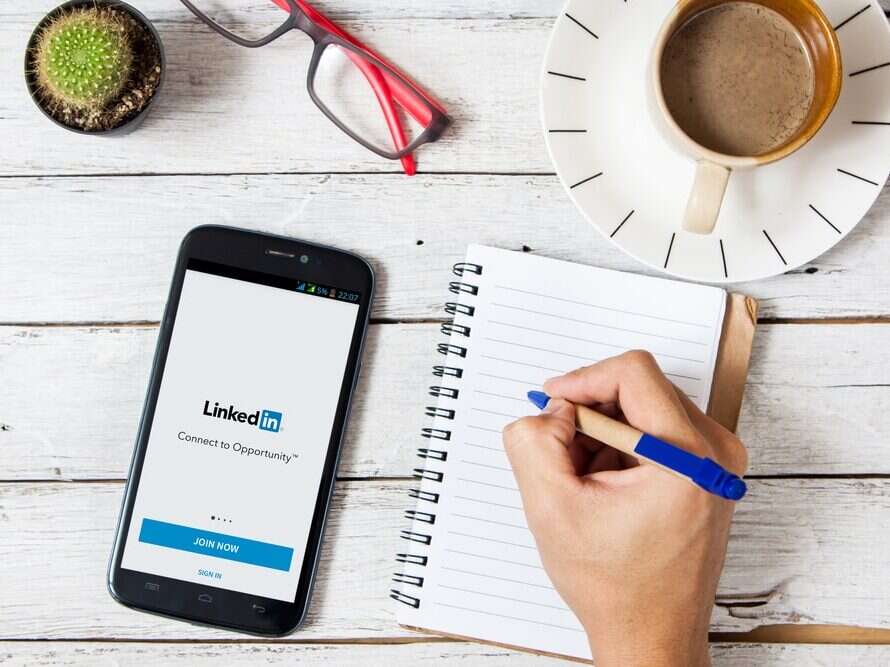 Linkedin has one of the biggest business newsrooms in the world, with more than 250 editors following a major expansion in the past year.
In the UK, Linkedin News has section editors covering: "Get Hired" (jobs and careers content), finance, technology, retail and marketing, sustainability, and diversity equity and inclusion.
Linkedin News editors curate coverage of trending work topics, in particular via angles around work/life balance and the future of work, through a box on the right-hand side of the website, and posts and newsletters rounding up the big conversations of the day. The morning Daily Rundown round-up of the big stories reaches 221 million people in 200 countries and eight languages each day, according to the platform.
They also produce more of their own content than before, including Linkedin Live interviews such as one with former Dragon's Den investor James Caan in January. The UK's dedicated team of editors for different sectors is a change from previously when they took a more general view on anything relevant to the wider UK professional audience.
Siobhan Morrin, managing editor at Linkedin News and a former senior editor at Newsweek, told Press Gazette the expansion had enabled them "to do more with the team that we have in terms of curating more specific content and creating slightly longer form and insightful content in different formats".
The core mission of Microsoft-owned Linkedin News, she said, was to "create, cultivate and curate conversation on the platform".
Julien Wettstein, Linkedin's head of editorial, EMEA who previously worked at Tiktok and Ebay, added that the platform has seen "record engagement" in the past year – citing changes in working patterns following the Covid-19 pandemic that has moved many "watercooler moments" from the office to online. "So people just became way, way more open in terms of like, what they can and want to share on this professional network."
Newsletters are community-building boost
Another notable change in the past year was the addition of newsletters for company pages, meaning publishers can now distribute their newsletters through Linkedin. Individual users could already publish newsletters on the platform using creator mode.
There are now 213 million subscriptions to newsletters on Linkedin, up four times from January 2022 to 2023. Linkedin said 53 million individuals subscribe to a newsletter on the platform, up three times in the same time period.
As well as newsletters from publishers and other external creators – Morrin praised the BBC's Worklife 101 which has 1.8 million subscribers, the FT's Editor's Digest with 1.5 million and The Drum's Marketing Must-Knows which goes to 35,000 people – Linkedin also creates its own newsletters for each of the topic areas covered by its editors in the UK.
"That means that we're featuring insights from experts all the time and sharing them out, so it's sort of a circle of cultivation and creation that we do," Morrin said.
For publishers, putting their newsletters on Linkedin is a relatively easy build and means followers to their pages will be notified. Morrin said: "So if you have a lot of followers, that's a lot of people who are automatically getting that first edition."
Wettstein said this "gives the person who launches the newsletter an amazing head start because you're not building a community from scratch".
"I think we mostly use it or we recommend for creators to use it for community building. So it's a way for you to connect with your community at scale and it's almost a bit like a deeper connection that you have with your community once they start following the newsletter," he said.
Morrin added: "I think it works well on Linkedin in particular because it's a professional network and people are expecting to see stuff that is beneficial to them and their career, so when you're kind of getting these more in-depth insights via a newsletter, but all in one place, as a member I think it's a really interesting and useful experience because you have all of those different publications offering you insights in the same platform. You can almost come at whatever point of your day and you can see your different subscriptions to different things."
Wettstein did not want to compare Linkedin newsletters to fast-growing newsletter platform Substack, but noted that Linkedin has the advantage of allowing people to tap into an audience they have built up over many years. "I think that's what our creators love and what our publications and organisations love to tap into because they're ready to build that audience…"
One journalist who has been producing a Linkedin newsletter for about six months is BBC business journalist Dougal Shaw. He has more than 1,500 subscribers to the newsletter accompaniment to his CEO Secrets video series, which he launched at the BBC in 2015 and turned into a book last year.
CEO Secrets features advice and stories from businesspeople and entrepreneurs straight into the camera and Shaw posts the full 90-second video on Linkedin each week.
As the series became more popular, he began to struggle to respond to the overwhelming number of pitches and questions he received so decided instead to put out extra content, including photos and behind-the-scenes looks at his interviews, in a newsletter.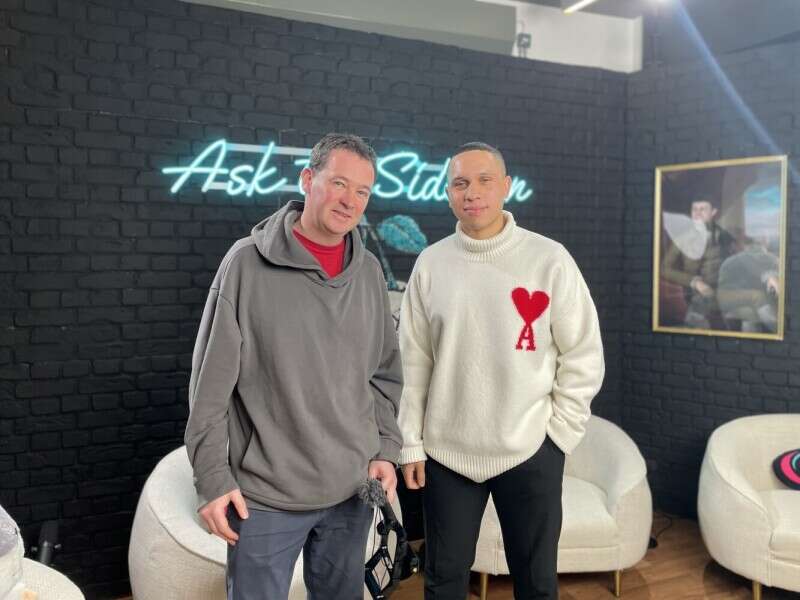 "Another good reason for doing it is that I think, obviously it's a Linkedin tool so they will push it out to more people so I think you probably have more reach from a newsletter than you do from just a normal post," Shaw told Press Gazette. He added that the timing worked with the publication of his book, with authors increasingly using newsletters as a promotional tool.
Others, however, have not considered using the tool. Amy Lewin, editor of the FT-backed website Sifted which covers the world of European start-ups, told Press Gazette why her team had not added their newsletters onto Linkedin.
"We obviously ultimately want people to either come on to our website or sign up for our newsletters to receive them in their inbox because at the moment Sifted makes money through sponsorship of our newsletters, and the more subscribers and the more engagement we have on our newsletters, the more money we can make from them and we'd lose that if it was also available on Linkedin," she said.
"And then we also have membership and the more we drive traffic to the site, the more people eventually convert to membership. So traffic in and of itself is not really a target for us, but bringing new people to Sifted and then getting them to read enough of us that they want to buy a membership is – and the Linkedin newsletters don't help with either of those goals."
Why Linkedin is a 'brilliant environment' for business journalists
Outside of newsletters, however, Lewin does see Linkedin as being the "most useful broadcast channel for what we do at Sifted" and a "really brilliant environment" for anyone writing about the business or HR sectors, or for any B2B publication.
Since joining Sifted four years ago, Lewin has built up her Linkedin following from about 1,000 to 26,000 – saying she managed this by posting several times a week, each time with about five lines and an eye-catching image or chart, and because she is putting out "consistent information on a niche sector that not that many people are writing about, so people sort of gravitate towards it".
She also echoes Sifted's "conversational" tone of voice and does not mind "being a little bit controversial or stating my personal opinion… So I think having a personality, actually having something to say, and having quite a focused subject that you post about works really well."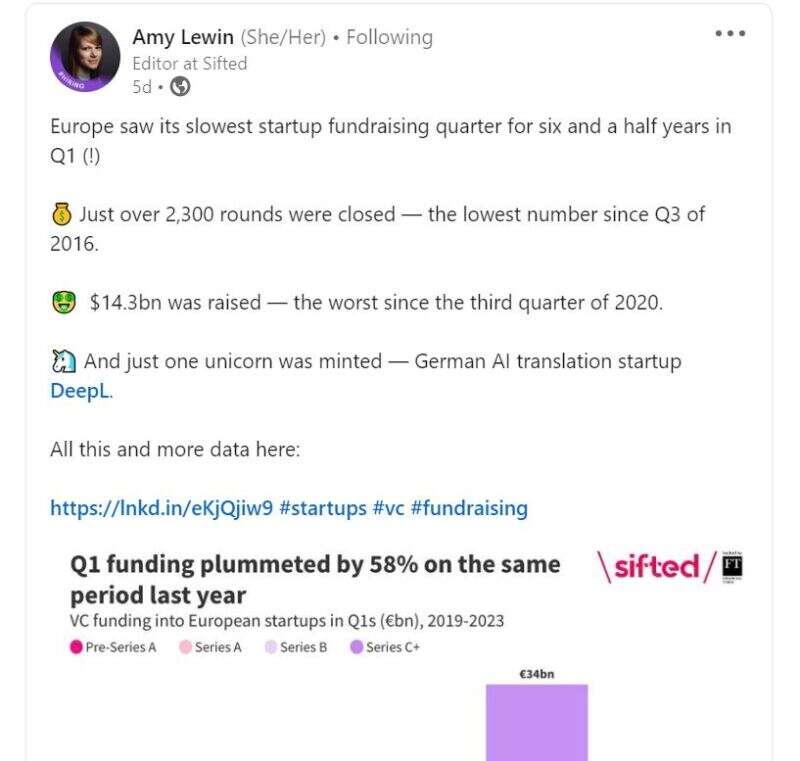 Lewin added that she felt posting more on Linkedin had helped to build her "personal brand… so I think it's a great thing for B2B journalists to be doing not just for their organisation, but also for their career, I think".
Sifted's Google Analytics data shows, she said, that Linkedin "drives a lot more traffic than Twitter".
Shaw at the BBC similarly ranked Linkedin as "probably the most important social platform" for anyone working in business journalism due to the nature of the ready-made audience there.
He said he personally spends about equal time on Linkedin and Twitter nowadays. "I think you can't spread yourself too thinly with platforms – you have to decide depending on what kind of journalist you are which ones are most important for you," Shaw said. "And for me as someone who's doing business and money and work stories Linkedin I suppose is my number one, and then probably Twitter and then Instagram third in that order, and possibly I could be doing more on Tiktok but I have done a few Tiktoks but it's never really been that big for me."
The other benefit of Linkedin over Twitter, he added, is that it has a "much more civilised level of conversation. I think everyone's on best behaviour because they're in kind of employee mode and they're often there with the name of their employer and you know a bit more about who they are so you don't get the same kind of shouty unreasonable behaviour that you get on, say, Twitter, for example".
A Reuters Institute for the Study of Journalism report in January found that 42% of news leaders suggested Linkedin was the best available alternative to Twitter for journalists.
Morrin and Wettstein, however, did not encourage direct comparisons between Linkedin and Twitter, saying a key difference is that theirs is a "professional network and we want to see professional conversations happening on the platform," as Wettstein put it.
Collaboration win-win
Twitter used to have a large content partnerships team building relationships with publishers but has made many of those roles redundant under Elon Musk's ownership. Linkedin, however, continues to have good relationships with journalists in relevant fields. Lewin and Shaw both said they regularly have contact with Linkedin's editors, with Sifted for example having a joint Slack channel with the platform so both sides can highlight articles they think may be of interest.
Linkedin may ask a journalist who has written a relevant article to create a post about it so that they can add it to their round-ups. Lewin said: "We do see boosts in reads of articles that get posted in those threads that they do, especially if they appear near the top or they're the top one, so I do find that is really useful."
Similarly Shaw said: "Make sure the Linkedin team know about it, in case they can ever promote it. This is true for all social media, but it's always about collaboration so mention as many people as possible because it's in their interest to share it as well."
Shaw added that Linkedin audiences appreciate behind-the-scenes content that shows "the nuts and bolts of how news is made… and as it turns out, that fits in with the key theme that BBC News and Deborah Turness, the new CEO, is trying to promote which is transparency. So I think social media can be good to let us show how it is we go about doing our job."
As well as Lewin and Shaw, Linkedin's team also praised The Atlantic chief executive Nicholas Thompson, Bloomberg reporter Irina Anghel and CNBC technology correspondent Ryan Browne as journalists who are using the platform well.
Linkedin's Wettstein said journalists and other creators tend to do best when they come across as human: "What we see performing best is if it feels personal and authentic," he said. "So if you have a story, if you tell about your personal experience with that story or how you got where you wanted when you've written this piece, this article, for instance."
He added that engagement on Linkedin posts is double on average on "knowledge content which means that people come to Linkedin because they want to learn something. They want to leave Linkedin feeling like this is a valuable session and I spent a valuable half an hour.
"So for someone who creates content, this is always my advice: like, 'Hey, what am I adding to this topic? What's my unique perspective?' I really recommend doing the same for journalism."
Email pged@pressgazette.co.uk to point out mistakes, provide story tips or send in a letter for publication on our "Letters Page" blog