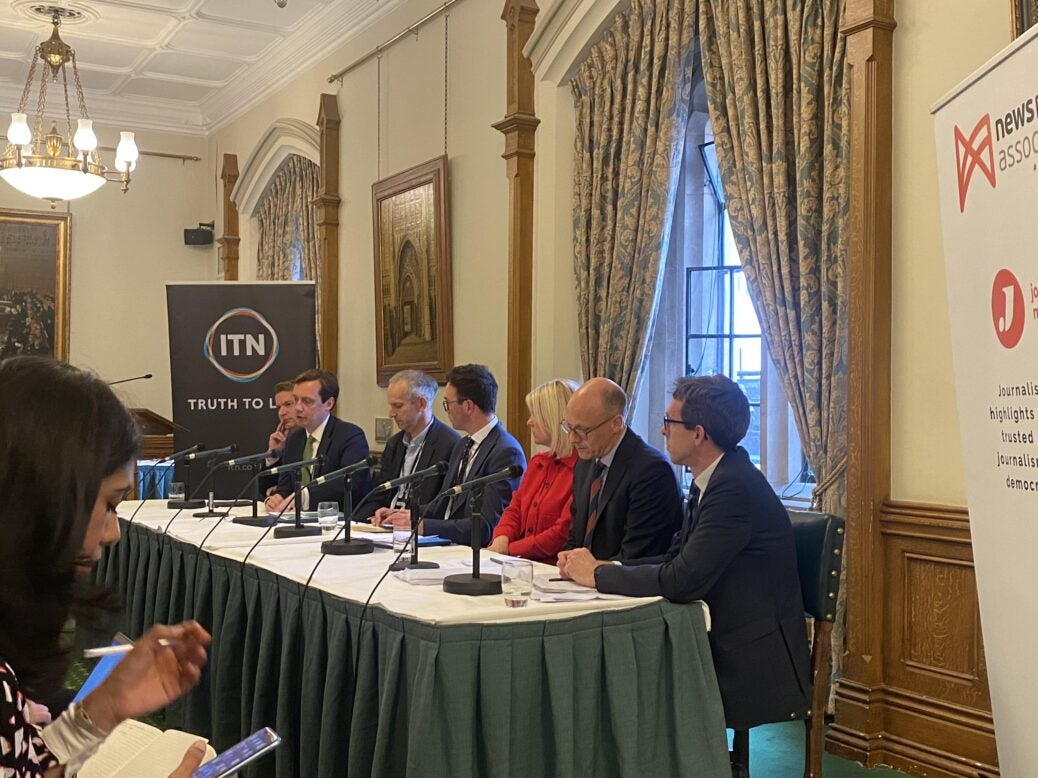 The chief executive of TV production giant ITN has thrown her weight behind a bill that could force Google and Meta to pay for news in the UK.
Rachel Corp said on Monday that she hoped the Digital Markets, Competition and Consumers (DMCC) Bill would create a more "competitive commercial environment" for media companies and impel technology firms to share data and algorithm information.
Executives from the News Media Association and charity the Public Interest News Foundation (PINF) also expressed their support for the bill at a Westminster event convened by the Media All-Party Parliamentary Group and chaired by Press Gazette associate editor William Turvill. Although most panellists spoke warmly about the legislation, there were some reservations – largely focusing on the extent to which the bill centres the interests of the consumer.
Alex Davies-Jones, the shadow minister for tech, gambling, and the digital economy, said in closing remarks that the bill had Labour's support: "It's very, very rare to have a piece of legislation which I find hard to criticise."
She added: "The government here absolutely must not bow down to the pressure from big tech – which we know it's under, quite frankly. We know that our Prime Minister sees himself as a tech bro, he wants to feed that outward-looking focus, but [the government] cannot bow down to this pressure."
Support for Digital Markets, Competition and Consumers Bill from publishers
The DMCC will empower the Digital Markets Unit, a branch of the Competition and Markets Authority (CMA), to designate certain large tech platforms as having "strategic market status" (SMS). Designated companies will be held to a code of conduct around how they should interact with consumers and other companies, which may include payments.
Among its effects, it may result in the platforms paying news publishers for the content from which they benefit. This was also the goal of Australia's news media bargaining code and Canada's Online News Act, although those laws are narrower in scope.
Jonathan Heawood, the executive director of PINF, said the small publishers his organisation focuses on would benefit markedly from the legislation and "actually get what we think they deserve".
The content that small independent newsrooms publish, he said, is "what platforms thrive on – that they can serve up hyper-relevant content to users around the world.
"So individually, those providers perhaps can't make a very powerful argument for why they deserve thousands and thousands of pounds – but collectively, I think they can make a very powerful argument for why they actually deserve millions of pounds."
He added one of the things that PINF liked about the DMCC legislation "is that it allows for revenue and non-revenue negotiations and allows for collective bargaining. So for the first time those small providers can get together and be more than the sum of their parts and actually get what we think they deserve."
Heawood said that, at present, "we can't establish what a fair value exchange would be because the data is locked up in the black boxes of the big tech companies".
ITN's Corp said that the prominence guaranteed to public service broadcasters in the Media Bill "isn't enough, which is really why we're here today and supporting the legislation.
"We feel we need a fair and competitive commercial environment with algorithmic transparency and meaningful negotiations with the tech platforms."
In part, she said, that meant the "ability to secure fair and reasonable payments – really, to recognise the value of that journalism", but it also meant "better access to the platforms' data so we can continue to best serve our audiences wherever they want to consume our content".
She did say, however: "We would like to see a bit more of a consideration of the citizen in it, [and] for public service journalism."
News Media Association chief executive Owen Meredith meanwhile said "we really welcome this bill", saying it would not be a "silver bullet" but that it would "rebalance the relationship between publishers and platforms".
[Read more: Big tech kicks off lobbying effort as UK introduces news payment legislation]
Dissenting opinion: bad for the consumer?
Matthew Sinclair, a one-time director at Deloitte who served as chief economic adviser to 10 Downing Street during the Truss administration, questioned whether the DMCC bill served the interest of the consumer.
Sinclair said: "If the goal is to subsidise journalism, because journalism is good, that's a fine objective. But to achieve that through the CMA, you will inevitably worsen market outcomes. So I would just be really careful – a lot of what is being said on this panel is a good argument for a journalism support scheme. It is a bad argument for reordering competition laws."
He argued that "talking about the consumer interest" more explicitly in the legislation "would be hugely reassuring", and that it was the forward-looking flexibility provided for in the bill that would worry the tech giants.
Sinclair said that unlike Australia, where the tech giants ultimately struck deals and "moved on", in the UK "they won't, because this is introducing a more lasting uncertainty to digital markets because you have to develop services now asking: 'In ten years will the CMA like this?' And you can't know."
But he said he did not think that would lead to the blocking of news from Google or Meta platforms in the UK as it briefly had in Australia and as the companies have claimed they will do in Canada.
"I don't think those consequences will be mostly services withdrawn – they'll be services that don't arrive in the UK in the first place [or] will arrive much more slowly. It's the services that don't exist yet that tend to be where the price of this kind of regulatory policy is paid."
But Chris Jenkins, a director of the Digital Markets Unit, argued that flexibility was necessary.
"I think the reason this bill has been designed the way it has is because the nature of these markets is they are fast moving," Jenkins said. "The risk if you don't have the flexibility is you end up with a piece of legislation that is rapidly going out of date. 
"I agree with the need for accountability, but there also does need to be flexibility, and I think the regime that we've got here is more tailored and bespoke to the actual business models we're talking about."
And competition lawyer Tom Smith of Geradin Partners suggested the DMCC's provisions to enforce fair access to the platforms was not necessarily novel.
"We shouldn't overstate how revolutionary this is… BT owns the fibre network along with broadband channels, and is regulated as a result and has to give that access to other companies".
He added: "What's amazing, actually, is how many countries are individually researching this, looking into this, and coming to pretty similar conclusions… So it's not as if the UK government's an outlier here."
[Read more: Lawyers from Geradin Partners file £13.6bn adtech lawsuit against Google on behalf of UK publishers]
Email pged@pressgazette.co.uk to point out mistakes, provide story tips or send in a letter for publication on our "Letters Page" blog