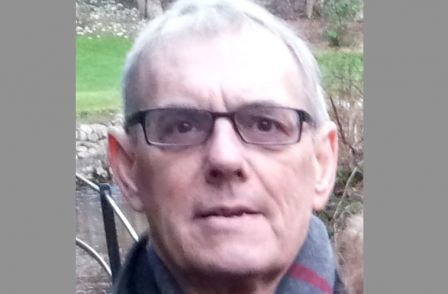 When Turkish paratroopers invaded Cyprus following the overthrow of its President, Archbishop Makarios, in 1974, intrepid news reporter Peter Steele was one of the first to greet them.
A Sandhurst-trained English speaking colonel provided necessary quotes, warned him to take cover before the shooting started, and gave him the excuse to claim £5 on expenses for the purchase of a broom handle and white tea towel in case he needed to surrender.
Peter, who died aged 71 on Monday, never shirked a challenging new direction to his life.  He quit sixth form at a Battersea grammar school, Walter St John, when offered a job on a weekly newspaper in Kent.  The journal folded before he completed indentures so he switched to a better paid career, demolishing an old bridge to the Isle of Sheppey.
Physical activity was as much a part of his make-up as his skill at clerical work. He built houses and delighted in risky hobbies involving motorbikes and diving equipment.  "Manual labour and sport are wonderful antidotes to desk squatting," he said.
Peter's father was a senior prison officer who guarded Lord Haw Haw in the days up to his execution.  Steele senior served at various jails in London and the South East so his son was accustomed to moving constantly.
Returning to journalism, he spent five years with Dyers Agency at the High Court in London, honing his skill at shorthand.  Recruited by the Daily Mail, he welcomed his £1,000 redundancy pay off when it merged with the Sketch and rejected a request that he return.  He was making more money doing casual shifts at the Evening Standard and Daily Mirror.
Peter volunteered to cover the Troubles in Northern Ireland when internment was introduced and produced so many splashes for the Standard that he was quickly promoted to staff.
Getting to Nicosia after the coup by Nicholas Sampson and the declaration of union with Greece was a feat in itself.  The airport was turning away all incoming aircraft but Peter arrived from Tel Aviv on a crop duster.  The pilot said he was out of fuel and was given permission to land.
"The British High Commission was telling me that Turkish naval movements were merely sabre rattling when I heard the sound of explosions. I looked outside the Ledra Palace Hotel and saw paratroopers falling from the sky" recalled Peter.  "I snitched a key to a hire car from the hotel lobby and drove with a colleague towards the invasion."
Getting the story back to London was as big a challenge.  The RAF base at Dhekelia still had unrestricted communications but was allowing reporters only seven minute pre-booked time slots. Peter booked his for 7am when the copy takers began work.  The link-up came five minutes too soon and the only typist in early was a new girl.
The panic-stricken reporter gabbled out as much as he could in his remaining allotted time before he was cut off.  He needed to follow up with a more measured report for the next edition so he volunteered himself as an experienced telex operator to help shift the mountain of material awaiting transmission.  Somehow his offering found itself near the top of a three-day queue.
Getting more eye witness accounts of the conflict involved repeatedly sneaking in and out of the confined and guarded RAF base by means of a storm drain.
Another change of direction came when Peter's first wife, Margaret, wanted to return to her Scottish roots.  Peter went with her but it did not save the marriage. Freelancing in Aberdeen on the wave of the oil boom as North Scot Press Agency, he met Nancy, a local girl, and married again.  Their company Hard Edge Media expanded into Glasgow as Centre Press and Edinburgh as Capital Press with offices and homes in each city.
But their true love was their home in the fishing village of Cullen.  Peter roofed and renovated cottages there and erected a warehouse close to the shore for his building equipment, sports equipment, sail boat, and motor bikes.  The couple bought a share in Cullen House, the ancestral castle of the Earls of Seafield, and made their home in the old Butler's pantry.
Five years ago he was diagnosed with colon cancer and when he could no longer command, he sold his business to Andy Young and Tom Walton of the Bristol-based South West News Agency in 2011.  Both he and Nancy continued to welcome and entertain visitors. They spoke openly about his illness and its effects. He said his one regret was his inability to finish the task of insulating the roof of his house. Practical to the last.
Email pged@pressgazette.co.uk to point out mistakes, provide story tips or send in a letter for publication on our "Letters Page" blog