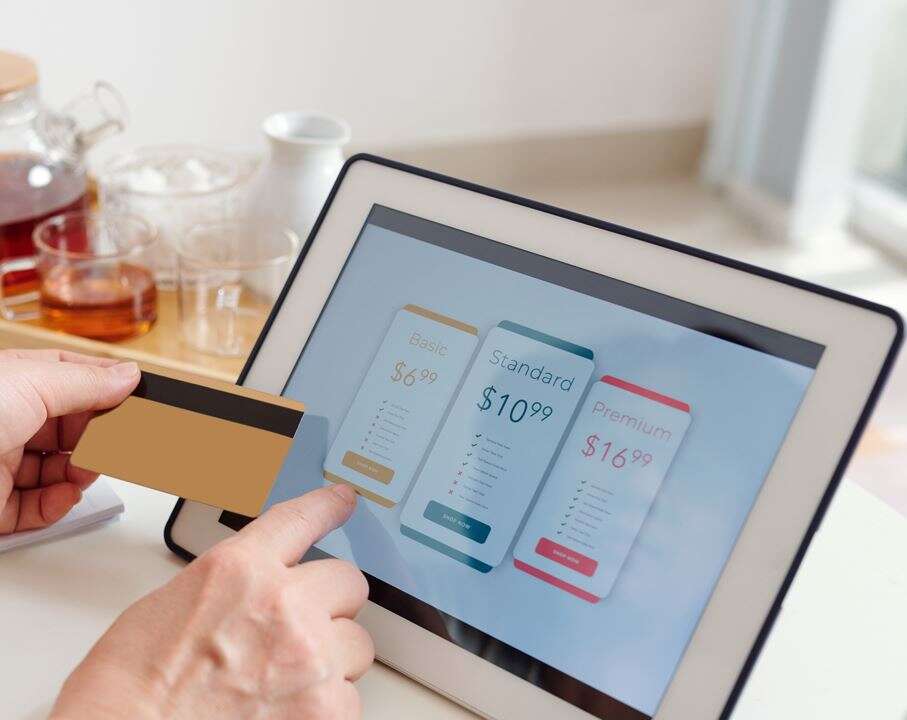 A study has found that the most effective marketing messaging for news subscriptions is to appeal to readers' better nature, emphasising the important of independent journalism in difficult economic times.
The study, carried out by academics at City University in London and Munich's Ludwig-Maximilians-Universität München (LMU), tested the effect that four different pitches had on consumers' willingness to pay for news.
City's Dr Neil Thurman and LMU's Dr Bartosz Wilczek and Ina Schulte-Uentrop surveyed 815 people in the UK for the research. Respondents clicked through to a series of slides, one of which mocked up a paywall containing one of the four pitches for why they should subscribe, or a mix of several pitches.
[Read more: How can publishers sell more online subscriptions? Lower the price, survey says]
The survey asked each participant to "imagine they had come across the subscription pitch while browsing the website of a newspaper they like". The pitches were fictitious and not associated with any real news brand.
The four messages tested were: 
No single advertising message on its own produced a significant result. Only two combinations of messages together produced a significant result: the normative appeal alongside the price transparency appeal, and the digital-specific, price transparency and social appeals shown together.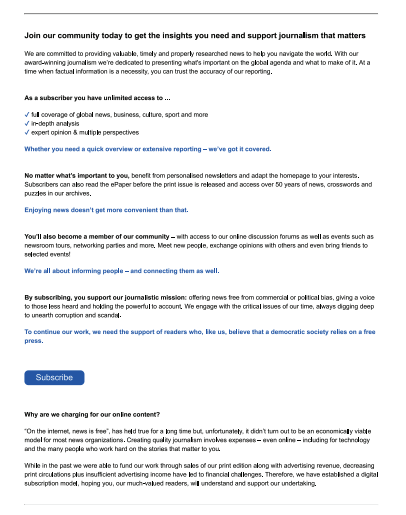 Of those two, the normative and price transparency mix – i.e. a pitch that emphasises the virtues of supporting journalism and the troubled financial situation for the news industry – was the more convincing message.
This mirrors the messaging deployed by The Guardian. The title currently greets readers with the following message: "We're a reader-funded news organisation, with more than 1.5 million supporters in 180 countries. With this vital support, our reporting remains fiercely independent, and is never manipulated by commercial or political ties. And it's free, for everyone. But if you can support us, we need you. Give just once from £1, or better yet, power us every month with a little more. Thank you."
The study's authors commented that it may be "that the more appeals a subscription pitch contains, the longer and more complex it becomes—which might decrease its effectiveness".
Their findings indicate that emphasising the direct benefits a consumer gains by paying for news (for example exclusive content) is not, by itself, an effective way to get them to subscribe. The authors suggested this may be because "audiences are already aware of such benefits provided by a newspaper they like" and that they feel they already encounter similar benefits for free.
The researchers also found that there was no association between willingness to pay and gender, education level, monthly income or the frequency with which someone accesses news via a desktop computer. The older and more frequently they access news through their phone, however, the more willing they were to pay.
The authors said: "Our findings suggest that if newspaper publishers disclose information about the news industry's critical financial situation (caused by factors outside their control) and explain that this situation prompted their decisions to implement paywalls, then people are more inclined to pay for online news."
But they cautioned that the study's findings are not necessarily universal, and may apply differently to, for example, tabloids and quality papers: "Newspaper publishers are advised to closely examine what their target audience expects from them and what kind of benefits it is willing to pay for, as well as what they can offer their readers that is not readily available elsewhere for free."
[Read more: UK's paywall problem – Two-thirds say nothing will make them pay for news]
Email pged@pressgazette.co.uk to point out mistakes, provide story tips or send in a letter for publication on our "Letters Page" blog