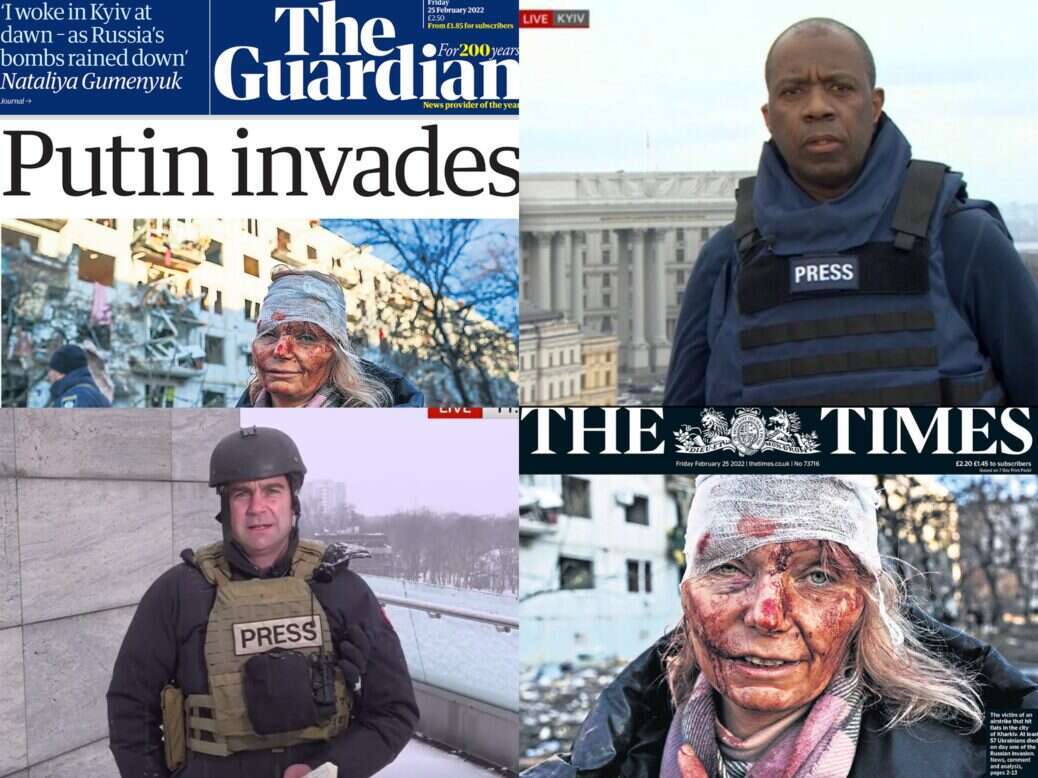 More than 50 UK journalists are currently inside Ukraine – with every major news organisation committing staff to cover the unfolding conflict.
Press Gazette has compiled a Twitter list following approximately 50 bylined UK reporters currently filing from the war. But this list does not include the many technical and support staff covering the conflict.
Various TV news bulletins were anchored from Kyiv soon after the invasion began on Friday 25 February and most national newspapers had correspondents on the ground.
Press Gazette has reported on concerns that some conflicts are going unreported because of danger.
But for the present, UK news organisations appear determined to invest in first-hand coverage of Russia's invasion of Ukraine.
UK news brands are also using their clout to raise millions in support of charities working on the ground in Ukraine and its bordering countries.
Below Press Gazette rounds up how major UK news outlets are covering the conflict. Go here for a round-up of what US outlets are doing in Ukraine.
Update 5 March 2022: Following the reported passage of Russia's "fake news law" on 4 March 2022, Press Gazette has removed the names of journalists in Russia from this list. Fears that the law could be used to detain journalists have spurred numerous news outlets to suspend newsgathering in the country. You can read more here and here.
BBC News
BBC reporters in Ukraine as of Sunday 27 February included: presenter and foreign correspondent Clive Myrie, chief international correspondent Lyse Doucet, international correspondent Orla Guerin, Eastern Europe correspondent Sarah Rainsford, Today programme presenter Nick Robinson, Europe correspondent Nick Beake and diplomatic correspondent Paul Adams. In addition, the BBC told Press Gazette that BBC News Ukraine and BBC News Russia "continue to serve their audiences as well as providing expert insight and analysis across the BBC's domestic and international services".
Unusually, Myrie anchored the BBC News at One, Six and Ten on Thursday 24 February all from Kyiv. During the News at One Myrie and chief international correspondent Lyse Doucet put on flak jackets marked "press" as air raid sirens blared around them. During his posting in Kyiv, Myrie was working as a correspondent for rolling news on both the BBC's UK and World News broadcasts.
On Tuesday 1 March, Myrie had explained why he, fellow BBC staff, and colleagues from other outlets were remaining in Kyiv: "None of us are forced to come here. It's part of our job. We all feel that we want to tell the story of this war and tell it accurately and fairly. And that is really important, because there is so much – I was gonna use the word crap, but I might as well – there is so much crap out there that it misinformation, propaganda and nonsense.
"And what you're trying to do, whether it's The New York Times or the Washington Post, Channel 4, ITV, Sky, the BBC, you're trying to be truthful to this story. You're trying to represent the people who are having to cower down here. You want to represent them fairly."
After the situation devolved, however, Myrie left the country on Sunday 6 March 2022. He said he "will return".
On Thursday 24 February the BBC's 6pm news bulletin was an hour-long programme, moving The One Show to BBC Two, while the 10pm broadcast lasted 45 minutes. The BBC said its extended News at Six drew an average of 5.3m adults – 20% higher than the 2021 average – and the News at 10 reached 3.8m adults, constituting a 30% audience share.
The corporation says that 77.4m unique visitors consumed BBC online coverage of the invasion in English in the first five days. The BBC's Russian language news site reached 10.7m people in the week – compared with a usual figure of 3.1m – and its Ukrainian site saw an increase from 1.7m to 3.9m.
Director-general Tim Davie suspended all staff activity in Russia on Friday 4 March following the reported passage of a law that could see those found guilty of spreading "falsified information" jailed for up to 15 years. BBC Russian-language services broadcast from outside the country continue to operate.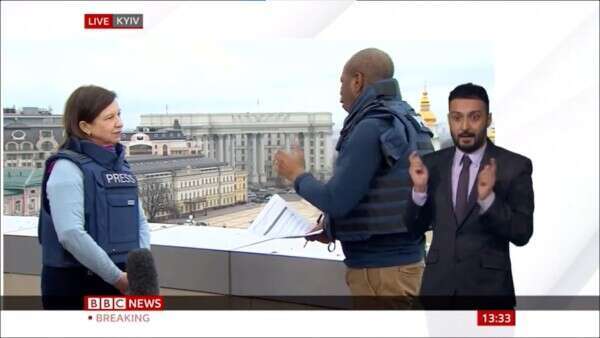 Friday's Today programme on BBC Radio 4 was presented by Nick Robinson from Kyiv and Doucet explained why the BBC has changed its standard pronunciation from the Russian Kiev to the Ukrainian Kyiv.
Guerin tweeted on Thursday 24 February: "Thanks to all who are expressing concern and support for the safety of #BBC teams here in #Ukraine.  It is very much appreciated.  Thank you for following our reporting on this frightening new war in Europe."
BBC diplomatic correspondent Paul Adams was also in Kyiv – but had to spend much of his time in the city isolating, having tested positive for Covid. Adams, as well as Europe correspondent Nick Beake, left Ukraine on Tuesday 1 March. Nick Robinson had travelled to Poland as of Monday 28 February.
BBC Ukrainian Service editor Marta Shokalo wrote an article describing her and her son's escape from Kyiv.
The BBC said the BBC News channel had its biggest day in over a year on Thursday 24 February, and that almost 20m UK adults watched BBC News programmes on television across the day.
BBC News' online offering also had a busy day, seeing almost 23m UK visitors, also the highest figure in over a year. It was the sixth biggest day ever for international visitors, and the biggest day in the past three years for audiovisual content on the site.
A new daily podcast, Ukrainecast, was launched on Thursday 24 February through BBC Sounds.  The podcast is presented by Victoria Derbyshire and Newsnight international editor Gabriel Gatehouse.
Former Ukraine correspondent Jonah Fisher is assisting BBC Breakfast with analysis of overnight events.
The corporation on Monday 28 February broadcast an episode of Panorama devoted to the crisis, and interim head of news content Richard Burgess appeared on Newswatch the previous Friday to discuss the BBC's Ukraine coverage.
Sky News
Sky News journalists in Ukraine as of Friday 25 February included: presenter Mark Austin, chief correspondent Stuart Ramsay, Africa correspondent John Sparks, security and defence editor Deborah Haynes and national correspondent Alex Rossi.
Two separate Sky News broadcasts, in Kharkiv and Kyiv and led respectively by Sparks and Austin, had to be aborted because of artillery fire. Ramsay was wounded in an ambush on Monday 28 February and camera operator Richie Mockler took two rounds to his body armour.
Ramsay left Ukraine following his injury. Special correspondent Alex Crawford arrived to cover the war no later than Saturday 5 March.
Haynes and Austin have since been rotated out, while presenter Anna Botting has arrived in Ukraine.
Austin has provided Press Gazette with two reporting diaries from Ukraine. You can read them here and here.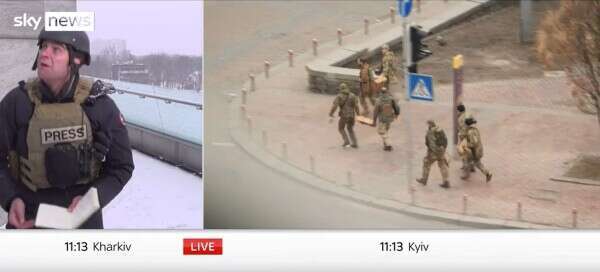 Sky said it has a strong contingent of staff in Ukraine and others on hand in neighbouring countries, including Europe correspondent Adam Parsons in Poland.
The broadcaster has been putting out two dedicated hour specials on the invasion every day, at 1pm and 7pm, since Monday 28 February.
A Sky News spokesperson told Press Gazette on Friday 25 February: "In the 24 hours since Russia started its attack, Sky News' eyewitnesses reporting from the front line and insightful analysis of the crisis has been consumed by millions. The appetite for impartial, trustworthy reporting on the crisis has been seen across digital platforms with Sky News' TikTok channel doubling its followers in just a day, with one video receiving nearly 12 million views and counting."
ITV News
ITV News journalists who travelled to Ukraine included security editor Rohit Kachroo, Europe editor James Mates, correspondent Dan Rivers, and senior international correspondent John Irvine.
ITV News ran special bulletins between 7am and 9.30am on Saturday and Sunday, and for the rest of the week (commencing 28 February) is running five-minute bulletins at 10am, 11am and 12pm.
On Thursday 24 February ITV aired a special, fast-turnaround Tonight programme named "War in Europe – A Tonight Special" which delved into events and their impact on the wider world.
ITV News editor Rachel Corp said: "On stories such as this, we know viewers look to us for up-to-date, accurate and impartial news they can trust and which helps them understand not only what is going on in Ukraine but also the impact for them.
"ITV News is committed to delivering content from the heart of the story, with eye-witness reporting and expert analysis from our correspondents in Ukraine, the UK and around the world. From our comprehensive bulletins and open-ended programming through to our fast moving online content, we prioritise humanity and empathy whilst always remaining relatable and relevant."
ITV's TikToks, it says, were viewed almost 11m times on Thursday 24 February. It claims to now be "the third highest news organisation and number one UK broadcaster on that platform".
A spokesperson for the outlet also said it had produced an "emergency" podcast coinciding with the launch of new series ITV News: What You Need To Know, which has evolved from a coronavirus-focused series.
They added the amount of people looking for online news about Ukraine had been "very noticeable". "It's clear that people are looking for places to go for reliable information that helps explain a complicated crisis," they said.
Channel 4 News
Matt Frei presented from Kyiv for Channel 4 News while Lindsey Hilsum has been reporting from Dnipro.
On Thursday 24 February Channel 4 News had 7m views across YouTube, Facebook and Twitter, and three of the outlet's TikToks received collectively 2m views. The channel says it quickly gained 15,000 new TikTok followers.
As of 14 March, Frei had swapped out with Krishnan Guru-Murthy taking his place in Ukraine.
5 News
A Channel 5 News spokesperson told Press Gazette: "We had a team in Kyiv when the attacks began. They are now travelling and reporting on the people fleeing their homes. We're heading to Poland to continue coverage – on both the refugees and the NATO response."
5 News chief correspondent Tessa Chapman wrote for Press Gazette about the harrowing scenes she and her team of producer Zoe Kalus and cameraman Adam Boyle witnessed at the border.
Daily Mail
Daily Mail coverage is being provided by freelance foreign correspondent Ian Birrell.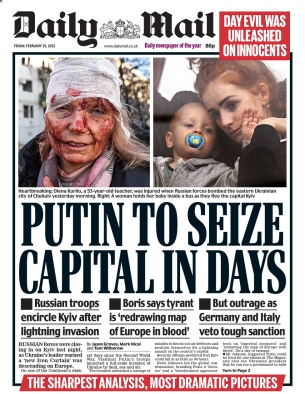 Amid its 22 pages on the conflict, the Mail announced on Friday 25 February it was changing its standard spelling of the Ukranian capital to Kyiv, writing: "Opting to use 'Kyiv' is not some pedantic, virtue-signalling gesture. It is a symbolic show of support for an independent people being crushed by an authoritarian monster. For as we all know from experience, words matter."
On Sunday 27 February the Daily Mail and Mail on Sunday launched an appeal to support charities on the ground in Ukraine. It raised more than £268,000 from readers in its first 24 hours plus a £500,000 donation from DMGT chairman Lord Rothermere to "kickstart the campaign".
"The heroism of the Ukrainian defence humbles us all. But we in Britain can play our part, too," said Lord Rothermere.
"That is why the Daily Mail and Mail on Sunday have together launched an urgent appeal to support the charities already on the ground assisting stricken families.
"There is no time to lose, so DMGT is today making a donation of £500,000 to kickstart the campaign."
Mail Online

Mail Online has Nick Craven reporting from Kyiv. Craven appears to have arrived in the city on Tuesday 22 February.
Like its print sister, Mail Online has adopted the spelling "Kyiv" going forward. The title said on Friday 25 February it had increased staffing levels across news, pictures and video in all its newsrooms, and that its news teams in London, New York, Washington DC and Sydney are working together to maintain continuous coverage.
Daily Mirror and Daily Express
As of Friday 25 February, Daily Mirror and Daily Express coverage from Ukraine was being provided by Mirror chief reporter Andy Lines and photographer Andy Stenning.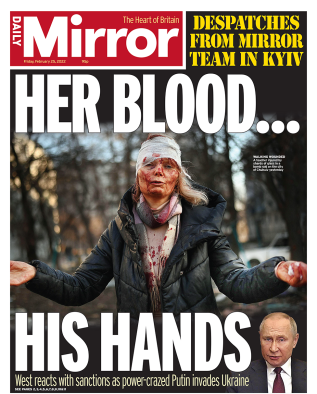 Lines reported, in an article published on both titles' websites on Friday 25 February: "Before 7am I counted 20 explosions as Russia targeted military establishments on the city's outskirts. It seemed scarcely believable that a full scale invasion could take place in Europe in 2022." Stenning and Lines left Kyiv that day, but remained in Ukraine. They left Ukraine by mid-March, with Lines subsequently contributing coverage to the Mirror of the migrant crisis in Calais.
As of Friday, the Mirror planned to print a double-page spread of the Ukrainian flag that readers can put in their windows to show support for the country. Following reader demand, it is also doing a "How you can help" campaign both in print and online.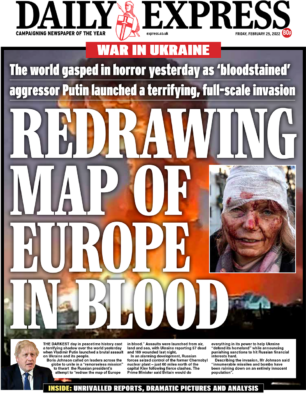 The Express had eight spreads covering the invasion on Friday, and expected to have six or seven for Saturday. The title says it is also using a Ukrainian journalist on the ground, who works for The Times.
Financial Times
As of Friday 25 February, the Financial Times had South-East Asia correspondent John Reed, Moscow correspondent Polina Ivanova and Ukraine correspondent Roman Olearchyk all reporting from inside the embattled country. The paper devoted eight news and analysis pages, four comment pages, and two features pages to the story on Friday, and said that online it has recorded some of its highest ever online traffic and reader engagement.
By Monday March 14, the group included Berlin correspondent Guy Chazan and The Economist's Balkan region correspondent, Tim Judah, who said he had been asked to contribute reportage to the paper.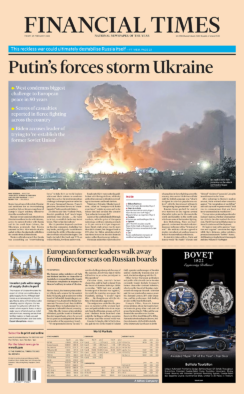 The FT has put the most important parts of its Ukraine coverage outside of its paywall.  A spokesperson said: "We recognise that we have a responsibility to make our important and authoritative journalism available to everyone, not only subscribers." The free articles can be viewed here.
On Friday the paper also hosted a digital live event for which 5,000 subscribers registered, featuring commentary from world news editor Anne-Sylvaine Chassany, and chief foreign affairs commentator Gideon Rachman. The outlet plans to run Twitter Spaces with its columnists next week, and says that, "Due to audience interest, we will be pivoting our Telegram channel to focus entirely on Ukraine coverage."
FT News Briefing, the FT's daily morning podcast, has seen "a huge spike in downloads over the past week", up to an average of 4m per month.
FT news editor Matthew Garrahan said: "We have seen the very best of the FT since the war in Ukraine began. Brilliant contributions from reporters in the field covering a fast moving and momentous story, and desk editors working long hours to ensure we provide the accurate and authoritative coverage our readers rely on."
i
Economics editor David Parsley reported from inside Ukraine for the i, leaving the country on Tuesday 1 March for Poland.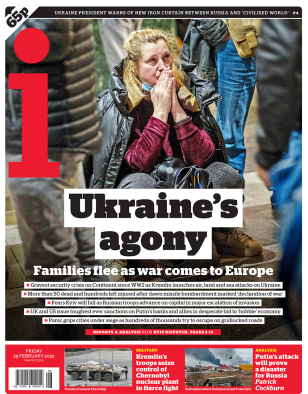 Parsley tweeted on the night of Thursday 24 February: "UKRAINE – NIGHT TWO: The missiles have just begun arriving here in Kyiv again. Volume suggests they are closer to centre than last night. Nights are long here. So are the days. I spoke to a colleague also here last night. He swore we met on Monday. It was Wednesday."
The Independent
As of Monday 28 February, world affairs editor Kim Sengupta is reporting from Kyiv for The Independent and international correspondent Bel Trew is in western Ukraine.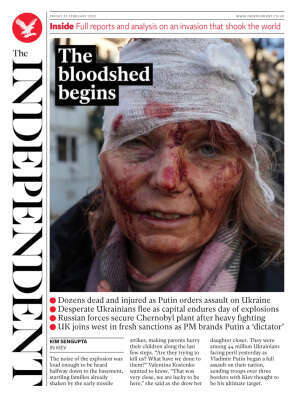 International correspondent Borzou Daragahi was covering the refugee crisis at the Hungarian border.
The publication relaunched its "Refugees Welcome" campaign for those fleeing Ukraine, writing in an editorial: "When war tore through the Balkans in the 1990s, thousands of refugees were given sanctuary in Britain. And we can do it again".
As part of the campaign, The Independent has launched a fundraiser which as of Thursday 3 March garnered over £70,000 and a petition which has received 112,000 signatures.
The Sun
As of Friday 25 February The Sun had chief foreign correspondent Nick Parker, defence editor Jerome Starkey and photographer Doug Seeburg in Ukraine.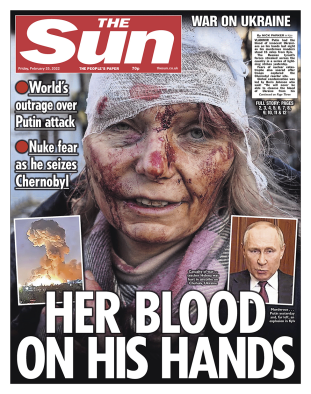 Sun veteran of 30 years Parker as well as Seeburg have been in Kyiv since the week before the invasion. Parker described "fear stalking the streets" on Thursday morning as the pair came across bomb sites and missile wreckages.
He said: "After reporting on two Gulf wars and the Afghanistan conflict, this brutal bloodbath on Europe's doorstep is something completely new to me."
Meanwhile Starkey, a veteran of Afghanistan reporting, has been reporting from along the eastern front of Ukraine where Putin's tanks drove into Donetsk and Luhansk on the morning of Thursday 24 February.
In his eyewitness reporting he wrote: "Throughout the day The Sun saw convoys of Ukrainian tanks, trucks, ambulances and artillery guns manoeuvring in small groups to make them harder to hit.
"One wounded soldier was comforted by his comrades who held his hands as tanks rolled past."
The Daily Telegraph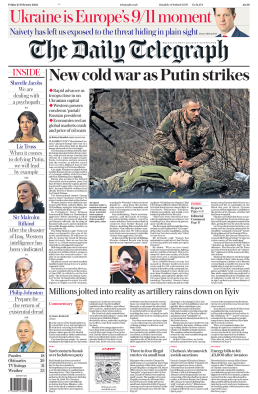 As of Friday 25 February The Telegraph had three reporters and two photographers providing the publication's coverage in the field, including Middle East correspondent James Rothwell and senior foreign correspondent Roland Oliphant. Telegraph chief foreign correspondent Colin Freeman arrived in Kyiv on Tuesday 1 March.
Rothwell was rotated out of the country on Sunday 13 March, by which time freelance Tanya Kozyreva, photographer Simon Townsley and Pakistan and Afghanistan correspondent Ben Farmer had joined the group.
The Times and Sunday Times
As of Friday 25 February The Times and Sunday Times had war correspondent Anthony Loyd, diplomatic correspondent Catherine Philp, photographer Jack Hill and Middle East correspondent Louise Callaghan in Ukraine. By 14 March the group had been joined in the country by Middle East correspondent Richard Spencer and freelance journalist Sofia Barbarani.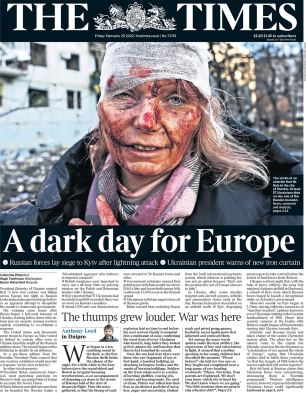 The Times devoted the first 13 pages of its printed edition on Friday 25 February to the invasion and turned its masthead black. Between Thursday morning and Friday afternoon it published more than 100 digital articles about Ukraine.
The paper had its correspondents on the ground appear regularly on Times Radio in moments that were turned into clips for social media. The station, which The Times says had its biggest-ever audiences, brought on guests including former Nato commander General Sir Richard Shirreff, a Ukrainian MP who pleaded for a no-fly zone, and a longtime Irish resident of Kyiv who told the Times' presenters he wanted to fight for Ukraine.
The Guardian and The Observer
The Observer's international affairs correspondent Emma Graham-Harrison and Guardian foreign correspondent Luke Harding were in the field for the sister papers as of Friday 25 February. By Monday 14 March they had been joined by Italy and migration crisis correspondent Lorenzo Tondo, correspondent Isobel Koshiw and Observer foreign affairs editor Peter Beaumont.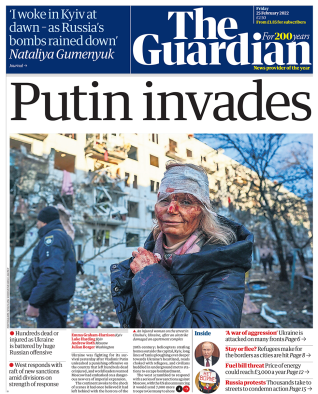 Thursday 24 February was, according to a Guardian News & Media spokesperson, one of the busiest days ever for The Guardian website, with over 75m page views and 12m for the Ukraine live blog alone, making it the tenth most-read Guardian story of all time.
The spokesperson said that "coordination between Guardian newsrooms in the UK, US and Australia, along with several experienced correspondents on the ground, means the Guardian can provide unrivalled round-the-clock live coverage to our increasingly global audience."
Reuters
Reuters said that on the first day of the invasion its customers "used more Reuters footage than on any single day in more than two years. In addition, social views of Reuters video topped 347 million views last week, one of the highest levels seen on a running story."
The agency is assisting with fact-checking efforts by verifying authentic imagery flowing around social media, and ran an event on Thursday 3 March in which a panel of Reuters editors discussed the war and its repercussions.
Associated Press
The AP said on Monday 28 February it had approximately two dozen people around Ukraine, some of them providing live reporting for broadcasters elsewhere. The wire agency already had a full-time bureau in Kyiv before the invasion.
New Statesman
The New Statesman has sent two journalists, international managing editor Alix Kroeger and video producer Phil Clarke-Hill, to the Ukrainian border.
Vice
Vice told Press Gazette it had teams across the region, with Vice News correspondent Matthew Cassel in Kyiv and Vice News international correspondent Ben Solomon in southern Ukraine as of Monday. Contributor Alec Luhn was arrested in Moscow while covering anti-war protests for Vice World News, and later left Russia on Thursday 3 March amid rumours the country was due to declare martial law.
Vice News also has reporters Ben Makuch and Valerie Kipnis in Poland.
Buzzfeed News
As of Monday 28 February Buzzfeed News had its national security and extremism correspondent Christopher Miller on the ground in Ukraine, accompanied by three local freelancers.
The Economist
As of Monday 14 March, Moscow correspondent Oliver Carroll was in Ukraine contributing coverage for the magazine.
Metro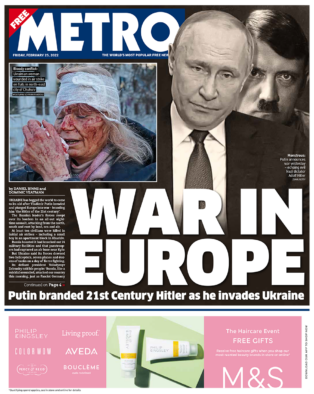 Free daily Metro led on Friday with a front page likening the Russian president to Adolf Hitler. The publication told Press Gazette "our dedicated team at Metro.co.uk has stepped up to the challenge of covering the conflict, with all hands on deck and staff from other departments working to support the news desk.
"We've also adapted our audience, social and newsletter strategy to make sure we are getting our content into the hands of readers who are looking for regular updates.
"We are aware of the impact being involved in such a news cycle can have on staff, so we have made sure they know that we have specialist support available to them should they need it."
Freelancers
There are also some British reporters out in Ukraine unattached to any particular outlet. Former Panorama reporter John Sweeney is in Kyiv, in part using a Crowdfunder to sustain his work. Sweeney spoke to Press Gazette on Monday about reporting from the city. Freelancer Oz Katerji is also reporting from the city.
Russian media
On Saturday state-owned Russian news agency RIA Novosti appeared to accidentally publish an article prepared in advance for an eventual capture of Kyiv.  The since-deleted article, written in Russian, said: "Ukraine has returned to Russia. This does not mean that its statehood will be liquidated, but it will be restructured, re-established and returned to its natural state as part of the Russian world."
A stream of employees at Russian state broadcaster RT have been departing the publication in protest at the invasion. Read more here.
On Tuesday the editor of liberal Moscow radio station Ekho Moskvy said the outlet had been taken off air. Television channel Dozhd said the same day its website had been blocked.
Ukrainian media
Read more:
Pictures: BBC News, Sky News, Daily Mail, Mail Online, Daily Mirror, Daily Express, Financial Times, i, The Independent, The Sun, The Daily Telegraph, The Times, The Guardian
Email pged@pressgazette.co.uk to point out mistakes, provide story tips or send in a letter for publication on our "Letters Page" blog