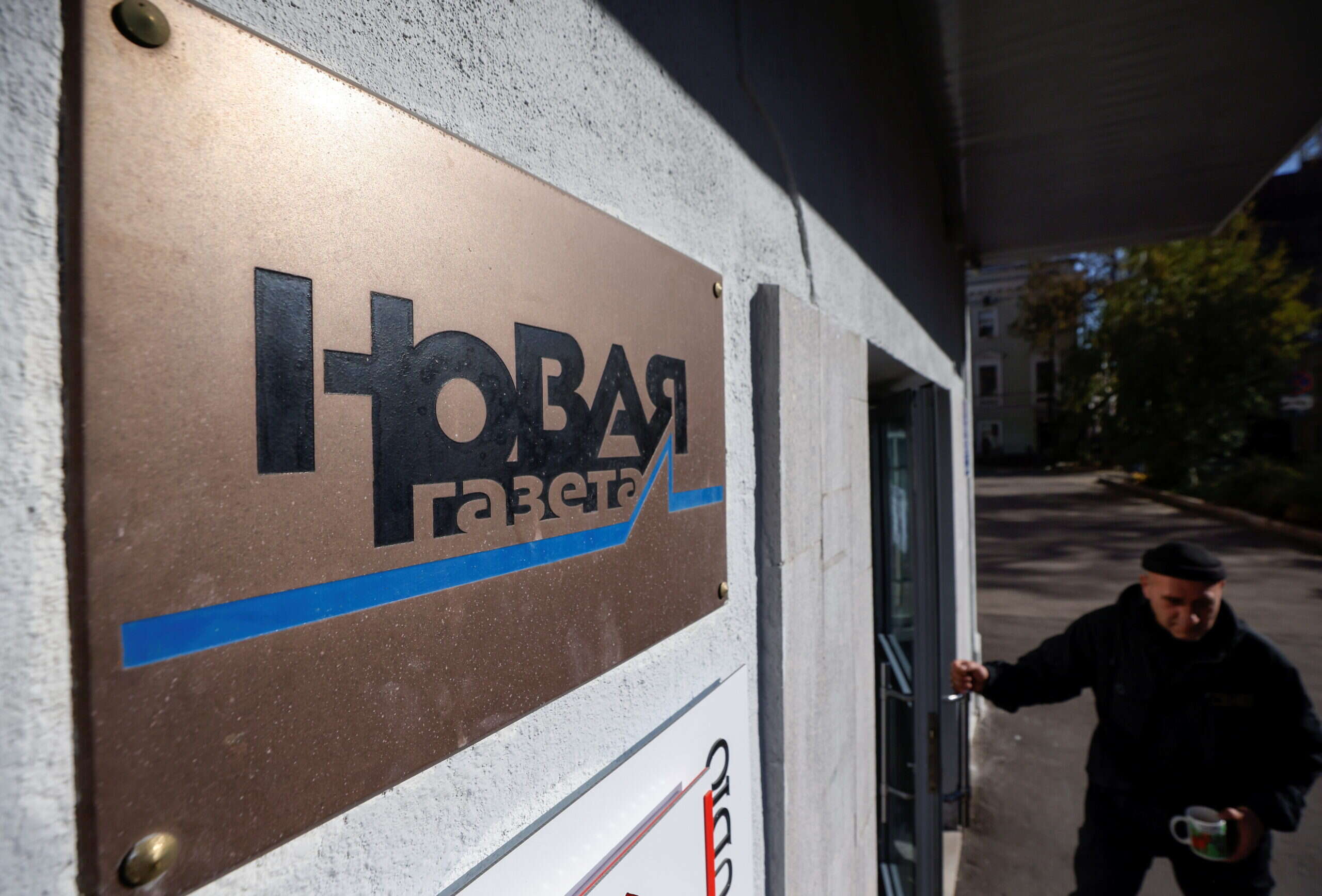 On Friday 4 March, Russia passed a 'fake news' law that threatens journalists with up to 15 years in prison.
Within hours, the BBC announced the immediate suspension of its journalism in Russia. This suspension was lifted on Tuesday 8 March.
Several local publications either closed down in response to the law, or started to delete coverage of the Ukraine invasion.
On this page, Press Gazette is keeping track of how different news outlets are responding to Russia's 'fake news' law.
BBC
The BBC was the first international news outlet to announce a suspension on Friday 4 March. But, on Tuesday 8 March, the BBC said it would resume coverage from Russia.
It said in a statement on Tuesday evening: "We have considered the implications of the new legislation alongside the urgent need to report from inside Russia. After careful deliberation we have decided to resume English language reporting from Russia this evening (Tuesday 8 March), after it was temporarily suspended at the end of last week. We will tell this crucial part of the story independently and impartially, adhering to the BBC's strict editorial standards. The safety of our staff in Russia remains our number one priority."
In a statement at just after 7pm Moscow time on Friday 4 March, BBC director-general Tim Davie had said: "This legislation appears to criminalise the process of independent journalism. It leaves us no other option than to temporarily suspend the work of all BBC News journalists and their support staff within the Russian Federation while we assess the fill implications of this unwelcome development."
CBC/Radio-Canada
Canada's national broadcaster, CBC/Radio-Canada, followed the BBC at just before 11.30pm Moscow time on Friday.
Its statement said: "CBC/Radio-Canada is very concerned about new legislation passed in Russia, which appears to criminalize independent reporting on the current situation in Ukraine and Russia.
"In light of this situation and out of concern for the risk to our journalists and staff in Russia, we have temporarily suspended our reporting from the ground in Russia while we get clarity on this legislation."
Bloomberg News
Bloomberg News, "with great regret", said on Friday 4 March that it had "decided to temporarily suspend our news gathering inside Russia".
Editor-in-chief John Micklethwait said: "The change to the criminal code, which seems designed to turn any independent reporter into a criminal purely by association, makes it impossible to continue any semblance of normal journalism inside the country."
CNN
CNN said in a statement on Friday night, at around 1am Moscow time, that it would "stop broadcasting in Russia while we continue to evaluate the situation and our next steps moving forward".
CBS News
Deadline first reported on Friday 4 March that both CBS News had suspended broadcasting from Russia.
A CBS News spokesperson told Deadline the network is "not currently broadcasting from Russia as we monitor the circumstances for our team on the ground given the new media laws passed today".
ABC News
Deadline also first reported on Friday 4 March that ABC News had suspended coverage in Russia. A spokesperson told the outlet that, because of the new censorship law, it was "not broadcasting from the country tonight. We will continue to assess the situation and determine what this means for the safety of our teams on the ground."
Washington Post
A spokesperson for the Washington Post said at about 10.30pm Moscow time on Friday 4 March: "We are assessing the details of the Russian law and its potential impact on our reporting. We intend to exercise caution while seeking clarity about how these reported restrictions would affect Washington Post correspondents and local staff."
On Saturday 5 March, the Post said it would be removing journalists' bylines from certain Russia stories as a precaution.
The New York Times
On Tuesday 8 March, a New York Times spokesperson said the outlet would be temporarily removing its journalists from Russia.
The spokesperson said: "Russia's new legislation seeks to criminalize independent, accurate news reporting about the war against Ukraine. For the safety and security of our editorial staff working in the region, we are moving them out of the country for now.
"We look forward to them returning as soon as possible while we monitor the application of the new law.  We will continue our live, robust coverage of the war, and our rigorous reporting on Russia's offensive in Ukraine and these attempts to stifle independent journalism."
Conde Nast
On Tuesday 8 March, Conde Nast chief executive Roger Lynch told staff: "With journalists and editorial teams around the world, it is paramount that we are able to produce our content without risk to our staff's security and safety. Recently, the Russian government passed new censorship laws that now make it impossible for us to do so.
"To that end, we have decided to suspend all of our publishing operations with Condé Nast Russia at this time."
Independent Russian news outlets
The law is a major concern for Russia's local independent media. Some have suspended operations altogether, while others have halted coverage of the Ukraine invasion to protect staff.
Novaya Gazeta
Russia's native and internationally-respected Novaya Gazeta said on Friday 4 March that it would be removing material from its website on Russia's military actions in Ukraine due to the threat of criminal prosecution.
In a message to readers, translated and reported by Reuters, Novaya Gazeta said: "Military censorship in Russia has quickly moved into a new phase: from the threat of blocking and closing publications (almost fully implemented) it has moved to the threat of criminal prosecution of both journalists and citizens who spread information about military hostilities that is different from the press releases of the Ministry of Defense. There is no doubt that this threat will be realised."
It's My City
Shortly before 10pm Moscow time on Friday, Novaya Gazeta reported that a publication called It's My City had also chosen to do so. Editors said in a statement: "In the current situation, we cannot put journalists at risk."
The Bell
Another local publication, The Bell, stopped coverage of the armed conflict in Ukraine. In a statement, reported and translated by Novaya Gazeta, it said: "We continue to work and cover the consequences of what is happening. First of all, economic. From the first day of The Bell, our main task has been to help readers not to drown in a stream of disparate information, to choose the most important and deeply analyze the essence, helping to make the right decisions. As long as possible, we will continue this work further."
Znak
Another Russian news site, znak.com, has suspended operations. A message on its website, translated by Google, says: "We, the editors of the online publication Znak.com, announce the closure. We are suspending our work due to a large number of restrictions that have recently appeared for the work of the media in Russia."
Moscow Times
The Moscow Times said on Friday night that the Russian-language version of its website would be temporarily suspending its work.
More to follow. We are updating this story as new statements and information come through.
Top picture credit: REUTERS/Maxim Shemetov
Email pged@pressgazette.co.uk to point out mistakes, provide story tips or send in a letter for publication on our "Letters Page" blog