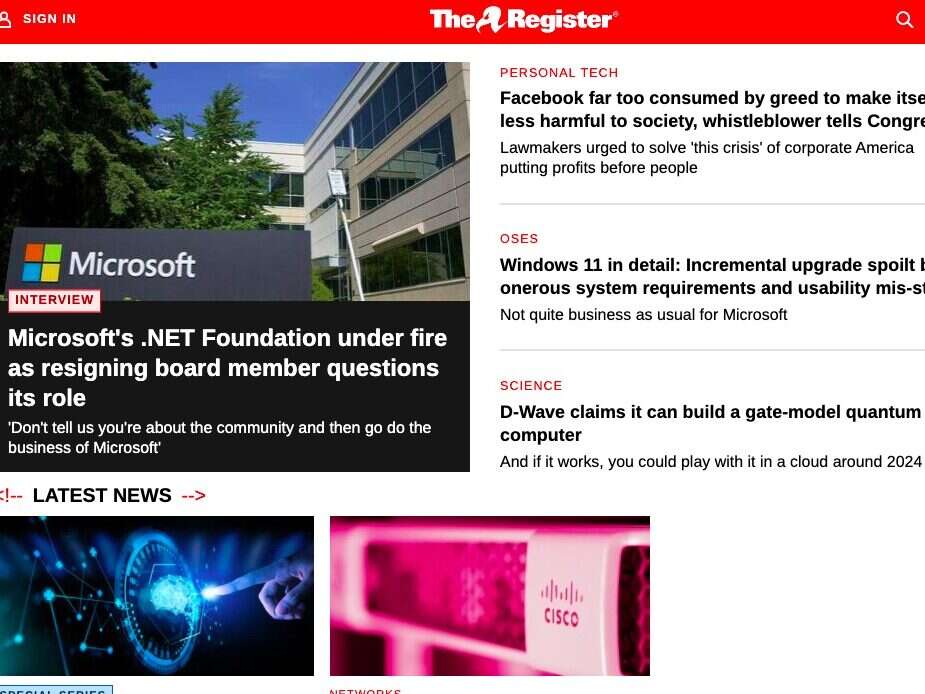 Working with Similarweb Press Gazette has compiled an exclusive list of the biggest biggest websites covering the technology industry.
[Read more: Top B2B sites covering pharma and medical devices in UK and US]
Ars Technica narrowly beat TechCrunch as the most widely read technology site globally in October 2021 according to data from web analytics firm, Similarweb. Ars Technica, which bills itself as a site for " 'alpha geeks': technologists and IT professionals" racked up 17.7 million global visits in October. Since 2008 the site has been owned by Condé Nast Digital and is part of the company's Wired Digital group, which also includes consumer title, Wired.
Second-place TechCrunch had 16.2 million visits in October, while third place ZDNet, which started life as a general interest technology brand before evolving into a business IT title, had 9.8 million visits.
BizClik media's Technology Magazine, which is geared towards senior technology company executives, meanwhile, was the fastest growing site year-on-year, with visits tripling (up 203%) from 24,205 to 73,336 from October 2020 to October 2021. Also showing strong growth over the year were The Register (3.4 million visits – up 127%) and BusinessCloud (120,700 visits – up 111%).
In the US, Ars Technica also led for traffic in October with 10 million visits. It was followed by TechCrunch (6 million visits), and ZDNet (3.5 million visits). In comparison to their global performance, the leading three sites have seen steeper declines in US traffic since January 2019 (the earliest date for which Similarweb data is available). Ars Technica's US visits declined by 30% (from 14.3 million in January 2019) while US visits to TechCrunch fell by 49% (from 11.9 million visits).
Ars Technica leads the table for leading sites in the UK with 791,908 visits.
The second-biggest site in the UK was TechCrunch (753,389 visits).
The Register with third 625,064 visits. The British information technology title which was launched in print almost two decades ago has seen a sharp growth in traffic since April 2021 according to Similarweb figures.
It was followed by  and ZDNet (439,858 visits).
Lewis Page, editor of specialist technology website Verdict.co.uk, says that ideas and technologies emanating from large ICT firms drive coverage in the sector.
"They're wondering at the moment: what's next? What's going to drive their growth next and get us to use even more networking bandwidth, even more processing power, even more data storage, and even more software to make it all work," says Page.
From mainframe computing, to personal computers, to mobiles, to current innovations in the cloud and data, technology firms for decades have launched successful idea after successful idea onto the market. What the next big thing will be however, remains to be seen.
"The things that technology journalists deal with day-to-day are very often ideas that the big guys - very well capitalised people like Intel - would like us to be thinking and talking about so that some of them at least will catch on and the growth will continue," says Page.
He adds: "But one has to remember that when talking about themes cutting through technology, they are, to some degree, marketing ideas."
"So when people get very excited about AI, the Internet of Things, wearables, AR and VR and self-driving cars, the root of the excitement is very often the wish to ultimately sell us more IT equipment."
While Page says it's not an issue unique to technology, showcasing new ideas to journalists is particularly prevalent in tech thanks to the large amount of money in the sector. Technology journalists, he says, are regularly flown around the world to be briefed on new technologies.
"That is far less the case in other verticals because there just isn't as much money kicking around for the purpose of marketing, and the margins aren't as high and the stakes aren't as high," he says.
"In many cases even if they don't actually have a business, [technology companies] still usually have a barrel of capital," adds Page.
AI, the Internet of Things, wearables and AR and VR are some of the hottest themes in technology journalism currently.
Other themes, however, says Page, are more "buzzwords" than truly transformational ideas.
"Any form of data analysis nowadays tends to be branded as AI - it's just a trendy buzzword, like HD was a few years ago."
Yet, while new ideas take up considerable column inches, less talked about says Page are things like technology's "huge bubble."
"It's fairly well accepted that most companies which are perceived as technology companies are valued far beyond any sort of normal valuation," he says.
"Tech pushers have also failed, I would argue, to get any of their follow-on themes and ideas to really take hold. AR and VR for instance have been pushed for a long time... people just aren't buying it," he says.
Cybersecurity, however, is one key theme in the sector's coverage right now that seems unlikely to go away.
"[Digital attacks] are just going to become a worse and worse issue for everybody," he says.
Data privacy and regulation are similarly likely to remain salient themes for those writing about technology.
"The Wild West is probably coming to an end," says Page. "Weightless companies such as the web giants, Facebook and Google used to be able to do ridiculous amounts of business with almost no human staff.
"All around the world, people and governments are waking up and realising that these companies need to be properly regulated. And that's going to hit their margins. That's not a happy story," he adds. "If they're now going to have to hire lots of human staff to comply with new regulations, their margins are going to get worse and they're going to be funding less cables and building less data centres."
Press Gazette uses Similarweb data for its digital traffic analysis stories so we can compare figures across publishers, who differ in how they measure their own audience data.  Similarweb generates its traffic data by applying machine learning and modelling to the statistically representative datasets that the company collects. Datasets are based on direct measurement (i.e. websites and apps that choose to share first-party analytics with Similarweb); contributory networks that aggregate device data; partnerships and public data extraction from websites and apps.
Due to differences in audience measurement methods the rankings in this article should be considered approximate and data may differ from publishers' own internal analytics.
Email pged@pressgazette.co.uk to point out mistakes, provide story tips or send in a letter for publication on our "Letters Page" blog