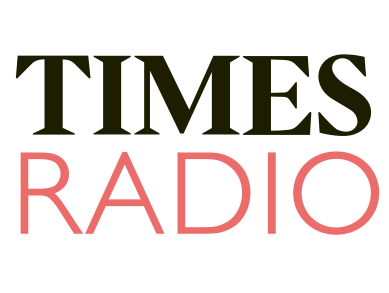 Times Radio has secured a number of high-profile journalists to present on the new digital radio station, which launches in June 2020.
The station is part of Rupert Murdoch's News UK, which also owns Talksport, Talkradio and Virgin Radio under its Wireless subsidiary.
It promises "provocative and well-informed" news and current affairs analysis, with no listener phone-ins nor the "old fashioned adversarial approach" to interviews seen elsewhere.
There will be no ad breaks, with sponsorship deals creating revenue instead.
It is also hoped the station, which will air on DAB, online, via an app and on smart speakers, will also boost subscriber numbers to the Times and Sunday Times in print and digital.
Presenters have been poached from the BBC, including deputy political editor John Pienaar, and elsewhere. Others have been taken from within News UK's ranks at the Times and the Sun newspapers.
Launch date
Times Radio will launch at 6am on Monday 29 June.
Full schedule
| | | | | |
| --- | --- | --- | --- | --- |
| Time slot | Monday-Thursday | Friday | Saturday | Sunday |
| 5am-6am | Calum Macdonald | Calum Macdonald | N/A | N/A |
| 6am-10am | Aasmah Mir & Stig Abell | Luke Jones & Jenny Kleeman | Luke Jones & Jenny Kleeman | Luke Jones & Jenny Kleeman |
| 10am-1pm | Matt Chorley | Gloria De Piero | Hugo Rifkind | Gloria De Piero & Tom Newton Dunn |
| 1pm-4pm | Mariella Frostrup | Giles Coren | Alexis Conran | Alexis Conran |
| 4pm-7pm | John Pienaar | Cathy Newman | Ayesha Hazarika | Ayesha Hazarika |
| 7pm-10pm | Phil Williams | Michael Portillo | Features and podcasts (on tape) eg 7pm: Rachel Sylvester & Alice Thompson | Features and podcasts (on tape) eg 7pm: Amber Rudd & Flora Gill |
| 10pm-1am | Carole Walker | Kait Borsay | Kait Borsay | Kait Borsay |
Who are the presenters?
Stig Abell
The editor of the Times Literary Supplement is Times Radio's launch director and will co-present the breakfast show on Mondays to Thursdays.
Abell's broadcast experience includes hosting BBC Radio 4's Front Row and hosting the TLS podcast.
He said: "Our agenda will be straightforward: provide provocative, well-informed, entertaining and useful discussion on the key stories of the day, informing the national conversation."
Aasmah Mir
Co-presenting the breakfast show with Abell on Mondays to Thursdays is journalist Aasmah Mir, who has left the BBC after almost 20 years to join the new station.
She most recently presented Saturday Live on Radio 4 and has also co-presented BBC 5 Live's Drive programme.
She said: "The Times is a byword for quality journalism and this is an enviable opportunity to create compelling radio from scratch.
"Our listeners will be just like me – I want to be informed but I want warmth too and a programme fit for 2020."
John Pienaar
Pienaar left his role as BBC deputy political editor in February to join the new launch. He will present the drivetime show on Mondays to Thursdays.
He spent almost 30 years at the BBC and has previously worked as as a political correspondent on Radio 5 Live, BBC News at Ten, and at the Independent and PA.
Pienaar said: "I couldn't be more thrilled about joining the greatest and oldest title in journalism – in such a new and ambitious project on the digital front line.
"The guiding aim is to offer listeners high quality discussion and analysis of the stories and issues of the day, and make it a compelling, enjoyable listen. I can't wait to get started."
Cathy Newman
The Channel 4 News presenter will continue in the role she is known for on Mondays to Thursdays, but will host the Friday evening drivetime for Times Radio.
Newman said: "I look forward to quizzing politicians, chewing over the week's news and attempting to set the world to rights every Friday evening."
Tom Newton Dunn
Newton Dunn will leave his role as Sun political editor after 11 years to present on the new station, having first joined the paper as defence editor in 2004.
Newton Dunn will be Times Radio's chief political commentator and will co-present a Sunday morning show focusing on political interviews and a leisurely look through the Sunday papers.
He will also present special programmes for events like the Budget and election nights.
Newton Dunn said: "We hope to do everything a little differently, and give listeners warmth with intelligence.
"The world of broadcast is a great new challenge that I can't wait to throw myself into."
Matt Chorley
In another shuffle from within News UK's walls, Times Red Box editor Chorley will step back from writing the newsletter to present mid-mornings from Monday to Thursday.
He will focus on bringing political events to life with guests and expert commentators.
He said: "Having spent the last few years unpicking politics for the greatest newspaper in the world, I can't wait to get started doing the same on the most exciting new radio station in the world, taking listeners behind the scenes to explain how Westminster works with the best guests and features."
Michael Portillo
The former Tory Defence Secretary will present a weekly Friday evening show looking at cultural highlights for the weekend ahead, showcasing the best of Times journalism, and reviewing the week in politics.
Portillo said: "My aim is to produce an entertaining and informative show that will engage listeners."
Since leaving politics in 2005, Portillo has presented many radio and TV documentaries, appeared as a regular in the BBC's This Week with Andrew Neil for 16 years, and written a Sunday Times column.
Luke Jones
Jones is joining Times Radio from the BBC, where he has presented a number of Radio 4 programmes including PM, World At One and Broadcasting House. He is also a theatre critic for the Daily Mail.
Jones will co-present the breakfast show on Fridays, Saturdays and Sundays.
He said: "This station is exactly what I've been missing in my listening life. The Times and The Sunday Times have always been my go-to papers.
"Their journalists are ferociously and charmingly intelligent. I can't wait to share them with you in your car and bath."
Jenny Kleeman
Also co-presenting the weekend breakfast show, Kleeman is an investigative journalist and author.
She has reported for Panorama, Vice and Channel 4's Unreported World and written for the Times, Sunday Times and slow news start-up Tortoise.
Kleeman said: "There has never been a better time to create a trusted, warm and engaging alternative in national speech radio."
Calum Macdonald
Macdonald has left the BBC after about five years building a name for himself on 5 Live and BBC Radio Scotland, saying he will help early risers "get clued up on the news and issues of the day".
News UK said his "engaging yet authoritative style will be the perfect companion for all those early risers".
Gloria De Piero
De Piero was a Labour MP between 2010 and 2019, serving in the shadow cabinet of both Ed Miliband and Jeremy Corbyn.
Before becoming a politician her journalism career included spending seven years as political editor for GMTV.
She said she was "absolutely thrilled to be working with someone of Tom's calibre to reinvent the Sunday morning political debate" with her joint show with Newton Dunn, a pairing they are dubbing "G&T".
Mariella Frostrup
Journalist and presenter Frostrup is well known for many roles across radio, TV and print – among them agony aunt for the Observer and presenter of the Open Book on BBC Radio 4.
She said she will be putting together an "ambitious show covering topical news, lifestyle and culture – with some levity along the way – that I hope will become a fixture in listener's lives".
Subjects will include topical social and family issues and interviews with celebrity guests.
Giles Coren
Long-time Times columnist, restaurant critic and podcaster Coren will extend his duties to present his "completely wrong take on everything" for the Friday afternoon show.
"I have been writing for The Times for more than 25 years, so I would have been frankly insulted not to be offered a show of some sort in this exciting and timely move into radio," Coren said.
"The Friday afternoon slot is a mixed blessing as it'll kill my favourite lunch of the week. But on the plus side I can be in the pub with my week's work done before it gets too packed."
Hugo Rifkind
Another well-known Times columnist and critic, Rifkind will take listeners through the week's news and look ahead to the weekend each Saturday morning.
Rifkind said: "My show is for all the people who love the Saturday edition of The Times and who wish, after reading it each week, that there was somebody nattering on in a similar vein out of a small box in their kitchen."
Phil Williams
Williams worked at BBC 5 Live for about 20 years and says he has read the Times his whole adult life.
"My show will analyse the day's news without leaving listeners feeling overwhelmed by it," he said.
"We'll also be covering sport, entertainment and culture each night, giving contributors the space to speak without constant interruption, and offering the evening listener a friendly place to relax with the radio."
Carole Walker
A former political correspondent for the BBC, Walker will wind down the day's news in her late night show, previewing the next day's front pages and looking in particular at political events in the US.
Since she left the BBC in 2017 after 20 years in her role and more than 30 years in total, Walker has been a freelance political commentator and presenter appearing on CNN, Sky News and Talkradio.
Kait Borsay
Broadcast journalist Borsay has become known for her work on Sky Sports News and Talksport, and co-founded the football podcast The Offside Rule.
Borsay said: "My aim is to offer listeners radio that extends the conversations in our daily lives, filling the gap felt by those who can't find a station that sounds like them.
"We will complement news and current affairs with issues like social engagement, parenting and digital culture."
Alexis Conran
Talkradio presenter Conran, who co-presented the factual BBC Three show The Real Hustle between 2006 and 2012, will host weekend lunchtimes.
"My show will be three hours of entertaining news-based conversation, looking at the politics of the week, and delving into consumer and tech issues," he said.
Ayesha Hazarika
Former Labour adviser Hazarika joined the Evening Standard as editor of the daily diary section The Londoner last year. She already wrote a column for the paper.
The political commentator and broadcaster, who regularly appears on newspaper round-ups and current affairs programmes, received an MBE for services to politics in 2016.
Her weekend drivetime slot will contain her "unique brand of insight, opinion and humour to current affairs, together with a broad range of guests from Westminster and beyond", News UK said.
Rachel Sylvester and Alice Thompson
The Times columnists will host an interview series focusing on how leading figures overcame the challenges of their early years to shape who they would become.
Confirmed guests so far include Tony Blair, TV presenter Kirstie Allsopp, actor Brian Cox and geneticist Sir Paul Nurse.
Amber Rudd and Flora Gill
This mother and daughter pairing of a former Conservative Home Secretary and a young journalist will discuss their different takes on the world following their cheeky Twitter interactions.
Gill is the daughter of former Sunday Times food writer AA Gill who died of cancer in 2016. She has since helped set up a new award for unpublished writers to find "the next great critic" in his memory.
Email pged@pressgazette.co.uk to point out mistakes, provide story tips or send in a letter for publication on our "Letters Page" blog