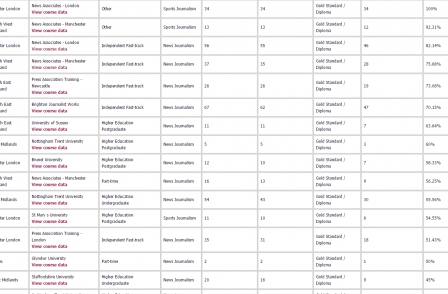 The National Council for the Training of Journalists has published its annual figures revealing the pass rates for various training centres.
The below table shows the proportion of students who passed all the course segments (news writing, law, public affairs etc.) and also obtained 100 words per minute in shorthand.
Courses run by private sector training providers occupy the top six places on the list, outshining the various university courses which offer NCTJ qualifications in addition to academic ones. Courses run by News Associates have the top four places on the table.
According to the NCTJ data, courses at 18 institutions (at the bottom of this table) failed to get any students to what the NCTJ describes as its "gold standard" (A-C passes in all areas and 100 words per minute shorthand).
NCTJ course pass-rate data for academic year ending 2015, source NCTJ
Area
Course provider
Course title
No completing course
Gold standard pass rate
Greater London
News Associates – London
Sports Journalism
34
100%
View course data
North West England
News Associates – Manchester
Sports Journalism
13
92.31%
View course data
Greater London
News Associates – London
News Journalism
56
82.14%
View course data
North West England
News Associates – Manchester
News Journalism
37
75.68%
View course data
North East England
Press Association Training – Newcastle
News Journalism
26
73.08%
View course data
South East England
Brighton Journalist Works
News Journalism
67
70.15%
View course data
South East England
University of Sussex
News Journalism
11
63.64%
View course data
East Midlands
Nottingham Trent University
News Journalism
5
60%
View course data
Greater London
Brunel University
News Journalism
12
58.33%
View course data
North West England
News Associates – Manchester
News Journalism
16
56.25%
View course data
East Midlands
Nottingham Trent University
News Journalism
54
55.56%
View course data
Greater London
St Mary s University
Sports Journalism
11
54.55%
View course data
Greater London
Press Association Training – London
News Journalism
35
51.43%
View course data
Wales
Glyndwr University
News Journalism
2
50%
View course data
West Midlands
Staffordshire University
News Journalism
20
45%
View course data
East Midlands
Nottingham Trent University
Magazine Journalism
10
40%
View course data
Yorkshire
University of Sheffield
News Journalism
16
37.50%
View course data
South East England
Brighton Journalist Works
News Journalism
25
36%
View course data
Wales
Cardiff University
News Journalism
24
33.33%
View course data
North East England
University of Sunderland
Sports Journalism
6
33.33%
View course data
West Midlands
City of Wolverhampton College
News Journalism
13
30.77%
View course data
South East England
University of Kent
News Journalism
20
30%
View course data
Greater London
News Associates – London
News Journalism
36
27.78%
View course data
South East England
University of Kent
News Journalism
15
26.67%
View course data
South East England
Highbury College
News Journalism
23
26.09%
View course data
Greater London
Lambeth College
Magazine Journalism
17
23.53%
View course data
South East England
University of Portsmouth
News Journalism
17
23.53%
View course data
Yorkshire
University of Sheffield
News Journalism
42
21.43%
View course data
Northern Ireland
University of Ulster
News Journalism
14
21.43%
View course data
Greater London
Harlow College
News Journalism
15
20%
View course data
North East England
Teesside University
News Journalism
5
20%
View course data
North West England
City of Liverpool College
News Journalism
17
17.65%
View course data
East Midlands
De Montfort University (Leicester)
News Journalism
18
16.67%
View course data
East Midlands
De Montfort University (Leicester)
News Journalism
6
16.67%
View course data
Greater London
Lambeth College
News Journalism
27
14.81%
View course data
North East England
University of Sunderland
Sports Journalism
30
13.33%
View course data
North East England
Darlington College
News Journalism
9
11.11%
View course data
Scotland
The Robert Gordon University
News Journalism
9
11.11%
View course data
Greater London
Lambeth College
News Journalism
10
10%
View course data
Greater London
Brunel University
News Journalism
20
10%
View course data
North West England
University of Salford
News Journalism
30
10%
View course data
Yorkshire
Sheffield College
News Journalism
11
9.09%
View course data
Scotland
Glasgow Caledonian University
News Journalism
36
8.33%
View course data
South West England
Bournemouth University
News Journalism
51
7.84%
View course data
South East England
University of Brighton
Sports Journalism
21
4.76%
View course data
North East England
University of Sunderland
News Journalism
25
4%
View course data
North West England
University of Central Lancashire
News Journalism
26
3.85%
View course data
South West England
Cornwall College Camborne
News Journalism
4
0%
View course data
Greater London
Harlow College
News Journalism
13
0%
View course data
South East England
Highbury College
News Journalism
8
0%
View course data
Greater London
Lambeth College
News Journalism
0
0%
View course data
Northern Ireland
North West Regional College
News Journalism
14
0%
View course data
South West England
Cornwall College Camborne
News Journalism
3
0%
View course data
Wales
Glyndwr University
News Journalism
0
0%
View course data
Scotland
Fife College
News Journalism
9
0%
View course data
Scotland
Glasgow Clyde College
News Journalism
8
0%
View course data
Wales
Glyndwr University
News Journalism
1
0%
View course data
North East England
University of Sunderland
Broadcast Journalism
12
0%
View course data
North East England
University of Sunderland
Magazine Journalism
24
0%
View course data
North East England
University of Sunderland
Fashion Journalism
22
0%
View course data
Yorkshire
Leeds Trinity University
News Journalism
6
0%
View course data
Yorkshire
Leeds Trinity University
Magazine Journalism
1
0%
View course data
West Midlands
Staffordshire University
News Journalism
5
0%
View course data
North East England
University of Sunderland
Magazine Journalism
1
0%
View course data
North East England
University of Sunderland
News Journalism
6
0%
View course data
South East England
University of Sussex
News Journalism
2
0%
View course data
North East England
Teesside University
News Journalism
2
0%
View course data
Scotland
Glasgow Caledonian University
News Journalism
8
0%
View course data
North West England
University of Central Lancashire
Magazine Journalism
2
0%
View course data
North West England
University of Central Lancashire
News Journalism
3
0%
View course data
Greater London
Kingston University
News Journalism
15
0%
View course data
Email pged@pressgazette.co.uk to point out mistakes, provide story tips or send in a letter for publication on our "Letters Page" blog