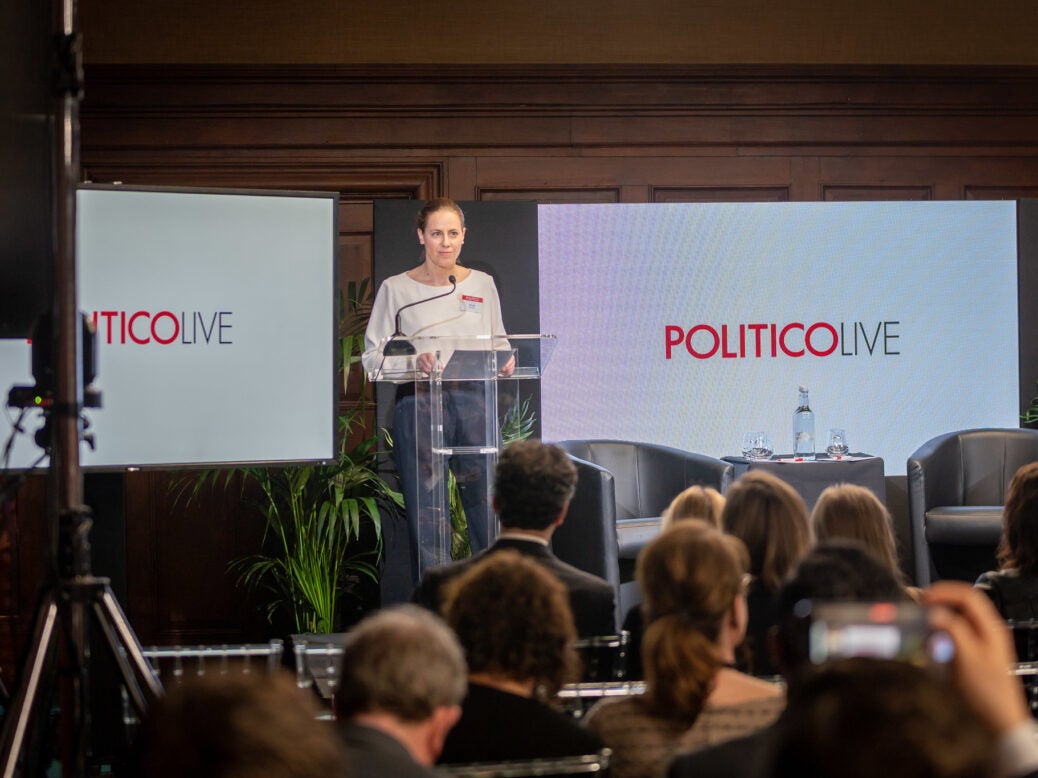 Politico says it has "nearly doubled" the size of its London bureau to more than 30 journalists over the past month and aims to have reached above 50 within a year and a half.
The bullish growth plans stand in contrast to widespread cuts hitting news publishers in both the UK and US.
Politico Europe deputy editor-in-chief Kate Day, who heads the news organisation in Westminster, told an audience in London's County Hall: "Back in December we had 18 journalists in London. We're now at 32, I think — I lose track a little bit. We badly need new offices."
Politico UK has launched a bevy of new products in recent weeks, including a redesigned website, a Pro subscription product covering UK tech policy and an afternoon edition of the widely-read London Playbook morning briefing. The company has also expanded the size of its live news team, a focus reflected in the design of the new website.
Politico Europe's editor-in-chief Jamil Anderlini told the event (held in London on Tuesday): "We've nearly doubled within the last month or so and we're probably on track to triple our bureau in Westminster in the next 18 months, so it's a very exciting time."
The pair were appearing at a live event described in Playbook PM as "a knees-up to celebrate our expansion" that featured interviews with US ambassador Jane Hartley and Conservative Business and Trade Secretary Kemi Badenoch.
Hartley told Anderlini that reading Playbook was "the first thing I do every morning… even before the FT," possibly unaware former editor Lionel Barber was in the audience.
Following a drinks reception, the 150-odd guests were invited to take home a branded Politico umbrella or tote bag. The latter contained a branded Politico workout shirt, a branded metal straw, a QR code to sign up to Playbook and Politico Pro, and a branded binder clip.
Why Politico is expanding in London while other newsrooms are shrinking
Day told Press Gazette the following afternoon that Politico's London expansion plans had been in the pipeline for approximately a year. After the company was acquired by Axel Springer in August 2021, Day said, the company decided on a growth strategy wherein "the two priorities for Politico globally are California and the UK".
Day said Playbook is "read by everybody who matters in Westminster. And we felt there was space to do more, building on the success of Playbook, to engage readers through the day with our free products".
As well as its consumer news offering, she added: "We've had a trade policy product in the UK for some time. That really grew out of Brexit coverage. But there are obviously lots of other policy areas that, globally, Politico covers very well, that we weren't covering from a Westminster perspective, or a British government perspective…
"We felt our sponsors were asking for more, were wanting more from us. There was an opportunity in the market here to do a bit more with them.
"And similarly, on the policy side, subscribers wanted more from Westminster, and we felt we could provide it — there seems to be a gap in the market for really strong policy coverage that's infused with politics."
Day confirmed that the tripled headcount Anderlini promised referred specifically to editorial staff, "but of course as we add products and journalists, we also need salespeople and lots of other support staff".
Press Gazette tracked at least 1,000 planned redundancies across US and UK media in January. What has allowed Politico to expand while others were facing cuts?
"I think our focus on a very clearly defined readership and our focus on really strong journalism — trying to do journalism in a way that no one else is doing, to be the best at the things that we do," Day said.
She added: "We've been extremely focused in the way that we've grown, and we've also been very focused both on the journalistic side and on the commercial side. So the two have grown hand in hand, and I think that's been critical — we haven't had one side running ahead of the other."
Does that mean the "badly-needed" new office was forthcoming?
"I've been viewing offices in the last few weeks… All of my team keep asking me because we are very much running out of space. But there is one in the works."
Email pged@pressgazette.co.uk to point out mistakes, provide story tips or send in a letter for publication on our "Letters Page" blog