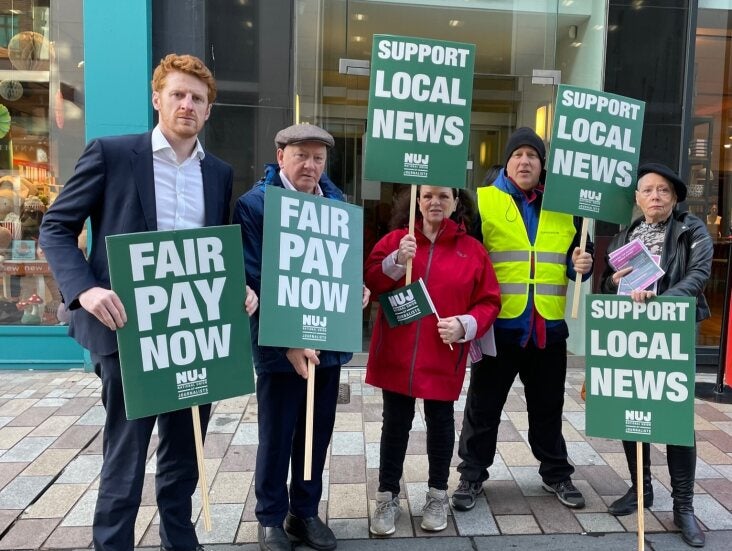 National World journalists across the UK were out on picket lines on Monday in the company's first-ever nationwide strike.
The National Union of Journalists said more than 330 journalists walked out in protest over a pay dispute, in the first of three strikes scheduled at the publisher.
Nine pickets were organised by the NUJ, taking place in Belfast, Derry, Edinburgh, Kettering, Leeds, Portsmouth, Preston, Sheffield and Sunderland.
Most National World websites appeared to continue publishing on Monday.
The company has offered staff a 4.5% pay increase to journalists, backdated to 1 April, but union members rejected the offer, saying it represented a real-terms cut amid high inflation.
Journalists will now work to rule until the next strike on Friday, meaning they will only do their contracted hours. The third strike is due next Monday (25 September).
[Read more: National World journalists vote to strike over pay]
National World's 'low-paid workers cannot afford to subsidise this company anymore'
As well as the in-person pickets, the NUJ said some 90 people joined an online rally conducted by Zoom to support National World strikers.
Among the attendees were Labour MPs Olivia Blake and Grahame Morris, with pre-recorded or written messages from Conservative Member of the Scottish Parliament Russell Findlay, the SNP's John Nicholson MP and Scottish Labour's Monica Lennon MP.
MPs also visited some of the pickets, with Labour's Richard Burgon appearing in Leeds.
A recurring theme at the rally was the difficulty retaining staff at current pay levels. One chapel chair told the rally: "We've had lower-end staff who've had to take bar jobs at the weekend to try and make ends meet… It's just getting worse and worse, decade after decade."
Another chair said that the company had been unable to retain a contract for a BBC-funded Local Democracy Reporter role because they could not attract a qualified journalist for the pay on offer.
"We had a year without an LDR – and then we lost the contract because we couldn't recruit anybody. The contract went to Reach, who have a minimum of £30,000 salary [for senior LDRs] and they recruited somebody within a week."
One journalist told the rally that the Sheffield picket line had been "excellent, really lively and just reflected a mood [of] 'enough is enough'…
"There's a lot of people who'd never been on a strike, never been on a picket line before – young workers, very low-paid workers who just cannot afford to subsidise this company anymore."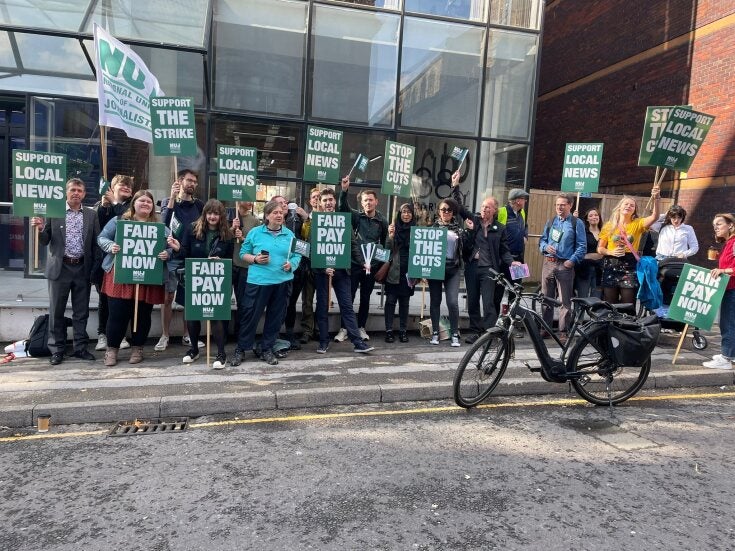 They said their colleagues had been "inspired, as well, by what happened at Reach, when they got a much better pay rate" following a walkout last year.
[Read more: Pictured – 1,150 Reach journalists on picket lines across UK and Ireland over 3% pay offer]
And they called on the NUJ to launch a campaign "to save local news" more broadly.
"Because it really links into what's happening at the BBC with the horrendous cuts that are going on there where local radio has been trashed, basically, in order to fund some online projects…
"I hope that we get a really good, quick settlement – but if the strike action is to continue and the BBC's thinking about coming out [on strike] again, we should be out together, actually. Unity is strength, that's what unions are supposed to do."
[Read more: Pictured – 1,000 BBC journalists strike over local radio cuts]
The gathering also heard about a boost in recruitment to the NUJ in recent weeks. Following cuts at the company this summer it was said that "nearly half the staff" on NationalWorld.com had gone, and there were about three people left in the union chapel – but this has since grown to more than 20 people following an influx of new NUJ members.
'It makes me think we're going to win this'
Another journalist who had been on the Sheffield picket line said it had a "great atmosphere", adding: "It was really nice to feel part of something. I know we all work from home and it's sometimes quite hard to feel that you're connected to your colleagues but going out today it was just really good to feel that I was standing with my colleagues and they feel the same."
They added that it had left them feeling "lifted and so strong": "It's nice to see how passionate people are because it makes me think we're going to win this."
A union representative at The Scotsman's NUJ chapel said that in Edinburgh "we had a very good turnout, despite the fact it was hosing rain". Hoping to "celebrate the role that [The Scotsman] plays in Scottish life" the picket there featured poetry readings and musical performances.
At the virtual rally the rep dismissed an argument, expressed by National World in an email to staff two weeks ago, that industrial action "risks harming the business".
He said: "We're not damaging the titles – these are titles we pour our hearts and souls into on a daily basis, in some cases for years and decades."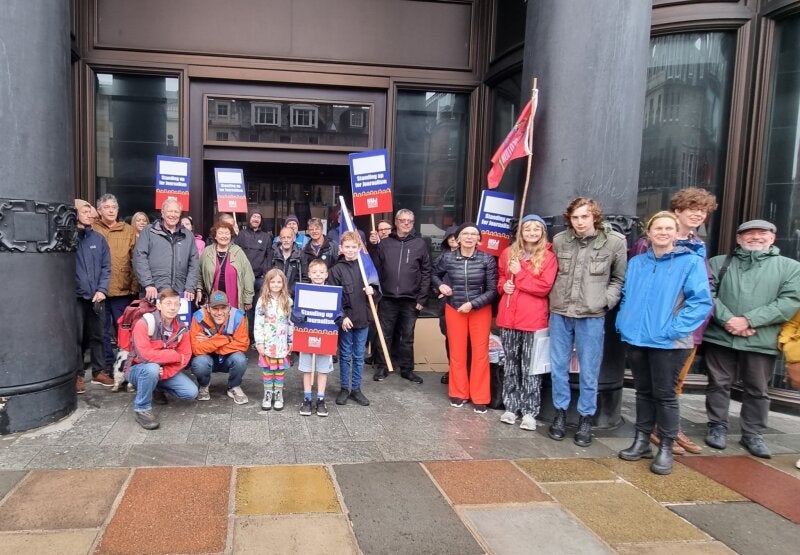 They argued that during the former Johnston Press and then JPI Media periods of the titles' history, "it felt like a cross between musical chairs and the hunger games [but…] we appreciate[d] the numbers – they had to make £30m-plus a year just to break even.
"The difference now [is] I think it's important for people to grasp that this is a choice. This isn't something that's been forced on the company. The company has just paid a big fat dividend to shareholders.
"The company has significant cash reserves of £20m-odd sitting there and they're busy trying to buy up other titles right, left and centre. So this isn't something that they can hold their hands up [about] and say: 'Poor us, we just don't have money in the bank.'"
He added the Edinburgh picket had received words of support from novelist Alexander McCall Smith, who writes a serialised "daily novel" for The Scotsman named 44 Scotland Street: "He sends his best wishes and support [and] said he 'would do (almost) anything' to help us out", the rep said.
Email pged@pressgazette.co.uk to point out mistakes, provide story tips or send in a letter for publication on our "Letters Page" blog