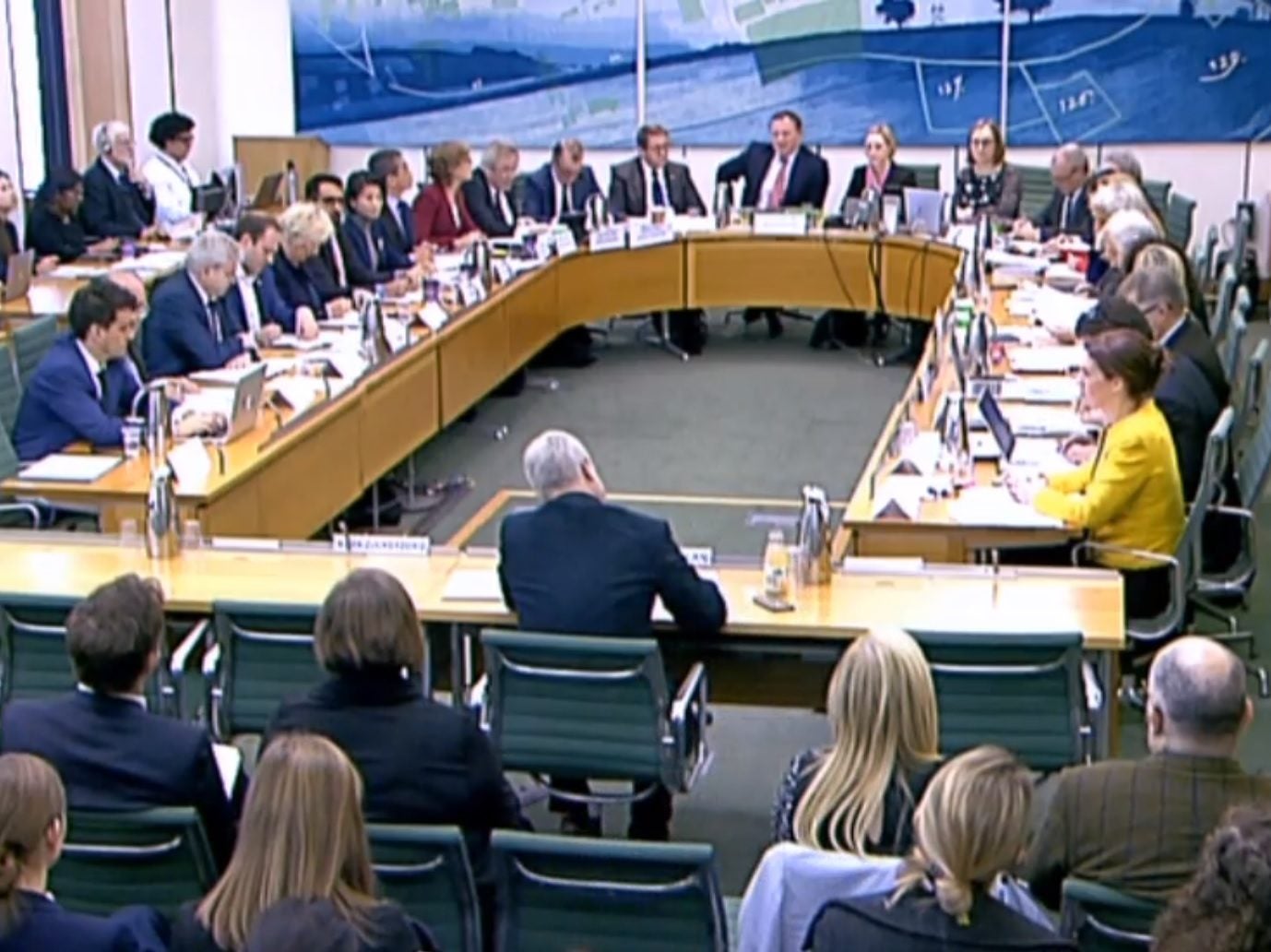 Not even an international grand committee on "fake news" made up of members of nine national parliaments, from Canada to Brazil, could compel Facebook boss Mark Zuckerberg to appear before it today.
Zuck's no-show, a repeat offence as concerns the UK's Digital, Culture, Media and Sport Committee who chaired today's hearing, led to frustrated MPs putting out an empty chair for the tech billionaire.
Instead of the main man, members of the DCMS Committee, alongside parliamentarians from Canada, Ireland, France, Belgium, Argentina, Brazil, Latvia and Singapore, had to make do with Facebook's VP of policy solutions – and UK peer – Lord Richard Allan.
"We were still rather hoping your boss might make a surprise appearance," said DCMS Committee chairman Damian Collins MP at the opening of the grand committee – the first held in the Commons since 1933 and the first to welcome representatives from so many varied parliaments.
9 countries.
24 official representatives.
447 million people represented.

One question: where is Mark Zuckerberg? pic.twitter.com/BK3KrKvQf3

— Digital, Culture, Media and Sport Committee (@CommonsDCMS) November 27, 2018
The UK's fake news and disinformation inquiry runs separately from the Cairncross Review, which has the sustainability of high-quality journalism in the digital age as its primary focus.
The DCMS Committee has already issued an interim report on its findings, announcing in July that democracy is facing a crisis brought about by "campaigns of disinformation and messages of hate" targeted at citizens.
Drawing first blood in today's hearing, Canada's Charlie Angus said the committee had been "deeply disappointed" at Zuckerberg's "decision to ignore the summons from so many different nations".
Other members echoed the point, including Angus' parliamentary colleague, Nathaniel Erskine-Smith, who said Zuckerberg's no-show "speaks to a failure to account for the loss of trust certainly across the globe with respect to Facebook and Facebook's users…".
Despite the dramatic seizure of internal Facebook documents, revealed on Sunday, which form part of a lawsuit against the social network from app developer Six4three, Collins refrained from making them public.
He said the committee was "not in a position to do that", later telling a press conference that he would be releasing redacted versions of the documents within the next week.
Collins did, however, reveal that an internal email from a Facebook engineer proves the social network was told in October 2014 about possible data harvesting via "entities with Russian IP addresses".
He said the documents claim "more than 3bn data points a day" were pulled out through Facebook's app interface with Pinterest.
This claim predates alleged Russian interference in the 2016 US presidential election campaign, which brought Zuckerberg before Congress earlier this year.
Casting doubt on the quality of the sourcing, Allan said the information contained within the leaked documents were "at best partial and at worst potentially misleading", adding: "Those emails are unverified partial accounts from a source who has a particular angle."
Facebook claims Six4three is pursuing it in the courts after it changed its settings to stop apps being able to access the data of a user's friends, upon which the developer relied for its own app.
Allan described the developer as a "hostile litigant".
Collins clarified: "It's an internal company document, not just someone's interpretation of those events."
Later, pushing Facebook on what it knew about Russian ad-buying, Collins said: "We are seeing a consistent pattern of Facebook failing to disclose relevant information of considerable public interest when you're asked questions about things like Russian activity…
"Can you not see that this has caused a massive breach of trust not just between parliaments with the company, but with many people who watch these deliberations as well."
The politicians' frustration with Zuckerberg's failure to appear before them – for which Allan claimed responsibility – reared its head again when questions were asked of Allan that he appeared unable to answer.
"What was the purpose of platform simplification PS12N?" asked Clive Efford MP, which he later explained as a kind of whitelisting system for apps on Facebook called "platform simplification".
"I don't recognise the term," said Allan, who could not give an answer.
Efford replied: "These are decisions that are made at a level it appears you don't operate at within Facebook, which is why we actually need to speak to Mr Zuckerberg to get the answers to these questions because he seems to be the source of these decisions within Facebook."
Ireland MP Hildegarde Naughton told the committee that Facebook and Google stopped all advertising on their platforms relating to the Irish abortion referendum earlier this year.
She asked Allan if that had been an admission that Facebook as a platform is used to disseminate fake news and influence elections.
Allan said the decision to pull ads had been prompted by the Transparencey Referendum Initiative in Ireland that had flagged "significant amounts of money being spent by organisations on both sides of that debate by people outside of Ireland".
He said in order to interpret the spirit of Irish election law, "we took the decision that protecting material in from outside Ireland was something we would not allow".
He added: "For us, this was not a fake news question, so more as just straight-forward political campaigning.
"It was election interference as in somebody was spending money… a lot of the ads were 'vote yes', 'vote no', they were not 'fake news' as such. They were just a straightforward political view."
When pushed on regulation, Allan said he accepted that Facebook needed to be regulated through legislation.
He said: "We very much welcome the updating of election law, again it's not to be critical that many of the laws governing political communication were drafted pre-internet.
"They have things like bans or restrictions on certain forms of campaigning but they are behind the times…
"You set the rules for your elections, it's not us, but to the extent that this is all clarified and we have a simple playbook to work to that would be extraordinarily helpful."
Naughton said her concern was a lack of regulation of social media across the board, not just Facebook, and pushed Allan on whether Facebook was serious about regulation on a global level.
"My view is that the best outcome that we get for people – our users, your constituents, they are the same people – the best outcome that we get is where we are working together on this," he said.
"I have now tens of thousands of colleagues who are deeply committed to trying to protect the safety of our users.
"These are people who get up every morning and worry about what's happening on the platform and try and prevent harm. It's now tens of thousands and it used to be too few, and we accept that.
"The best way that we can ensure safety is where we're able to be very open with government about the problems we're seeing and have a very informed debate and where we can work together on what the solutions are.
"Some of the solutions are on our platform, we can throw people off, we can collect information, there are things we can do.
"Some of them absolutely need regulation, if somebody is a threat to children us throwing them off Facebook is not enough, they'll go somewhere else, and we need then to work with the authorities to prosecute them."
Naughton said: "I think this is the start of a very important process and I think we can all work together to ensure that there's momentum now that we regulate social media and work together on that".
At a press conference after the hearing at Westminster, members of the grand committee on "fake news" signed a new declaration on the Principles of the Law Governing the Internet.
The declaration, which sets a foundation for online regulation, was signed by all nine parliamentary representatives present today, who lead committees or are part of disinformation inquiries in their own countries.
It affirms their "commitment to the principles of transparency, accountability and the protection of representative democracy in regard to the internet", a spokesperson said.
It is designed to evolve over time as the committee meets again in future. It reads:
We the undersigned:—
Members of the national Parliaments of: the Argentine Republic; the Kingdom of Belgium; the Federative Republic of Brazil; Canada; the French Republic; Ireland; the Republic of Latvia; the Republic of Singapore; and the United Kingdom of Great Britain and Northern Ireland.
Noting that:— the world in which the traditional institutions of democratic government operate is changing at an unprecedented pace; it is an urgent and critical priority for legislatures and governments to ensure that the fundamental rights and safeguards of their citizens are not violated or undermined by the unchecked march of technology; the democratic world order is suffering a crisis of trust from the growth of disinformation, the proliferation of online aggression and hate speech, concerted attacks on our common democratic values of tolerance and respect for the views of others, and the widespread misuse of data belonging to citizens to enable these attempts to sabotage open and democratic processes, including elections.
Affirming that:— representative democracy is too important and too hard-won to be left undefended from online harms, in particular aggressive campaigns of disinformation launched from one country against citizens in another, and the co-ordinated activity of fake accounts using data-targeting methods to try manipulate the information that people see on social media.
Believing that:— it is incumbent on us to create a system of global internet governance that can serve to protect the fundamental rights and freedoms of generations to come, based on established codes of conduct for agencies working for nation states, and govern the major international tech platforms which have created the systems that serve online content to billions of users around the world.
Declaration
In the interests of transparency, accountability and the protection of representative democracy we hereby declare and endorse the following principles:
The internet is global and law relating to it must derive from globally agreed principles
The deliberate spreading of disinformation and division is a credible threat to the continuation and growth of democracy and a civilising global dialogue
Global technology firms must recognise their great power and demonstrate their readiness to accept their great responsibility as holders of influence
Social Media companies should be held liable if they fail to comply with a judicial, statutory or regulatory order to remove harmful and misleading content from their platforms, and should be regulated to ensure they comply with this requirement
Technology companies must demonstrate their accountability to users by making themselves fully answerable to national legislatures and other organs of representative democracy.
Picture: ParliamentTV
Email pged@pressgazette.co.uk to point out mistakes, provide story tips or send in a letter for publication on our "Letters Page" blog