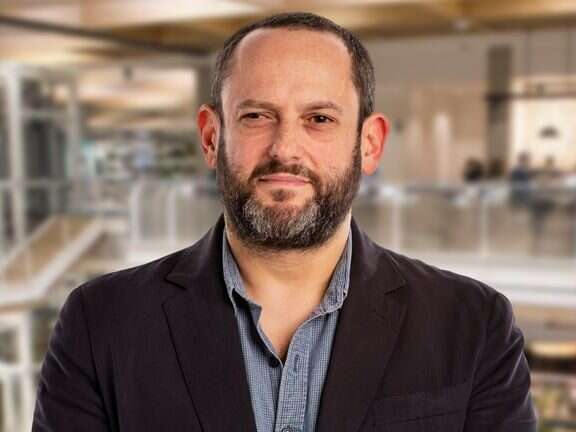 Newsrooms have moved away from "shouty, emotionally unintelligent forms of leadership", according to Sky News boss Jonathan Levy, but a "greater sensitivity and sensibility" is still needed to help journalists vulnerable to mental health struggles.
Sky News managing director and executive editor Levy also revealed what he views as the "best in class" method that the broadcaster has created for its journalists, including war correspondents, to be prompted to talk about how their work may be affecting them.
Levy told Headlines Network, which promotes conversations and training around mental health in journalism, that he faced his own challenges because of a story earlier in his career in an interview marking World Mental Health Day on Tuesday.
He was previously a field producer and led the first Sky News team responding to the Boxing Day tsunami in South Asia in 2004, which ultimately had a death toll of around 230,000 people. The story was soon described as "the biggest challenge for broadcasters" because of its various logistical challenges.
Levy told Headlines Network: "I sometimes think that in some ways natural disasters are some of the most traumatic stories that people can cover. There's this incredible dissonance about them. You find yourself in a holiday resort, which is an environment that you can recognise, that's completely wrecked by a tsunami.
"And certainly after that I experienced for a long time the impact of covering a story like that, of not having processed it properly, the irritability, the kind of dullness that can come with that kind of trauma, I suppose.
"And… back then there wasn't the same recognition or support available and in time I recognised it was having an impact on me and worked through it and got beyond it."
Levy has worked at Sky News for more than 20 years and was made director of newsgathering and operations in 2011 before being promoted to his current role earlier this year.
He now leads a team of 500 journalists with "primary responsibility for the journalism on all UK platforms including digital, TV and audio" following the departure of longtime head of Sky News John Ryley, working alongside David Rhodes, who was named executive chairman of Sky News Group.
Younger journalists 'very impacted' by Black Lives Matter coverage
Other types of stories can have a "cumulative toll", Levy continued, even in fields like politics that may be less physically dangerous but can be emotionally exhausting.
"I think just long-running stories can have a very, very bad impact on people," he said, pointing to the period in 2017 to 2019 where there were repeated stints of nightly Parliamentary votes on Brexit.
Levy, a former Sky News head of politics, said he could see the impact this was having on the political team: "Just the endlessness of it, the fact that it didn't feel like it was ever going to end, the fact that they had to do the same thing and cover the same thing day after day after day. There's no, kind of, physical threat, there was no kind of physical jeopardy, but those kind of stories, that kind of attritional story, can be terribly, terribly wearing.
"I think one of the things that impacts journalists, especially in a 24-hour news environment, and definitely has an impact on their mental health, is not knowing that their phone is going to go and the fact that everything is contingent on the news, that has quite a negative impact on people's mental wellbeing.
"And that's where a greater sensitivity and sensibility is required of leaders, to be honest with you, and to understand that in a more diverse and inclusive newsroom, you're going to have people who are impacted by things that don't impact you."
Levy continued: "When the Black Lives Matter story broke, I think the initial reaction of my generation of journalism was that's an American thing, that's not really something that would impact people here. But actually, younger journalists from different backgrounds felt very very impacted by it, very impacted by the video, and felt that it spoke to them in a very profound way."
Leadership changes can better support journalists struggling with mental health
Levy discussed how newsroom leaders have changed the way they address the fact their journalists may be struggling.
"I think at some point, as leaders of journalists, as leaders of newsrooms, a decision was implicitly taken that in all kinds of ways we weren't going to lead in the way that we had been led.
"I think there were lots of factors that fed into that, but definitely in the last kind of five to ten years there's been a change in the way that leadership is thought of more generally…" he said, adding that this was not just in journalism but in other fields such as the military, police and football teams as well.
"People have decided that shouty, emotionally unintelligent forms of leadership are less successful than calmer, considered, listening, emotionally intelligent forms of leadership."
[Read more: Good journalists can make bad leaders: Eight media leadership insights to change that]
Levy added that leaders can no longer have one "mode": as well as setting a high standard for their journalists and embody a competitive spirit, "you also have to be open, you have to also have a sense of vulnerability and be able to express when you get things wrong or you're not feeling great or acknowledge things. You can't just be one mode anymore, it doesn't work, I don't think, I just don't think people respond well to it."
Sky News set up a phone system during the Covid-19 pandemic through which staff could quickly access mental health support.
Levy described this as a "best in class way of giving a whole newsroom the confidence that they could access support for any issues that they were encountering and dealing with".
But he added: "There are some people who are still reluctant to do that. So what we now do is when people go on difficult stories, especially to war zones or conflict zones, or perhaps if they're dealing with those stories back here, we say to them 'here's a thing, you can tell us that you're happy to receive a phone call from someone who's going to get in touch with you and see if you're okay. And all you have to do is give them 20 minutes of your time. And if you don't want to do any more than that, that's absolutely fine'.
"But it's a more proactive approach. So if people say 'yes, I am happy to receive that call', what happens when they come back from the story [is] someone calls them within three or four days: 'How are you doing? Are you okay? Do you need any support? Let's chat a few things through.'
"Because of the confidentiality of these things I'm not entirely sure how many of those people have gone on to have more help, but our occupational health team tell us that that's been a successful way of organising our mental health support, so I'm quite proud of that."
Email pged@pressgazette.co.uk to point out mistakes, provide story tips or send in a letter for publication on our "Letters Page" blog