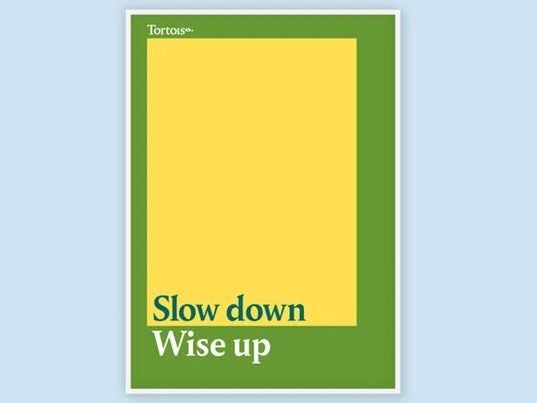 Tortoise Media, the journalism venture from former Times editor and BBC News director James Harding, has launched a Kickstarter campaign looking to raise £75,000 in one month.
In its pitch for money, the team behind Tortoise promises what it calls "open journalism" and a "different kind of newsroom".
Digital editions, running on a dedicated app and website, are planned to go live in January next year ahead of a public launch next spring.
Tortoise Media says its motto is: "Slow down, wise up."
"We don't do breaking news, but what's driving the news," it claims on the fundraising page. "Not the news as it happens, but when it's ready."
Under the heading: "We have a problem: news has become noise", the Kickstarter page reads: "We are overwhelmed by information. The problem isn't just fake news or junk news, because there's a lot that's good – it's just that there's so much of it, and so much of it is the same.
"Most of it is in a hurry. A lot is partial and confusing. Too many people chasing the news, but missing the story. It's made people anxious and distrustful. It's not nearly fun or funny enough.
"No wonder we've all been feeling bewildered and, frankly, exhausted. Drowned out and locked out of power."
The new media brand's co-founders are: Harding, also its editor, former Dow Jones president Katie Vanneck-Smith, also its publisher, former US ambassador to Sweden Matthew Barzun, also its chairman, and Ceci Kurzman, also its independent director.
The team says they will not cover every story and will not attend press conferences, but will "take time to see the fuller picture, to make sense of the forces shaping our future, to investigate what's unseen".
It also tells potential donors and members: "Don't be surprised if you find a moral at the end. We don't just report on stories; we take an interest in them. We care what happens next."
In a promotional video for Tortoise Media, Vanneck-Smith said: "We want to be a new choice for people, who are looking for something a little more thoughtful, a little less overwhelming."
Tortoise says it is focused on five key areas: technology, natural resources, identity, finance and longevity.
Central to what Tortoise Media is offering readers is a series of evening "open news conferences" called The Thinkin, which will run every evening Monday to Thursdays at its London newsroom and are open to members.
"It's modelled on what we call a leader conference in the UK, an editorial board in the US," the page explains.
"It's a forum for civilised disagreement. A place to sift through what we know to come to a clear, concise point of view. We're opening it up to you…
"Tune in or come in. We want to hear what you think, drawn from your experience, energy and expertise.  Don't worry if you think you don't know enough to comment – we all feel that way."
The team will prepare a set of "Tortoise Notes" for every Thinkin, which will offer a guide on the topic being discussed – "whether it's cryptocurrencies or the Marvel movie franchises" – and will offer a "Tortoise Take" at the end – an opinion informed by what's been said.
Vanneck-Smith said the Thinkin was a "system for us to listen to different voices, but to inform and have a better point of view". It will go on tour twice a month, she said, visiting "churches, retirement homes, prisons, refugee camps" and other places.
Harding said: "If we get that right [it] should lead us to a different kind of journalism, and one that I hope that people will feel they can not just get a handle on the world from but also feel they can be a part of."
The team also promises a "slow newsfeed" called the Tortoise Daily which will appear on a dedicated app, website and in email inboxes once a day. It will run to "no more than five concise pieces, each tackling one subject or story in depth", according to the fundraising page.
A "small book of big reads" called the Tortoise quarterly also promises "modern fables, true tales, old stories re-examined, new ones revealed".
On the Kickstarter page, supporters can donate from £1 while memberships to Tortoise Media are available at various pricing levels, from £10 for a "starter member" under 30-years-old, to £150 for a "founding member".
A "friend" option charges £500 for a five-year membership, which includes a Tortoise-branded book bag and a "slow down, wise up" digital poster and unlimited access to Thinkins.
Individual membership will cost £250 a year when Tortoise launches officially, the page says.
Tortoise promises to be independent, not party political, and without a commercial agenda. It says it does not have a single owner, but a "mix of minority investors" and will not carry adverts "or amass eyeballs to sell your cookies".
The company claims the money pledged by supporters and members will pay the reporters' salaries, go towards the Tortoise Media platform, design, live Thinkins and pay for the brand to go on tour to "places of worship, retirement homes, prisons, schools all over the world, to the places where different voices are heard".
The fundraising campaign, which went live today, closes on 15 November. It has already reached more than £40,000 at the time of writing.
In a promotional video for Tortoise, Vanneck-Smith said: "We want to be a new choice for people, who are looking for something a little more thoughtful, a little less overwhelming."
Email pged@pressgazette.co.uk to point out mistakes, provide story tips or send in a letter for publication on our "Letters Page" blog