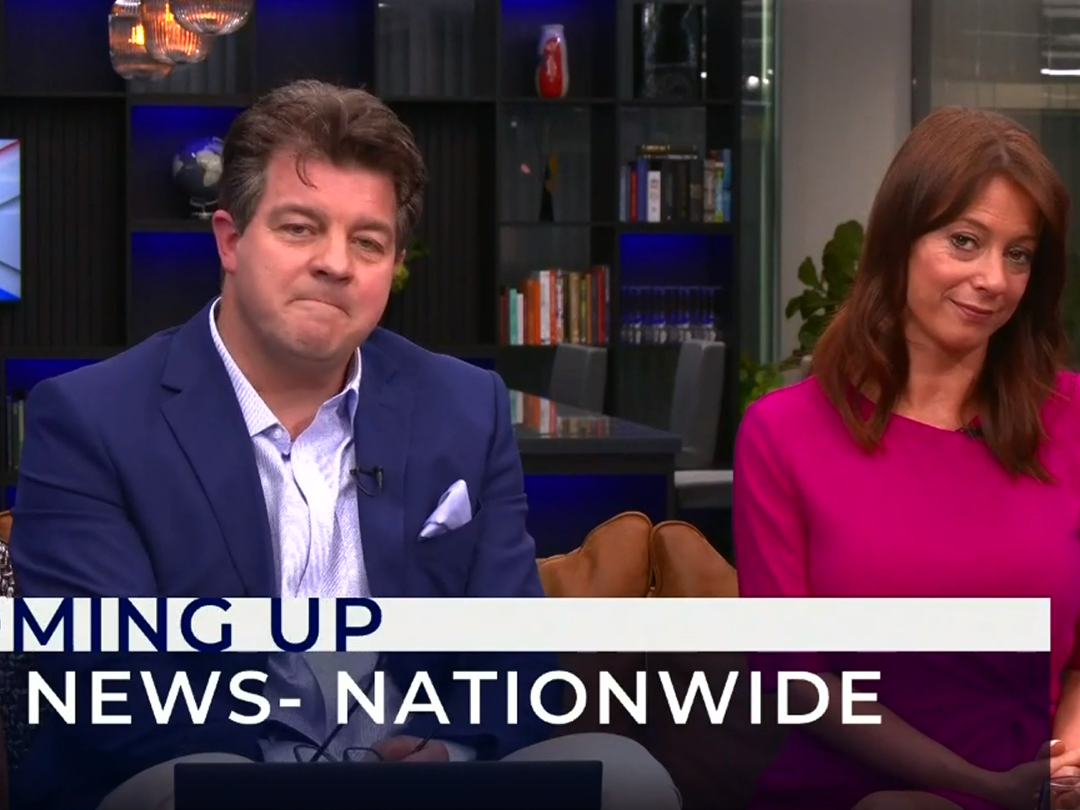 Update 9 August:
Sainsbury's is the latest brand to respond to campaigners targeting it for advertising on GB News.
Following a social media campaign which led to the Led by Donkeys group putting up billboards and an ad van outside the supermarket company's London HQ criticising it for funding a channel that gave Nigel Farage his own show, Sainsbury's has said it has no further campaigns planned.
It said: "We are a non-political organisation. We advertise across a wide range of media outlets, including TV to reach all of our customers. Our latest multi-channel TV campaign, which has now ended, included a very small number of ads appearing during the GB News programme.
"Our customers' feedback is very important to us, and we continue to regularly review our marketing activity."
Original story 17 June:
GB News advertisers began withdrawing their campaigns from the new opinion-led news channel within 48 hours of its launch on Sunday 13 June.
By Thursday 17 June around eleven brands were confirmed to have paused or suspended their campaigns, saying either they disagreed with the channel's values or wanted to wait longer before assessing the tone of its output.
But Money Supermarket has said "sorry for any confusion" and said it is not boycotting GB News despite telling customers on Twitter on Wednesday that it was pausing its ad slots pending a review of the channel's content.
GB News chairman Andrew Neil has suggested he may in return ban such brands from advertising on his channel, as he did last year at The Spectator when the Co-op said it planned to speak to its media buyers about no longer placing ads with the magazine in a row about transgender rights. Co-op later said the statement had been wrongly issued and the two organisations agreed a truce.
[Read more: 'Worst kind of cancel culture' and more reaction to GB News ad boycott]
That row was triggered by campaign group Stop Funding Hate, which is one of the groups now encouraging brands to stop advertising with GB News.
Advertising sales for the channel are being handled by Sky Media and several brands said they were unaware their campaigns would appear on GB News in advance.
Delivery for ad campaigns run through Sky Media is spread across its portfolio of about 130 channels. Most TV advertising is bought and targeted to certain agreed audiences rather than specific channels.
Neil is planning to address the boycott in a Media Watch segment of his show at 8pm on Thursday. He added: "I will be looking at brands to decide if they are fit to advertise with us."
Full list of brands suspending GB News advertising:
Kopparberg
Swedish cider company Kopparberg was the first to make its stance known on Monday, telling viewers on Twitter it wanted to review GB News' content before making a final decision.
It said: "We want to make it clear to everyone that our ad ran on this channel without our knowledge or consent. Kopparberg is a drink for everyone and we have immediately suspended our ads from this channel pending further review of its content."
Nivea
The skincare company said it wants to review GB News for three months before placing adverts there, which it said it does with any new launch.
A Nivea spokesperson told Press Gazette: "Media buying algorithms mean our adverts are automatically allocated across a wide selection of channels often without our knowledge, which is what has taken place in this instance.
"Typically, we would wait for a few months after a new channel or publication has launched before advertising with them, to ensure that they reflect the values we hold as a company. We have paused our advertising with GB News in line with this policy and will review this decision in three months."
Grolsch
Beer company Grolsch said it would "do everything we possibly can" to stop its adverts appearing again.
It told one campaigner: "This advert for Grolsch ran on the GB News channel completely without our knowledge or consent, and we're in the process of investigating with our media partners why this happened.
"Grolsch is a brand that prides itself on core values of inclusion and openness to all people, and we want to be clear that we do not associate ourselves with any platforms or outlets that go against these values.
"We will do everything we possibly can to ensure that Grolsch does not appear on this channel again."
Open University
A spokesperson from The Open University said: "The Open University's mission is to be open to people, places, methods and ideas.
"We did not directly plan or purchase advertising with GB News on this occasion and were not aware that this slot would be running. We have therefore chosen to pause the advertising with GB News channel while we investigate how this happened."
Ikea
Ikea said it had "not knowingly" advertised on GB News and that it has "safeguards in place to prevent our advertising from appearing on platforms that are not in line with our humanistic values and vision to side with the many people".
"We are in the process of investigating how this may have occurred to ensure it won't happen again in future, and have suspended paid display advertising in the meantime."
It later said it had taken the decision to suspend its advertising "at great speed" and it had not intended it to be such a "polarising" move.
"As a newly launched channel, we recognise that it is simply too soon to make an informed decision as to whether advertising there is in line with our advertising policy and brand guidelines.
"We want to make it clear that it was not our intention to polarise our customers or others in this debate, and a decision on our future approach will be taken in due course."
Ovo Energy
Ovo Energy said: "We have a media partnership which places our adverts across a number of channels and programmes on a network. New channels were added to this network last week and our adverts ran on this channel without our prior knowledge or consent.
"OVO strongly believes that a kinder world is a stronger one. We strive to promote inclusion and diversity across all OVO spaces and we do not place our brand in any places which distribute or promote hate.
"We have a clear policy not to advertise on platforms which do not align with our values. We've made the decision to pause our use of the channel whilst we ensure it meets our values."
LV
Insurance company LV said it was pausing its car and home insurance ad campaigns on GB News.
It said on Twitter: "We appreciate there are strong views on this topic. With GB News being new, we feel it's important to take the time to fully understand the channel, so for now we're pausing the placement of our car and home insurance adverts."
It had previously told customers who complained on Twitter that its adverts appear across the TV networks it buys and that it had not specifically targeted GB News.
Vodafone
A Vodafone UK spokesperson told Press Gazette: "We wouldn't normally advertise on a new channel, preferring instead to wait to make a commercial assessment of its quality and reach. With GB News still very much in its infancy, we do not have plans to advertise with them at this stage. Our advertising did however appear on the channel without our permission.
"Political views in the UK are, and have always been, varied. And we have always placed our advertising in a broad spread of media that covers the political spectrum. We firmly believe in free speech, while also standing firmly against hateful and harmful content."
Bosch 
Appliance manufacturer Bosch Home UK initially said it was "dealing" with an instance of its advertising appearing on GB News.
It said on Twitter: "Bosch works with its selected media agencies on a global scale to ensure advertising isn't shown on political channels. We have recently been made aware of an isolated example where our adverts appeared on such channels and we are dealing with this accordingly."
It later added in a statement to Press Gazette: "We have been running a short, time-limited TV advertising campaign which ends this weekend. We reserve the right to pause or end advertising on any channels. As GB News is a new channel, we felt it appropriate to end the planned adverts a few days early so we can review our position."
Indeed
Job site Indeed said it has removed its brand from appearing on GB News.
It said: "Our TV adverts run across a variety of networks as part of our media buy. We've requested and confirmed that our advert has been removed from airing here in the future."
Pinterest
The image-focused social media platform put out a statement which said: "Many of you have reached out about our ads showing up on GB News. We had no knowledge and would never have approved it.
"We work hard to create a positive & safe environment for our advertisers and want the same for our own ads. Without question we've suspended our ads from there."
Octopus Energy
Octopus Energy founder Greg Jackson told customers his company had not chosen the GB News slot, only the network buy.
He said the company's policy was not to advertise on any platform "whose primary purpose is the distribution of hate".
He said it is now monitoring GB News and will begin to advertise on it again if it "proves to be genuinely balanced".
He also said Octopus has changed its policy so it does not advertise on new channels in future until such a review has taken place.
In response, GB News chairman Andrew Neil said: "I resent even the thought that a channel of which I was chairman would peddle hate. You should know better."
Other GB News advertisers
Other advertisers who have appeared on GB News so far include Amazon, the AA, Cadbury, Co-op, Deliveroo, Facebook, Google, Kellogg's, Ladbrokes, Microsoft, Starbucks, Talk Talk and Virgin Media.
GB News debates lockdown and 'taking the knee'
The opinion-led TV channel gave much discussion time on its first day to scepticism over "taking the knee" as an appropriate way to demonstrate against racism and on the channel's first two nights ex-Sun showbiz editor Dan Wootton shared his anti-lockdown views.
His first Tonight Live programme on Sunday night resulted in 373 complaints to Ofcom. The broadcast regulator only shares figures for programmes that received more than 50 complaints and the latest report extends only to Monday this week.
However, in his own show Andrew Neil supported the extension of England's lockdown restrictions until 19 July.
[Read more: Andrew Neil says GB News plans to take war on 'woke' establishment media global]
GB News did not respond to a request for comment.
However GB News director John McAndrew told Press Gazette last week the channel would not be a "hate-filled divisive shout-fest" and that it would "come at things straight down the middle" rather than with one political leaning.
Email pged@pressgazette.co.uk to point out mistakes, provide story tips or send in a letter for publication on our "Letters Page" blog