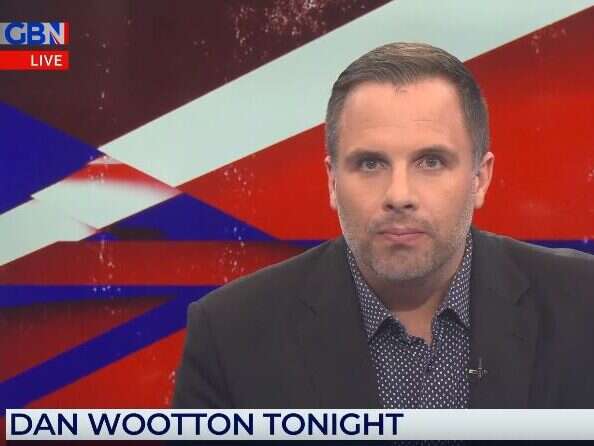 Dan Wootton has raised £35,000 in under three days so he can take legal action against Byline Times, which reported on a number of allegations against him last week.
Wootton said the reporting about him, which first made claims centring on alleged payments to individuals for explicit images and then about his alleged behaviour while working for The Sun, was "defamatory and untrue".
The GB News presenter wrote: "I am advised that I have a good case for legal action, and Byline is already on notice of my legal complaint."
[Update: MPs ask Sun editor for answers over Huw Edwards reporting and Dan Wootton allegations]
The crowdfunder was launched on Friday and by Monday morning had reached £35,421 of a £150,000 goal.
Meanwhile, independent outlet Byline Times, which formally launched in 2019, is at the same time doing its own crowdfunding so its reporters can continue investigating what they described as the "toxic culture of the national media".
As of Monday morning, Byline's "#MediaToo" fundraising page claimed to have raised more than £46,000 – beating its £32,500 target.
The freelance reporters who have written the two stories about Wootton so far, ex-News of the World journalists Tom Latchem and Dan Evans, said they had not yet received any money for carrying out their three-year investigation.
They said the crowdfunder aimed "to cover our costs and to make sure we can carry on speaking to sources and give complainants a voice".
The pair added that a separate fundraising page ringfenced for legal costs may be set up if necessary.
Byline Times is not regulated by either of the UK's press regulators, IPSO or Impress, although sister title Byline Investigates is Impress regulated. If Byline Times was an Impress member, the complaint may have been able to be dealt with through its low-cost arbitration scheme which aims to settle legal claims without having to go to court.
Byline Times says journalists targeted
Byline Times has also revealed that its journalists have been subject to threats and intimidation since the story first broke, although there is no suggestion Wootton himself has been involved in any of this activity.
Co-founder and executive editor Peter Jukes told Yahoo News a journalist had what appeared to be blood smeared on their car windscreen.
This incident came soon after the reporter received a phishing email, which they now fear may have given away their address. Byline Times had said on Friday morning: "There has been some illicit attempts to access our work by unknown third parties. We're conducting a full security review with our IT consultants."
The title later said on its Twitter account: "The same team member who we believed was hacked had blood smeared over the windscreen of his car this morning. This may very well be a coincidence, but rest assured both incidents have been reported to the police."
A further attempt at intimidation came on Saturday night, Jukes told Yahoo. The newsroom received an email with the subject line: "Over Dan Wootton", which read: "See you at your office and blood will flow."
Then on Sunday, Jukes said he returned a missed call and was told: "Are you Peter? You're going to regret this."
He told Yahoo: "It doesn't stop us, we double our efforts not to be cowered or intimidated."
Of the legal threat, he added: "They wrote to many media organisations after our publication saying they were taking legal action against us, which is kind of weird, and then incorrectly saying we hadn't gone to them for comment before publication.
"We didn't quote them, but they refused to go on the record for the article."
Statements from the publisher of Mail Online, where Wootton is now a columnist, and News UK, where some of the allegations relate to his time at The Sun, have said they are looking into the reports.
Wootton used his GB News show on Tuesday last week to vociferously deny the claims. He said: "I, like all fallible human beings, have made errors of judgment in the past. But the criminal allegations being made against me are simply untrue."
Email pged@pressgazette.co.uk to point out mistakes, provide story tips or send in a letter for publication on our "Letters Page" blog