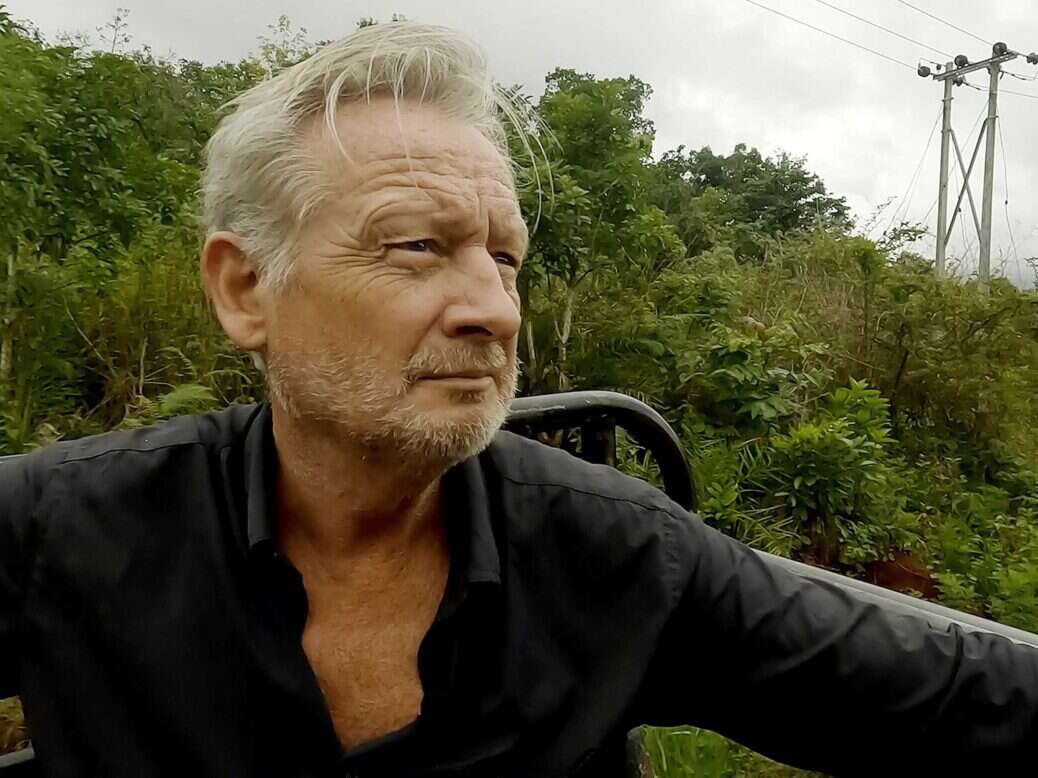 Sky News chief correspondent Stuart Ramsay says he is naturally exceedingly cautious and risk averse.
This may be surprising to hear from a man was famously shot reporting from the frontline of the war in Ukraine and who found his way into a Covid ward back in March 2020 when the world had no idea how deadly the new virus was.
For his new Sky documentary – Myanmar, The Last Hospital – Ramsay spent 30 days with rebel soldiers in the jungle conflict zone. It was, he admits, probably his most dangerous assignment to date.
The story reunited Ramsay with producer Dominique van Heerden and camera operator Richie Mockler who were both with him in Ukraine when he was wounded. The car they were travelling in was bombarded with bullets on the outskirts of Kyiv. Ramsay was shot seven times, with six bullets hitting his flak jacket and one going through his leg and lower back.
Planning for the new documentary began before invasion of Kyiv with the start of the Myanmar civil war in early 2021, when the military seized power and overturned the results of an election.
Since then the conflict has gone largely uncovered by the world's media because, as Reporters Without Borders puts it, "journalism is an extremely dangerous profession in Myanmar" with the chances of being jailed, tortured or murdered for reporting the news there high.
Ramsay says: "We knew there was a civil war, but we wanted to go and see if it's as bad as we're hearing from the inside, because you're not seeing any pictures.
"What I found remarkable was it was much bigger than I expected. It is a nationwide civil war as opposed to an uprising. And it is a proper war with one side very heavily armed, supported by China, Russia and Iran and another one very poorly armed but very highly motivated. Existing militia groups who've always fought against the Burmese Junta are now supported by an influx of young, educated people from the major cities who have said enough is enough."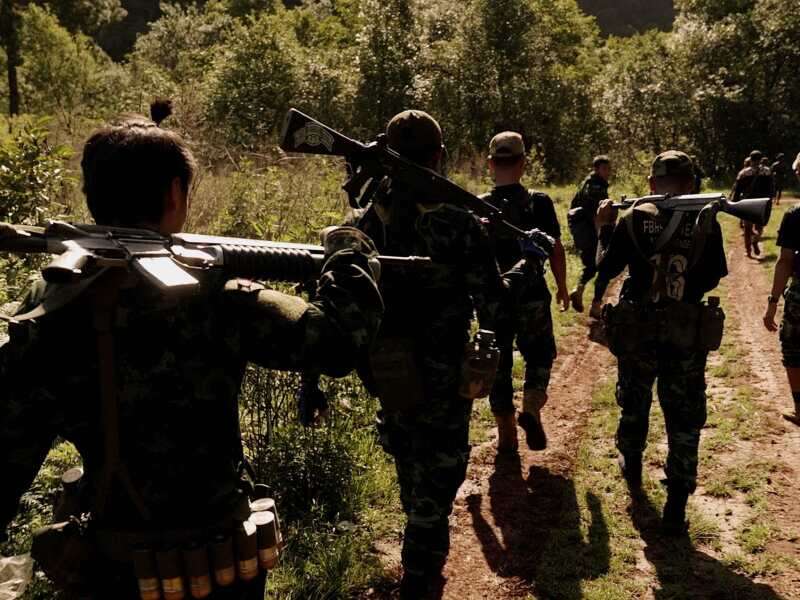 Ramsay can't say how the Sky team was able to clandestinely enter Myanmar for fear of endangering the lives of those who helped them. But once inside, he says, the feeling of danger was constant for an entire month, making it unlike any assignment he has been on before.
"Once inside, it was then a matter of sometimes walking, sometimes driving, sometimes boats to get further and further in into the affected states."
The documentary centres around a secret field hospital hidden in the Myanmar jungle.
The Sky News team slept rough in the jungle surviving mainly on rice and vegetables. The only supplies they brought in were what they could physically carry.
"I've never been so exposed to danger for such a long period of time, because we're so unsupported in terms of the outside world. The junta's planes are looking for targets on a continuous basis. They bomb civilian groups on a regular basis. Plus schools and hospitals and places of worship. But they will also look for groupings of people like us…
"After probably four or five days, I would say that we got used to the jungle existence and how to survive: washing protocols and keeping your clothes clean and all those type of things. But the level and scale of the fighting, I didn't realise just how kinetic it actually was."
'I've lost a lot of friends'
What is it that pushes Ramsay on to continue putting himself in such dangerous sitations?
"Honestly, genuinely, I am driven by the bearing witness and I genuinely feel some people are equipped to go to places that are tough to expose what's happening to to people, and I genuinely believe that if we don't go, you do not know, and if we don't go, the bastards get away with it.
"I've lost a lot of friends, but they all had the same feeling that somebody has to go.
"I take a lot of care, I'm really quite cautious. I think one of our security guards described me as the most risk averse reporter he's ever met…
"In Ukraine, for example, we had been right to the front. It was so dangerous, we elected to leave. We were on our way back from the front when we were attacked. It's just nobody knew the Russians had already gone ahead. So we'd actually called it already and said this is too hot for us. We'll have to come back another day."
Asked what the most significant story of his career has been so far, Ramsay cites the March 2020 report from an ICU ward in Italy which first alerted the world to the scale of the coronavirus crisis and won a 2020 British Journalism Award.
"We were the first team to actually show in Bergamo what ICU wards and emergency rooms were going to look like in Britain and the rest of the world within the coming days and weeks.
"Nobody had seen it, and that's why it'll always be so important. And I still get letters written to me about it."
'Despite growth of opinion-based talk TV – going and seeing it' still key
Asked what is the key to being a successful foreign news reporter, Ramsay says: "Ultimately it's about people. It's about telling stories people can understand and it's about empathy.
"I do get upset on stories, I cry with the best of them. There was a lady I met the other day. She lost ten members of her family in Morocco [in a devastating earthquake on 8 September].
"If you can actually explain to people without being sort of gooey… think what it would be like for you.
"I believe despite social media nastiness that we see and the growth of very opinion-based talk television, which isn't necessarily listening to people, I believe that hard work, empathy and going and seeing it are the three key elements to it and being prepared to report accurately and honestly in any situation without taking sides."
The Last Hospital: 30 Days in Myanmar will air on Wednesday 20 September at 9pm on Sky Documentaries and on Thursday 21 September at 9pm on Sky News (Freeview channel 233). It will also stream on the Sky News Youtube channel.
Email pged@pressgazette.co.uk to point out mistakes, provide story tips or send in a letter for publication on our "Letters Page" blog