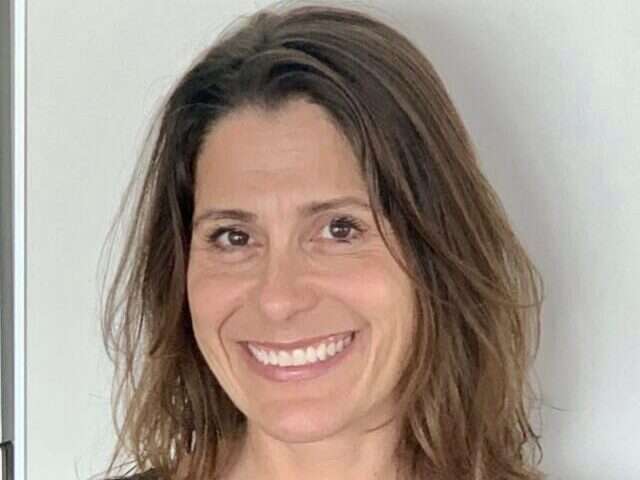 The Popbitch office was everything I could have hoped for and more: a poky room, cluttered with odd collectibles and mundane office supplies, on the ground floor of a creaky Soho townhouse that had been converted into a shared office space.
On one shelf, a pack of Chairman Mao playing cards was propped up by a box of ink cartridges. On another, a Russian doll depicting Dmitry Medvedev was nestled between a bag of Fairtrade coffee and a stapler. A third was occupied by a mysterious silver suitcase and a white Bosch kettle, half filled.
After greeting me at the front door with a firm handshake, Popbitch boss Camilla Wright – dressed half smart with a silky black shirt up top and bright green trainers below – showed me to a seat at the far end of a rectangular metal table that took up much of the room. When she disappeared into a communal kitchen to make us some herbal teas, I took the opportunity to absorb my surroundings.
On her return, Wright handed me a souvenir mug that commemorated the coalition government of David Cameron and Nick Clegg. Wright, who I found to be softly spoken, polite and maybe even a little shy to begin with, spluttered a short laugh when I complimented her on Popbitch's various office oddities.
"Well," she offered by way of an explanation, "we've had an office somewhere in Soho for about 15 years, I guess, and therefore you build up random shit people send or that you use."
From Devonport dockyard to Soho
Wright, 52, was born in Barbados and raised in central Plymouth, "near Devonport dockyard". Her dad, "a Tottenham boy", was a civil servant and her mum worked in a factory. (Wright believes she has retained a slight Devonshire twang – it is subtle – and said she had sometimes been mistaken for an Australian when abroad.)
She studied PPE at Oxford but eschewed the idea of going into political journalism. "The world of politics is so insular, so Westminster-focused. It struck me quite early that there were better ways to talk to people, there were better ways of doing journalism."
By her late 20s, she had established herself as a freelance journalist with a specialism for music and celebrity interviews. In December 1999, Wright and her then-boyfriend Neil Stevenson, an editor at Heat, thought up the idea of sending out a weekly newsletter to friends sharing showbiz scuttlebutt that wasn't making it into the mainstream media. And so, Popbitch was born.
Fairly swiftly, the newsletter and accompanying message board morphed from a bit of fun into an occupation for Wright. (Stevenson departed to edit style magazine The Face in 2002.) Legend has it that the Popbitch of the early noughties revealed the name of Madonna's son, Rocco, before he was born, and was reporting on various celebrity scandals and infidelities long before the tabloids. (Popbitch was also apparently ahead of the game when it came to reporting on the scourge of tabloid phone hacking.)
Today, as its office space attests, Popbitch remains a small operation with a digestible level of output. "You have to have huge amounts of money to do the 24/7, always-on website," Wright noted. "Whereas if you're saying, 'Ah, this is the only bit you need to know,' it's a bit of a cheat isn't it?"
But Popbitch is notable by its cultural influence and by the fact its weekly email – still packed with (often lewd) celebrity stories, media gossip and geeky jokes – lands in more than 300,000 inboxes each Thursday evening.
Wright has so far resisted the temptation to expand Popbitch (although, spoiler alert: this could soon be on the cards). And when I asked her if she saw herself as an entrepreneur, she looked slightly embarrassed. "It's been brilliant having a vehicle through which to practice journalism, practice talking to people," she said shyly. "I think if I was a media entrepreneur I'd have probably sold it in 2004 to some oligarch and made several millions."
'We've had a legal letter from his brother, but not from Harry'
Wright has lived abroad since 2019 when her partner transferred to Hong Kong for work. Political protests and Covid-19 rules later persuaded the couple to move to Dubai. On leaving the UK, Wright handed over more Popbitch responsibilities to Chris Lochery, 38, who started out as an intern and shift worker in the late noughties and is now editor. Since 2020, Wright has balanced her Popbitch work with Red Knot Communications, a sports PR firm where she is now a partner.
Despite being three hours ahead of UK time in Dubai, Wright is a frequent virtual presence in the Soho office. "I'm quite happy to make a decision and edit things out, and also legally it's my responsibility," she said. "So I want everybody to feel at the end of the week, whatever stories have gone in, it's my decision and I'm happy to go to court if I have to and nobody else would be on the hook for it." Lochery told me Wright was "fantastic to work with. She's very funny. We share a very similar love of music of all types. She's a very mischievous force, which I really love. She's one of my best friends and we speak every day."
I met Wright on one of her visits to the UK. It was shortly before Prince Harry was due to appear in the High Court to give evidence against Mirror Group Newspapers. I asked Wright if she'd had any run-ins with the litigious prince. "No," she said. "We've had a legal letter from his brother, but not from Harry."
Wright has, inevitably, fallen foul of the UK's legal system on occasion over the past 24 years. In 2008, for instance, Popbitch was forced to pay out "substantial" damages to the actor Max Beesley for making false claims about his sex life.
Changes to the UK's Defamation Act have helped her cause a little, said Wright. But she added that tightened privacy laws mean there is now "so much you can't write about".
She said that Popbitch's tone and coverage has also changed over the years in line with reader tastes. Wright suggested that the public's appetite for stories about celebrities' personal lives had changed in the aftermath of the phone-hacking scandal. "There's much more in the way of self-censorship now," she said. "The world's changed, how readers respond to it as well, massively."
As well, Wright said she tries to consider the "harm that stories can do to people". "I hesitate to use the term 'cancel culture' because it has so much political connotation – but when we started, if you wrote a story about a pop star misbehaving, the worst that could happen was they could be slightly embarrassed for a couple of days. Now you could write the same story and someone's career could end."
'It's a lot of actual serious work. Sensible work'
In some ways, the average Popbitch week begins on Thursday evening, as the main newsletter lands in email inboxes. "That's when the next week's stories start coming in," said Wright. "People see something and respond to it."
On Mondays, Popbitch sends out a second email, providing developments from Thursday's newsletter, plus stories from the weekend to its paying subscribers. It has two premium membership tiers: Club Popbitch, offering the Monday newsletter and daily music quizzes for £4 a month, and VIPbitch, which for £10 a month includes a quarterly "zine" and two tables at the annual Popbitch Popquiz.
Wright said that Popbitch typically receives between 40 and 50 story tips per week, around 10 of which become viable leads. "Some are those media and urban legends that go around and around and around that you're not certain, but you're pretty sure, are probably not actually true. Some sound like crazy. And some you won't be able to stand up. So probably about one in four or five come to anything." Much of Wright and Lochery's time, therefore, is spent "filtering" and "trying to second source things".
The Popbitch lifestyle involves less partying than you might imagine. Lochery, who I phoned after my interview with Wright, told me that he'd occasionally go to evening dos if they were deemed worthwhile but that more of his time was spent meeting trusted contacts for lunches, coffees and drinks.
I asked Wright if, living in Dubai, she missed London's party scene. "No," she said. "I think it was a good part of life… and I'm very pleased to come back and still be part of that world.
"But even back then, in order to do Popbitch it's a lot of actual serious work. Sensible work. And, therefore, you can't be the person out at 3am every night. I used to, and would still prefer to, send other people to those parties than go myself."
Popbitch has the 'potential to be a slightly bigger alternative news source'
Wright said that Popbitch's main email newsletter had between 300,000 and 320,000 subscribers, a level it has hovered around for a while. She said Popbitch's average email open rate is around 60%, well above the industry average of 15–25%, and that, because it is often forwarded on, "readership can be at least double subscriber number in some weeks"
Supplemented by some events, reader contributions, subscriptions and Axate-generated micropayments on certain paywalled articles, Wright said the business had always made enough money. She estimated that around 25–30,000 readers have either donated, paid for a subscription or contributed to Popbitch through micropayments in recent years.
"We've never really set up for revenue," she said. "The audience is there, and the potential is there, but two people running it – I mean, we've essentially just [aimed] to hit every week how much we need to get by." She added that Popbitch, "over the lifespan", had probably generated on average "a couple of hundred" thousand pounds a year in revenue to cover its costs (which include Wright, Lochery and legal fees).
Over her 24 years running Popbitch, Wright said that she had been encouraged several times to expand beyond her current business model, being told variously: "You should be a blog with programmatic ads! You should be a TV show! You should pivot to video! You should be on Facebook!" Now, with email newsletters very much in vogue, she sounded pleased to have swerved much of this advice. "I think all those stages in media are obsolete now," she said, "so we'd have died years ago."
Now, though, she feels the time could be right for Popbitch to expand in some way. Intriguingly, she suggested this could be done in collaboration with another company.
"I'm starting to wonder, for the first time, whether it would be a good time to be part of a bigger organisation," she said. "The technology available now in newsletter delivery and subscription, acquisition, advertising that a lot of the better-funded media groups have, we don't have access to."
Wright said that she had "been approached a few times lately by people looking to buy" Popbitch. "I'm not going to say who because – although some of them would be a good story – but I've never felt yet that we've found the right partner or home. So we may yet stay exactly as it is."
It sounded a lot like Wright was using a Press Gazette interview to slap a "for sale" sign on Popbitch. "Not looking to sell," she responded quickly, "but looking to see what options there are out there. Just because there are some people out there who are interested in buying it, there might be other people who are interesting to us."
Asked what kind of organisation Popbitch could work with, Wright said again: "I don't know. I suppose as well, over the last two or three years, we've done a lot of collaborations behind the scenes with other media companies, journalism media groups, on slightly bigger stories – tips that come into us that would require more resources and things like that. And I suppose formalising that in some ways might be of interest. Then again, there's the downside, which is: why change this?"
'A lot of people want to be an insider'
Part of the reason for Wright's newfound interest in expansion comes from her belief that the "heritage media" is not designed for "normal Britain" and "doesn't really show the world as most people see it". She noted that some digital upstarts, such as Buzzfeed and Vice, showed promise but have since declined because of financial troubles and cuts.
"I think there's been a general re-energisation of readers for something slightly different. And I don't think that the media landscape, as it is now, really covers it." She added: "I think there is a general distrust or disinterest in most media that's out there."
Wright said she felt there were "massive gaps to be filled", and that Popbitch is "filling a niche of it". When I asked her what other outlets were doing a good job at filling these voids, Wright named America's Daily Beast, The Fence in London and Politico's Playbook newsletter (although, she added, "it would be twice as good if it was half as long").
The common theme between Popbitch and these three other outlets appears to be that they are broadly marketed as being written by insiders for insiders. "Everybody wants – no, not everybody – a lot of people want to be an insider," said Wright.
"Popbitch's readership, it's always had a very good media, music industry, London creative base – but that's not really where its growth came from. It's anybody, and any group, that wants to feel that they have a good sense of what's happening inside a story, whether they're interested in music, sport, TV, politics, they just feel like they want to know a bit more than they're being told."
The irony of Popbitch, I reflected after my visit to its higgledy-piggledy one-room HQ, was that Wright, the ultimate insiders' insider, is actually a bit of an outsider: a woman who grew up near Devonport dockyard and now documents London's entertainment industry from Dubai.
"It might be insider news, but it's very much aimed at people who are not necessarily part of the establishment," was Wright's take. "Maybe not being a lifelong insider, maybe bringing that outsider's perspective into an insider's world, has helped inform Popbitch a bit."
Quickfire questions with Camilla Wright
Favourite Popbitch story? "I think one of the most fun ones, unexpected ones and ones that had an impact was when we thought we'd found Boris Johnson's phone number on the internet and made a reference to it in Popbitch, assuming that people would go, 'oh, that's funny,' and not realising that within seconds, tens of thousands of people, from what I can gather, actually found out the number and started ringing it."
Newspaper? "Haven't got one at the moment. I'm still a Times subscriber, but I used to really enjoy it and I find I'm enjoying it less."
Magazine? "Haven't really bought a magazine in years… I quite enjoy Vogue. Wired? Maybe Wired."
Newsletter? Politico's Playbook or the Daily Beast's Confider.
Podcast? "I'm not a massive podcast listener. I really like Cautionary Tales, the Tim Harford one."
Musician or band? "Miley Cyrus."
Career low? "Getting sued by Max Beesley."
Career high? "Maybe haven't got there yet? Putting something together that people, in their hundreds of thousands, still bother to read every week."
Email pged@pressgazette.co.uk to point out mistakes, provide story tips or send in a letter for publication on our "Letters Page" blog