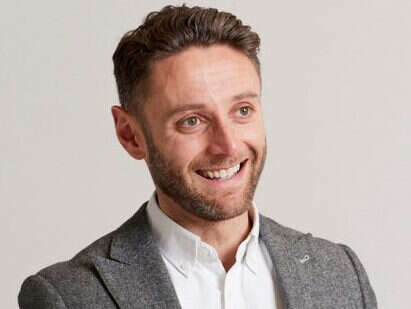 The Independent is ready for a period of "global growth", led by a team who all have journalism in their DNA, according to its new chief executive Christian Broughton.
Broughton was appointed as chief executive last month – his latest promotion in an unbroken stint of 18 years at The Independent. His previous roles have included features editor, sports editor, assistant editor, editor and most recently managing director.
In his first interview as CEO, Broughton told Press Gazette why having journalists leading a media business gets results.
"There's journalism at the soul of the business here," he said. "We're all journalists in our DNA. It's wonderful to know that the great thing really underpinning business growth is journalism.
"So, when you invest in the journalism for Independent TV, that's what makes it work, that's where the passion comes from – and the attention and the completion rates and the commercial metrics you need to succeed comes from that journalism."
Broughton continued: "The world of digital media now changes very, very quickly and you need journalism that supports a business, and you need a business that supports journalism. You need both those things."
He said journalists at The Independent – and its other employees – are "all very aware of what they can do to contribute to the business growth. A lot of places kind of shy away from that but it's fundamental… we can achieve at The Independent by growing the business of The Independent and that is our real, purpose-driven strong driver at The Independent for everyone, I think."
On The Independent's leadership team, Broughton works alongside:
Chairman John Paton, former editor-in-chief of the Ottawa Sun in Canada and co-founder of major US news publisher Digital First Media
Zach Leonard, formerly CEO and now global chief operating officer and president, North America, who, according to Broughton, comes from a family of journalists
And Geordie Greig, the former Daily Mail, Mail on Sunday, Evening Standard and Tatler editor who arrived at the start of 2023
Paton, according to Broughton, has previously objected to the word "content", which is in increasing use within media companies: "'You might as well call it cargo – can we call it journalism please," he apparently said.
Of Leonard's new job, Broughton said: "For a company to be sending its highly successful CEO out to America in this new role as global COO and president for North America, I can't think of a bigger commitment from the business to really mean what it says that we've got an era of really going global and expansion ahead of us."
And Broughton described Greig as an "editor with global renown, who's in his fifth major editorship… no one on Fleet Street can match that". He said Greig is therefore "the perfect editor for the new global chapter of The Independent".
"Let's grow this thing," Broughton added. "Let's take it global. People sometimes describe The Independent as the sleeping giant of media," including his own colleagues. "It can't be asleep anymore. It's really got to grow now."
How Independent will embark on mission to double revenues
Independent Digital News and Media has already been seeing record revenue growth, increasing by 12% to £46.3m in the year to 30 September 2022. It has been in profit every year since going digital-only in 2016.
Broughton listed five main growth drivers for The Independent: e-commerce, Independent TV, reader revenues, expansion in the US and AI. He said all will be "as compelling" in the UK, US, India and wherever else the brand expands next.
"Unashamedly, we're not bashful about saying our mission is to double the size of our revenues and double the size of our business," he said. "And it's going to be those future-facing revenues that are going to take us there." The Independent's revenues are already more than double those of 2017.
On AI, the newest consideration on Broughton's list, he said: "We can't all be scared of AI in totality. There are some things to be extremely aware of, but we have to engage with AI and see how we can use AI to empower our journalism and empower journalists."
The Independent has numerous research projects around AI running at the moment, he explained, including one relating to "a process thing that we do a lot of, and it's increased productivity for each person doing that by four times".
"Whenever I look at revenue charts, it makes the figures on a spreadsheet very real for me when I think of how many journalists we can get out there working on stories and kind of break it down into how much that affords us to grow the journalism, grow the brand and employ people.
"People get very scared of AI and I understand that, I understand why. But also if you can use AI to say these roles are now four times as productive, then it really changes your decision about 'shall we create some more roles that look like that?' and actually the books look four times better when you run that calculation."
US growth to date 'just the beginning'
The Independent was the third fastest-growing news website in the US in August, up 53% year-on-year to reach 30.6 million visits, according to Press Gazette's monthly ranking. That made it the country's 34th biggest news website. In July, it was the joint biggest-growing, and in June it saw the fourth-largest growth in visits.
Broughton said: "A huge amount of very smart, very hard work has gone into it to take us there. But we have a very big future that lies behind that and it truly is only the beginning."
The 2024 US presidential election will be a "really big moment for us", he added. Broughton noted there is a difference from Trump's election in 2016 when only he and two others travelled across the Atlantic to cover it because their US footprint was too small. Now, they have around 50 journalists in the US, mainly in New York but also in Washington DC, LA and elsewhere.
Broughton said the DC bureau in particular is "landing world exclusives. There's a lot of British correspondents in the US, but to be beating the US titles in their own big presidential race news is a great test and to see them doing that already is incredibly promising for what could come."
He added: "I think that the US media market needs a new voice in that area, we saw what happened to some of the really big established brands after the last election where things didn't go smoothly for them. And right now is a great time to offer the US public another take, a really truly independent take on the news agenda."
Elsewhere – The Independent was the sixth fastest-growing English-language news website in the world in August, with visits up 36% year-on-year to 114.2 million – Broughton said the vision is to take the "very latest, greatest definition" of the brand global.
As well as the UK and US editions of the site, users can also toggle into an Asian edition and a Spanish-language edition. A team of about 25 editorial staff are based in India already and Broughton revealed they are currently working towards rolling out Independent TV with a "major Indian media company".
Independent TV, which launched at the end of 2020, goes further than other publishers, Broughton said. He describes it as a "real commitment to taking the mission of Independent TV much further and much more seriously than other news brands. You know, everyone does video, we're doing TV. We're pitching that higher."
This year it produced its first feature-length documentary, which Broughton said "will not be our last". Independent TV's 106 million monthly video views with "high engagement, really high attention" are highly desirable to partners, who work with its in-house team to produce branded content.
"By making the journalism really impactful and investing in that with the platform and the journalism you see on The Independent, we're also making a really good commercial platform for sponsored content at the same time."
[Publishers cashing in on e-commerce: How GQ and The Indy are boosting revenue]
The Independent's flourishing e-commerce operation is also a reason for its US growth, Broughton explained.
"Of course, we're very interested in the US because it's the biggest media market, but it's also an enormous e-commerce market for us."
The Independent's UK team bolstered under Geordie Greig
Despite the talk of global growth, the UK team is also seeing expansion.
Greig told staff in an email at the end of August that they had "put together a programme of investment to strengthen our editorial teams" and that it was a "very exciting new chapter for us all, as we work together to ensure The Independent remains at the forefront of British media and consolidates its place as the leading quality news brand for the UK".
The new appointments include head of news Rod Ardehali, who was news editor at Newsweek, and crime correspondent Amy-Clare Martin, previously a reporter for the Daily Mirror.
Eight additional reporting roles have also been created and filled by a mixture of internal appointments and regular freelances and others joining from National World's Bristol World (from which launch editor Alex Ross has departed), the Express (where Tom Watling has been covering Ukraine, a specialism he will continue), Evening Standard, Mail Online and SWNS.
Greig said this was a "hugely exciting new stage for the UK news team, as we will have vastly increased reporting power".
He added that The Independent has "invested heavily" in its premium team and offering. In May, former Mail+ editor Gordon Thomson joined as premium editor and he has now been joined by ex-Telegraph features director Victoria Harper as assistant editor (premium features).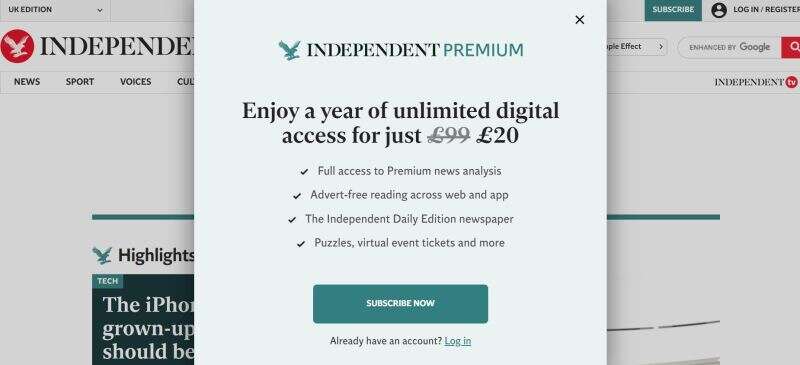 The Independent puts certain in-depth stories and analyses behind a paywall under the Independent Premium branding. Unlimited access costs £99 per year, although it currently has an offer price of £20, and that includes an ad-free experience on the website, the digital newspaper-style edition produced each day, puzzles and event tickets.
Broughton told Press Gazette that The Independent has reinvested in the journalism it is putting in its premium subscriber offering, and they are seeing "amazing results" with "very good signs of uptick in engagement" on articles behind the paywall.
"We still have an incredibly strong offering for people that don't pay as well," Broughton said. "And it's not about putting more and more and more things behind the paywall. It's about putting really good things behind a paywall – and in front of the paywall too – but it's about making sure you're giving those people what they want and what they want to pay for."
Email pged@pressgazette.co.uk to point out mistakes, provide story tips or send in a letter for publication on our "Letters Page" blog