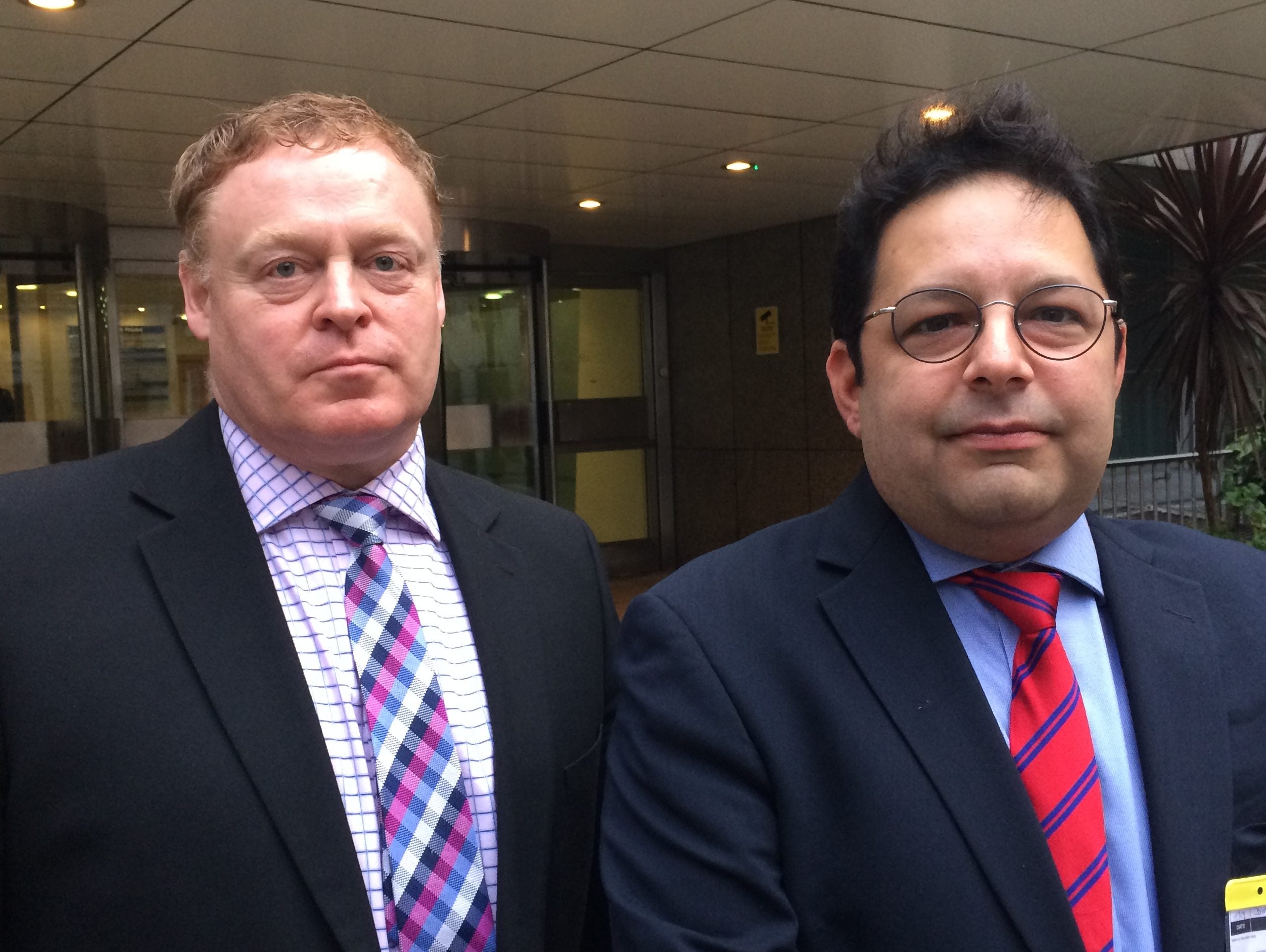 A panel of judges are set to rule that Cleveland Police acted unlawfully by grabbing the phone records of two former police officers suspected of giving information to the Northern Echo.
Steve Matthews and Mark Dias (pictured above) have claimed a victory after the Investigatory Powers Tribunal (IPT) dashed attempts by the force to justify its use of the Regulation of Investigatory Powers Act (RIPA) to investigate the source of three leaks to the Echo in April 2012.
Although IPT president Sir Michael Burton told the court that judgement would be reserved until the New Year, he added: "You know what it's going to be."
Phone records accessed under RIPA by Cleveland Police included Dias and Matthews, solicitor Alan Samuels, Northern Echo reporters Julia Breen and Graeme Hetherington and a Daily Mirror journalist.
Cleveland Police used surveillance powers to look at four months of call data and even monitored the entire switchboard of the Echo between 2 and 4 April 2012.
The scale of the surveillance was said to be 35-times the size of that used in the "Plebgate" scandal that saw RIPA used to access the records of three Sun journalists.
Speaking after the hearing, Hugh Tomlinson QC, representing Matthews, told Press Gazette: "The tribunal have indicated… that they will find that all the accessing of communications data by Cleveland Police in relation to these journalists and these individuals was unlawful.
"What it displays is just an astonishingly careless attitude towards RIPA laws. These are supposed to be incredibly draconian laws that are only used in the most extreme circumstances.
"They [Cleveland police] are treating these as casual and without any proper process and safeguards."
The RIPA investigation was said to be an attempt by Cleveland Police to locate the source of stories in the Northern Echo which included:
an internal grievance inquiry
an internal racism report
and information about a murder investigation that alleged its subject had also committed sexual offences.
Lawyer for Cleveland Police John-Paul Waite said police believed the three successive leaks might have been carried out by the same person or people and could amount to the crime of misconduct in public office.
"In evaluating the seriousness of these matters, in terms of their seriousness in principle, I submit that it is appropriate to look at their cumulative affect," said Waite.
"We say… the gravity of the disclosures… were capable of amounting to an abuse of the public trust in the officers concerned.
"And we further say that they were, on their face, without reasonable excuses or justification. There was no apparent public interest in the disclosures that were made, both individually and together.
"They are different, but all three [disclosures] are serious and I say that the leaking of a representation as to the contents of an interim report is serious because it impinges upon the police's relationship with the public in this very sensitive area."
The court heard how former police sergeant Dias had access to the internal racism report, which declared the force "institutionally racist", and had admitted phoning the Echo for "ten seconds".
Dias has said he made the call to correct a comment from a senior police officer reported in the newspaper who had said "we do not believe the force is a racist organisation".
Waite said this admission provided the basis for the police investigation into Dias.
He said Matthews' connection to Dias and the suspicion that the former chairman of Cleveland Police Federation had leaked information to a solicitor in January was the basis for investigating him.
Said Waite: "The case is the admitted leak by Mr Dias, the connection between Mr Dias and Mr Matthews, the strong belief that Mr Matthews is involved in discussing the existence of the grievance to the solicitor in January and the absence of any, on the face of it, alternative sources for these leaks."
Asked why Cleveland Police didn't bring in Dias and Matthews for questioning over the suspicion they had carried out leaks, Waite said he had been given "no information" from his client with which to respond.
Tomlinson, the lawyer for Matthews, said of Cleveland Police's use of RIPA: "It does indicate a degree of lack of care which is all of a picture with these [RIPA] applications. To describe them as careless is putting it at its lowest.
"The clear disregard for the legal framework is one that beggars belief because there's a huge interference with Article 8 and 10 rights.
"This is four months worth of journalistic contacts that are being examined by police officers apparently pursuing two low-level leaks.
He added: "What's striking is that there's no evidence of any kind linking these two complainants to these leaks.
"The only serious possibility of a criminal offence [relating to the murder inquiry] was something that had nothing to do with these individuals."
Matthews told Press Gazette the hearing left the pair feeling "completely vindicated".
He said: "It's been a long hard struggle for not just me and Mark Dias but our respective families, but we feel completely vindicated having proven that Cleveland Police professional standards department have systematically abused RIPA legislation over a considerable length of time.
Dias added: "Police officers are required to stand up to racism within the police service. As public servants we have got to always think about the public interest in what we do.
"All I did after a comment of denying racism within Cleveland Police after they had admitted institutional racism was to correct a comment in the newspaper. That was it.
"The reality was that because I was challenging corruption and racism within Cleveland Police in a methodical, logical and honest way.
"Those senior managers who were more concerned about their reputations and the reputation of an already tarnished police force used criminal powers of surveillance to undermine and discredit me as both a police officer and an individual.
"I think the tribunal process has been extremely fair and supportive. We have had excellent support from the Police Federation of England and Wales and outstanding counsel and solicitors.
"We believe that we have put forward a very strong argument that was logical and articulate and clearly demonstrated that their use of RIPA laws to identify contacts between police officers and members of the public and journalists was a fishing expedition and unlawful."
The sources and their journalists were targeted under legislation which has now been replaced by the Investigatory Powers Act. Under this legislation requests to view telecoms records made in order to identify a journalistic source must have the approval of a judicial commissioner.
Email pged@pressgazette.co.uk to point out mistakes, provide story tips or send in a letter for publication on our "Letters Page" blog