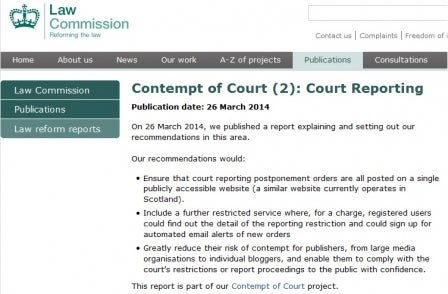 An online service should be launched to help journalists and bloggers covering criminal trials discover if reporting restrictions are in force, the body responsible for recommending law reform has said.
All publishers, from large media organisations to individual bloggers, should be able to access the service on a single website, the Law Commission said.
At the moment, there is no formal system for notifying potential publishers that a restriction is in force or why.
Reporting restrictions can be put in place by a judge to protect the defendant's right to a fair trial until the end of a trial or longer.
Professor David Ormerod QC, the Law Commissioner leading the project, said: "Transparency is central to our justice system, but the public's right to know and the right to freedom of expression must be balanced with the defendant's right to a fair trial.
"Media organisations tell us they struggle to find out whether reporting restrictions are in force and, if so, what the terms are.
"The current notification system is unreliable and inconsistently applied. It leaves publishers – be they large media organisations or individual citizen journalists – at risk of contempt and may restrict their ability to report proceedings.
"By enabling publishers to establish easily and accurately that a reporting restriction is in force, our solution would greatly reduce their risk of contempt and enable them to comply with the court's restrictions or report proceedings to the public with confidence".
A similar website currently operates in Scotland.
Under the commission's recommendation, the website would include a restricted area where, for a charge, registered users could find out the detail of the reporting restriction and sign up for automated email alerts of new orders.
The commission ran a pilot to assess the impact of gathering and publishing reporting restriction notices, which suggests that the costs of such a scheme to the public purse would be modest.
A potential publisher – a media organisation, newspaper or citizen journalist or blogger – who access the publicly available list and saw the name of a case they wished to cover would be directed by the website to telephone the court at which the case was being heard so as to discover further details about the terms of the order.
"We considered whether, in addition to giving access to the fact an order was in place, the online list could carry details of the terms of section 4(2) orders, to give potential publishers more guidance," the Commission says in its report today.
"On further discussion with key stakeholders, however, concern was expressed that this would push the balance too far in favour of disclosure, at the expense of protecting the sensitive information that section 4(2) orders are designed to restrain."
It goes on: "We recommend that the cost of administering this more detailed database be borne by its users, and hence that there would be a subscription charge for access to the fuller list.
"We consider that charging for this extended service is justifiable, since those potential publishers who did not wish to pay would still have access to the basic list free of charge and would be able to enquire as to the details of any orders in which they were interested in the usual way, by contacting the relevant court.
"This would provide potential publishers with a cheap, easy and safe method of avoiding contempt liability.
"For those who wanted to pay for the convenience of electronic access to the terms of the order itself without the need to enquire with the court (and also possibly the option of an automated e-mail alert when new orders were made) the restricted list would provide that option.
"In addition to keeping costs to the public purse down, charging for access to the extended list would have the further advantage of ensuring that users of this extended service were traceable.
"Paying for access using a bank transfer, debit or credit card would enable users' identities to be verified and linked to a UK postal billing address (either an individual's home address, or a media organisation's business address).
"This would enable users of this restricted list to be traced, in the rare case that the content of an order were re-published more widely, in breach of the order, and consideration was given to committing that user for contempt of court."
Media organisations have been calling for some years for the Government to establish an online database of all current reporting restriction orders, arguing that it is difficult if not impossible to check details because court staff are not available out of normal office hours, or files cannot be accessed even if they can be contacted.
There were talks on this issue between media groups and the previous Labour Government.
But these ended after it emerged that the Government was considering handing the establishment and operation of such a database to a commercial company, which would have charged what one media group member described as "eye-watering" amounts for access to the information.
Media organisations have frequently made clear their view that they should have free and ready access to details about reporting restrictions, because breaching an order can lead to a criminal prosecution or proceedings for contempt of court, and also because imposing a charge would be an infringement of their rights to report courts properly.
Email pged@pressgazette.co.uk to point out mistakes, provide story tips or send in a letter for publication on our "Letters Page" blog