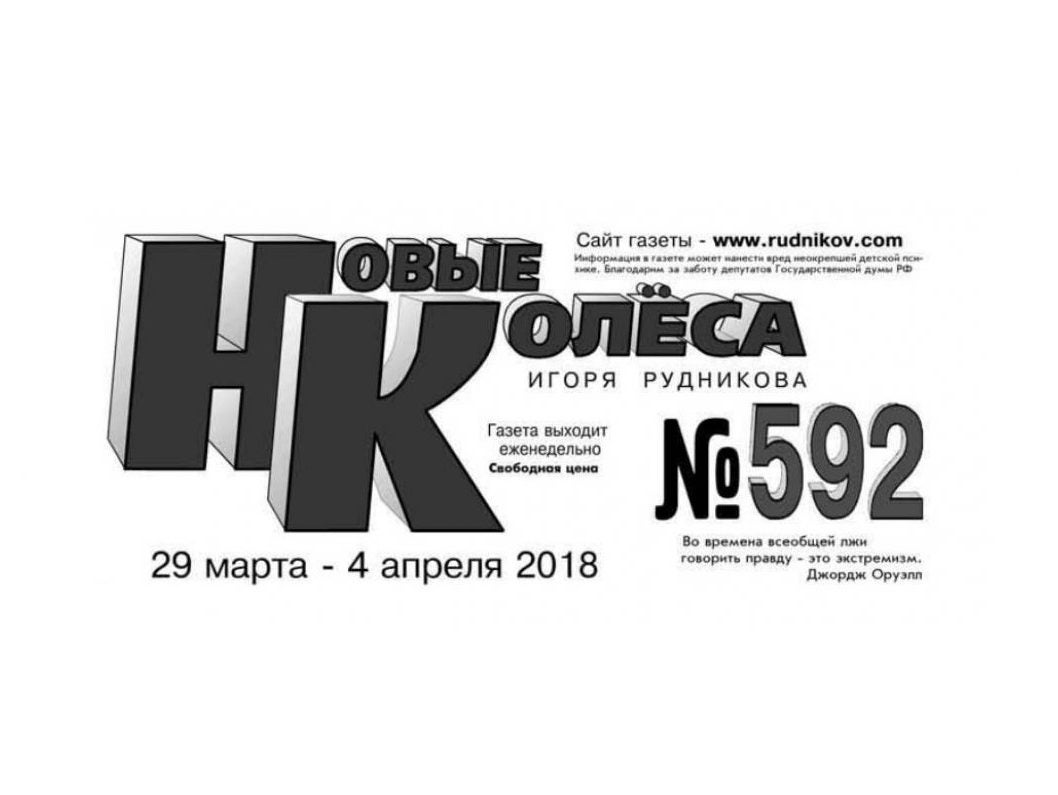 An independent weekly newspaper in Russia has announced that its latest edition, out this week, is also to be its last.
Press freedom campaign group Reporters Without Borders (Reporters Sans Frontieres) said the closure of Novye Kolesa followed "unacceptable persecution" by Russian President Vladimir Putin's government.
The newspaper, based in Russia's western enclave of Kaliningrad, which will host World Cup matches this summer, had been running for 23 years.
However it faced "intense" and "unprecedented" harassment over the past five months, RSF said.
The newspaper's editor, Igor Rudnikov, has been imprisoned awaiting trial on a charge of extortion since the start of November.
He could face up to 15 years in prison after being accused of trying to blackmail General Victor Ledenev, the head of the local branch of the Investigative Committee which is responsible for probing the most serious crimes in Russia.
Ledenez was targeted by a Novye Kolesa story in June last year about undeclared real estate properties and Rudnikov's lawyers say there is no hard evidence against him.
In February, the newspaper received two warnings from Russia's media regulatory body, which could have paved the way for its licence being removed.
Novye Kolesa was later taken off the print media distribution networks and its printer suddenly announced it was terminating its contract, both claiming the title was unprofitable.
RSF also said part of the newspaper's equipment had been seized and that it had lost its advertisers in the past few months.
RSF said several media outlets in Kaliningrad have decided to close while others have become "less critical of the local authorities" since governor Anton Alikhanov took office in September last year.
The final edition of Novye Kolesa was published yesterday, acting editor Yuri Grozmani announced on Facebook.
He wrote: "It seems that the current Russian authorities have also come up with a way how to make their people happy – to take the independent press far away. This is the first stage. And what will happen next – you can only imagine…"
He blamed the closure on Alikhanov pressuring supermarket chains to say the newspaper was unprofitable, despite a circulation of 11,000 copies and selling out within two to three days each week.
The previous issue was withdrawn from sale shortly after its publication on 29 March, with witnesses telling the newspaper that unidentified individuals seized all the copies on sale at newsstands and threatened vendors.
That edition's front page story was about the death of a Kaliningrad resident in detention, suggesting he had been tortured to death by the Federal Security Service and including photos of the agents allegedly involved.
Johann Bihr, the head of RSF's Eastern Europe and Central Asia desk, said: "The authorities did everything possible to silence Novye Kolesa and its editor.
"Their fate speaks volumes about the tight control now being imposed on the media in a region that until recently was regarded as among the least hostile to journalism.
"We firmly call on the authorities to end this harassment, which constitutes a clear act of censorship.
"They must allow Novye Kolesa to resume its activities, release Igor Rudnikov without delay and drop all judicial proceedings against him and his colleagues."
Russia is ranked 148th out of 180 countries in RSF's 2017 World Press Freedom Index.
RSF said: "What with draconian laws and website blocking, the pressure on independent media has grown steadily since Vladimir Putin's return to the Kremlin in 2012.
"Leading independent news outlets have either been brought under control or throttled out of existence."
Picture: Reporters Without Borders
Email pged@pressgazette.co.uk to point out mistakes, provide story tips or send in a letter for publication on our "Letters Page" blog