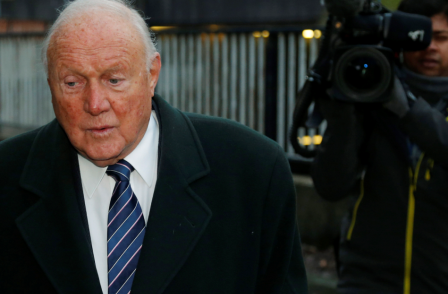 The College of Policing has issued nationwide guidelines saying arrested persons should not be named unless there are exceptional circumstances.
The naming policy of arrested individual has varied from force to force. It has been argued that in high profile sex assault cases, such as that involving Stuart Hall, more victims have come forward after a suspect's identity has been revealed.
The move follows a consultation led by the Association of Chief Police Officers. Writing exclusively in Press Gazette two weeks ago ACPO media lead Andy Trotter said he wanted to end the "bizarre parlour game" where journalists entice press officers to confirm that a certain person has been arrested.
Under the guidance suspects should be named when they are charged by police along with their address, occupation and charge details. At this point police must consult the Crown Prosecution Service (CPS) if they want to withhold the name.
But at point of arrest, the guidance says: "Decisions must be made on a case-by-case basis but, save in clearly identified circumstances, or where legal restrictions apply, the names or identifying details of those who are arrested or suspected of a crime should not be released by police forces to the press or the public."
Police forces might name an arrested person if there is a threat to life, to help the prevention or detection of crime or it is a matter of public interest and confidence, the guidance says.
It also adds that there is nothing to prevent police forces from naming an arrested person where there is a "policing purpose" and individuals themselves have the right to inform others of their arrest.
Elsewhere, the guidance says there is an "obligation on the police service to engage with the media", while officers and staff are "encouraged to speak to the media about matters for which they are responsible".
It adds: "They should be open, honest and approachable."
The guidance says there might be occasions when it is appropriate for officers or staff to speak on an unattributable basis, frequently known as off-the-record conversations, to "clarify a point or illustrate a point, for example, to guide media away from an inaccurate story".
However, it adds that any such occasions should be "authorised and recorded".
College of Policing chief executive Chief Constable Alex Marshall said: "What the police do must be above reproach, and ensuring integrity in our dealings with the media and the public goes to the heart of trust and confidence in policing.
"The guidance aims to strike the correct balance between the confidentiality owed to private citizens and the need for an open and honest relationship with the media."
Last week, it emerged Home Secretary Theresa May had written to the college over reports that some forces refused to name suspects who had been charged.
Warwickshire Police recently came under fire for initially refusing to name a retired police officer charged with theft.
The force, which eventually performed a U-turn and revealed the identity of the retired officer as Paul Greaves, originally claimed it had altered guidance in the wake of the Leveson Inquiry into press standards.
May said she believes in protecting the identities of suspects at point of arrest, unless it is in the "public interest", while charged individuals should have no right to anonymity except in "extremely unusual circumstances".
National policing lead for communications Chief Constable Andy Trotter said: "An open, professional and strong relationship with the media is an essential aspect of the way in which the police are held to account.
"This guidance actively encourages police officers and staff to speak to the mediaabout matters for which they are responsible. They should be open, honest and approachable.
"The police also have a duty to safeguard information. At times the decision between openness and confidentiality can be finely balanced.
"We aim to bring into the open our guidance about when someone should be named or not so that the approach is clearly understood."
A Home Office spokesman said: "The Home Secretary has been clear that transparency and consistency should be at the heart of the criminal justice system. We will carefully monitor the way forces name suspects and keep the guidance under review."
Kirsty Hughes, chief executive of freedom of speech campaigners Index on Censorship, said: "The default position that people who have been arrested should not be named goes against the principle of open justice that our criminal justice is based on.
"Rather than a policy of secrecy with exceptional circumstances for naming individuals, Index believes there should be a policy of openness with exceptional circumstances for witholding information.
"Sweeping powers for secrecy should not be the norm."
Here is the College of Policing Guidance on Relationships with the Media in full
Email pged@pressgazette.co.uk to point out mistakes, provide story tips or send in a letter for publication on our "Letters Page" blog