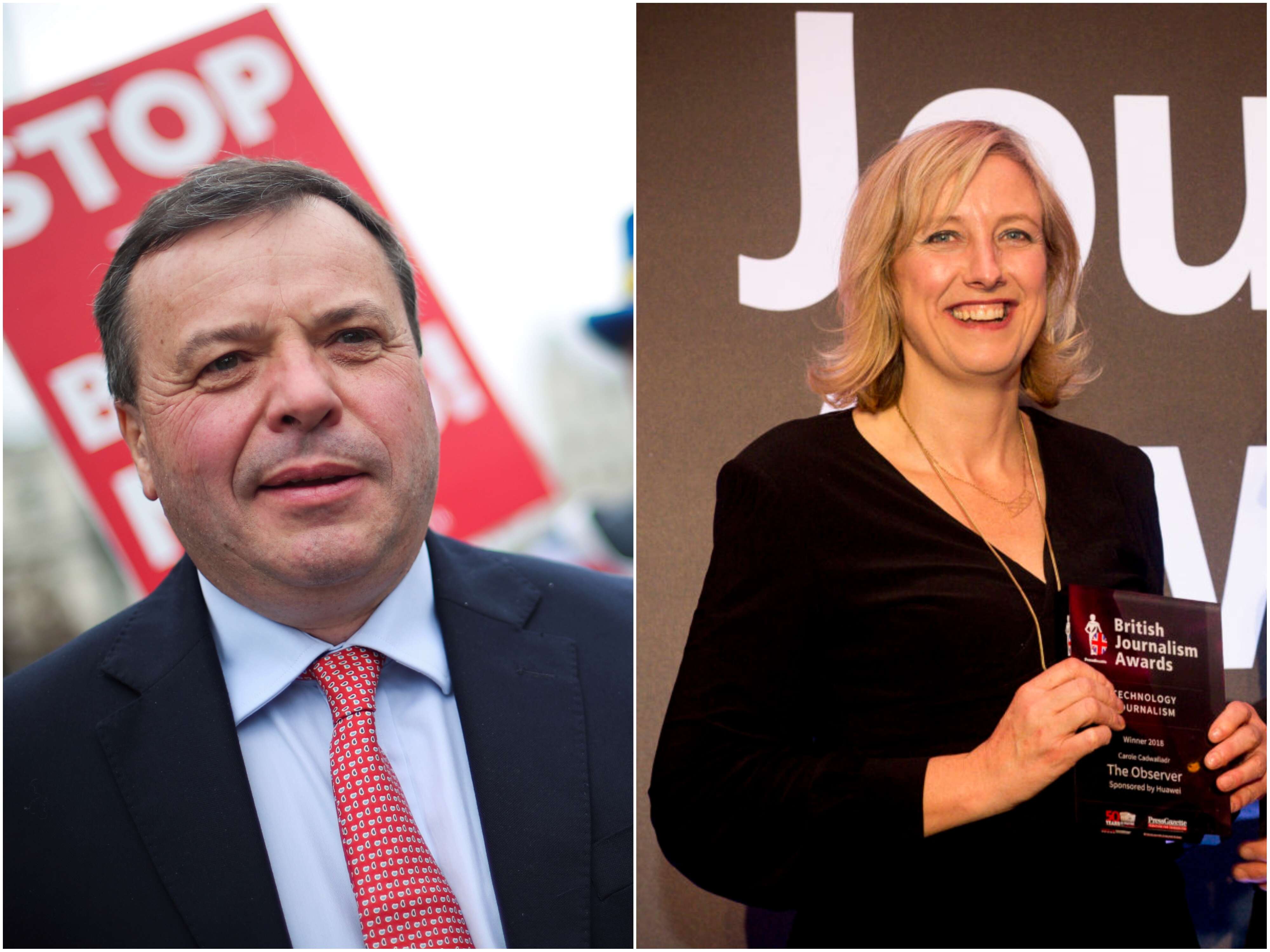 Update, 23 May 2023: Carole Cadwalladr has applied for permission to appeal to the UK Supreme Court against an order that she must pay £1m in costs, including 60% of Arron Banks's legal bills.
[Why Guardian, TED and all publishers should stand with Cadwalladr on Banks legal fight]
Update, 18 May 2023: Journalist Carole Cadwalladr has been ordered by a court to pay 60% of Arron Banks's costs after his partial libel victory against her at appeal stage.
It comes two weeks after she was told she must pay £35,000 in damages over her claim in a Ted Talk he told lies about a "covert relationship" with Russia.
According to Banks, the 60% of his costs Cadwalladr must pay will come to more than £1m. She crowdfunded ahead of the libel action and said after the costs order she had done so "in case of just this sort of eventuality".
Banks said the court's decision on costs was "vindication" but Cadwalladr said she was "hugely disappointed" and described it as a "dark day for press freedom in the UK".
"At appeal, the court upheld Mrs Justice Steyn's finding that my 2019 Ted Talk was both in the public interest and lawful," she said in a statement. "It ruled only that the public interest defence fell away after a change of circumstances a year later when the police concluded its investigation. It acknowledged that I did not control publication of Ted's website. And even by its own estimate, 98% of the views were lawful and just 2% were not. Nevertheless, it has ordered me to pay 60% of Banks's costs.
"I'm profoundly grateful to everyone who supported my crowdfunders in case of just this sort of eventuality. To my legal team who generously represented me on a conditional fee agreement. And to Mrs Justice Steyn for laying out in black and white the record of Arron Banks's relationship with Russian government officials in the months before Brexit. The facts of this relationship have now been established by a High Court judge and are beyond dispute."
Cadwalladr has previously raised more than £300,000 and over £227,000 in two separate crowdfunding pages for the case, and donations have surged since the costs order was made. The former crowdfunding page in particular was ringfenced to use for Banks's legal costs in the event she was ordered to pay them.
Cadwalladr continued: "It is a dark day for press freedom in the UK. This decision has huge ramifications for any news organisation or journalist who believes that the overwhelming public interest of a story will enable them to speak truth to power.
"Many abuses of power already go untold in Britain because our defamation laws are among the most repressive in the world. This arbitrary and punitive ruling will mean there will be many many more which will never see the light of day."
Fiona O'Brien, UK bureau director of Reporters Without Borders, agreed, saying: "These exorbitant costs – ordered despite the court's recognition that Carole Cadwalladr's work was at the time of publication covered by a public interest defence – send a chilling message to investigative journalists everywhere.
"This legal process was aimed at intimidating Cadwalladr and silencing her courageous journalism, and we stand in solidarity with her and all journalists subject to such exploitative litigation."
Update, 2 May 2023: Carole Cadwalladr has been ordered to pay £35,000 in damages to Arron Banks following the businessman's part-successful appeal of an earlier libel ruling.
The order, published on Friday 28 April, requires Cadwalladr to pay the sum by 12 May. The court will now assess costs.
Original story, 28 February 2023: Arron Banks should receive libel damages from freelance journalist Carole Cadwalladr over claims made in a Ted Talk that he had a "covert relationship with Russia", the Court of Appeal has ruled.
Banks, a prominent donor for the Leave.EU campaign, had appealed a High Court judgment that found Observer writer Cadwalladr could rely on the public interest defence after she libeled him in a Ted Talk about Facebook's role in Brexit in April 2019.
She said: "And I'm not even going to go into the lies that Arron Banks has told about his covert relationship with the Russian government."
Last year a High Court judge ruled that although the comment was defamatory and caused Banks serious harm, Cadwalladr could rely on the public interest defence in the Defamation Act 2013 up until 29 April 2020, when the Electoral Commission made a statement that it accepted the National Crime Agency's finding that Banks had not committed any criminal offence.
That judge, Mrs Justice Steyn, found that Banks had not been caused any serious harm by the talk after 29 April 2020, so his case also failed on that basis. She reasoned that most of the people who watched the talk after that date would have been followers of Cadwalladr's who are "'within her own echo chamber' and likely to consist of people whose opinion of the claimant was of no consequence to him".
However, three Court of Appeal judges have now said he was caused serious harm by the Ted Talk's continuing publication after 29 April 2020 and that Banks is therefore entitled to damages, to be assessed at a later date.
Lord Justice Warby, with whom Lord Justice Singh and Dame Victoria Sharp agreed, said: "The Ted Talk conveyed a serious allegation, involving dishonesty and breach of electoral law, which was inherently likely to cause serious reputational harm."
They agreed with Banks that Mrs Justice Steyn's assessment of the serious harm was wrong in law. Lord Justice Warby found there was "no legally admissible evidential basis for the judge's inference that the Ted Talk and tweet did not cause serious harm because most of those to whom they were published already believed in the truth of the allegation which they contained".
Lord Justice Warby described Mrs Justice Steyn's reasoning regarding Cadwalladr's "echo chamber" as "unsound", adding: "There was nothing else to act as a counterweight to the natural inference that publication [after 29 April 2020] had caused serious harm to the reputation of the claimant. The precise measure of that harm remains to be assessed but it is not possible to conclude that it was not 'serious'."
He also said it was "an inevitable inference from the evidence before the judge that publication of the Ted Talk after 29 April 2020 caused serious harm to the reputation of [Banks]. There was little direct evidence of harm, but as the judge held this was 'unsurprising' given the well-known difficulties of obtaining such evidence."
The courts heard that the Ted Talk has been viewed more than one million times, with Mrs Justice Steyn estimating a tenth of that – 100,000 views – came after 29 April 2020. Lord Justice Warby noted this meant the section of the audience after the public interest defence ended was "broadly equivalent to the circulation of a broadsheet national daily newspaper" and that this was a "weighty consideration".
Banks appeal fails on two counts
The Court of Appeal judges did believe, however, that the trial judge was right to reassess whether Banks had been caused serious harm from 29 April 2020 after the public interest defence fell away, something with which Banks had disagreed.
Banks had also opposed the High Court judge's ruling that Cadwalladr's publication of a tweet repeating her claim about him on 24 June 2019 did not cause him serious harm.
But the Court of Appeal judges dismissed his appeal about this. Lord Justice Warby said: "Although it conveyed the same serious imputation as the Ted Talk the judge found that its publication peaked at or near the time it was first posted, after which it fell further and further down the defendant's timeline, as one would expect.
"For ten months any publication was protected by the public interest defence. In my judgment, whatever might be said about harm caused by the initial phase of publication, there was no basis for any inference that there was any publication of the tweet in phase two that caused any serious reputational harm.
"To that extent the judge was clearly right. I would therefore uphold her decision in respect of the tweet and dismiss that aspect of the appeal."
Banks said on Twitter after the appeal judgement was published: "…the appeal court found I had been defamed, suffered serious harm and they award unspecified damages. You can't really ask for more vindication than that."
Lord Justice Warby said the scale of damages and "any other remedies" still have to be assessed, while an issue remains over the extent to which Cadwalladr should be ordered to "persuade" Ted to edit the talk to remove the relevant line or take it down in its current form, considering the fact she does not have control over what the organisation does.
Cadwalladr says case was 'absurdity after absurdity'
Cadwalladr celebrated that she won on two "important grounds of principle. Most importantly, the landmark public interest ruling is intact. The judge's findings of fact are intact. The original judgment holds."
But she pointed out that she does not continue to publish the Ted Talk, but Ted itself does, saying of the judgment: "It has ruled that after the NCA concluded its investigation in April 2020, the continued publication of the Ted Talk caused him serious harm. Only guess what? That 'continued publication' has nothing to do with me! I'm not the publisher. And the court even *acknowledges* this.
"The judgment clearly underlines *exactly* why this is a SLAPP [Strategic Litigation Against Public Participation]. Why didn't Banks sue TED? Or The Observer which first published the words? And now I've been held *personally* liable for a video published by media org in a foreign jurisdiction protected by the first amendment.
"This case has been absurdity after absurdity, starting with Kafkaesque 'meaning' of words that had never passed my lips to now being held responsible for the continued publication of a talk that the Court of Appeal has established was lawful when I gave it.
"Every dog has its day. But this is a technical judgment that concerns just 100k views of the TED talk after April 2020, not the 4.3 million who saw it before. But to be absolutely clear: this is a minor skirmish. I won the case. The judge's ruling, on everything else, holds."
Cadwalladr added: "This case has been endless grief and pain but I believe – and the judge found – that the public interest justified it, justified my reporting."
Guardian News and Media, which has published much of Cadwalladr's reporting on Banks, said in a statement: "Carole Cadwalladr's award-winning journalism has prompted worldwide debate on social media, privacy and political targeting. Her successful defence of her reporting last year was a victory for investigative journalism in the public interest.
"Arron Banks appealed last year's High Court ruling on three discrete points. The Appeal Court judges found in Ms Cadwalladr's favour on two points, but ruled in favour of Mr Banks on one matter, the continued publication of the Ted Talk after April 29, 2020. However, the judges acknowledged that Ms Cadwalladr is not in control of what the Ted organisation publishes, and we note that Mr Banks chose not to sue Ted Talks.
"We welcome the dismissal of the other two grounds of appeal which are important points of principle. Ms Cadwalladr's reporting into this matter of vital public interest has been vindicated."
Fears of 'chilling' public interest journalism
Press freedom organisation Reporters Without Borders has shared fears Banks' partial victory could have a "chilling effect on investigative journalism".
UK bureau director Fiona O'Brien said: "The fact Carole Cadwalladr could now have to pay damages for journalism the court acknowledges was in the public interest is deeply disappointing. Arron Banks' relentless pursuit of an individual journalist is not only a clear attempt to intimidate and discredit her personally, but also a chilling warning to other journalists of what can happen if they dare to take on the rich and powerful. The UK government must act to protect journalists against such abuse of the law."
Email pged@pressgazette.co.uk to point out mistakes, provide story tips or send in a letter for publication on our "Letters Page" blog