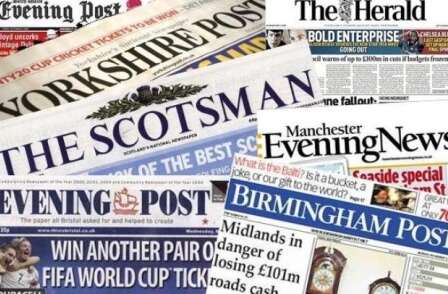 A new report from Enders Analysis has argued "all is not lost" for local news publishers, despite a punishing economic environment.
Citing the "mind-boggling" scale of local media traffic in the UK, the report's authors claimed that there is a path to sustainable revenue models, but that it will require a "transformation" from "its manufacturing past… to its digital service era". 
And the report also predicted that "industrial print" will enter "its final phase" in the next three to five years – meaning media businesses will have no choice but to transform themselves into digital outfits.
The report was supported by the News Media Association, the trade body for UK newspaper owners.
In 2009 Enders wrongly predicted that up to half of the UK's then 1,300 local newspaper titles would close over the next five years.
While the analysis firm was wrong about the scale of closures, there has been a significant reduction in editorial headcount on local newspapers since 2009, with estimates for jobs lost as high as 75%.
Published on Wednesday, the report, titled "Signs of local life: A new phase for local media", said that publishers "have done very little to transition habitual paying print readers—or the next generation—into habitual paying digital audiences" and that they have "lost the war on digital classifieds".
It estimates that small and medium-size enterprises (SMEs) spent £11bn advertising with Meta and Google in 2022, "five times what the entire local media sector achieved at its peak".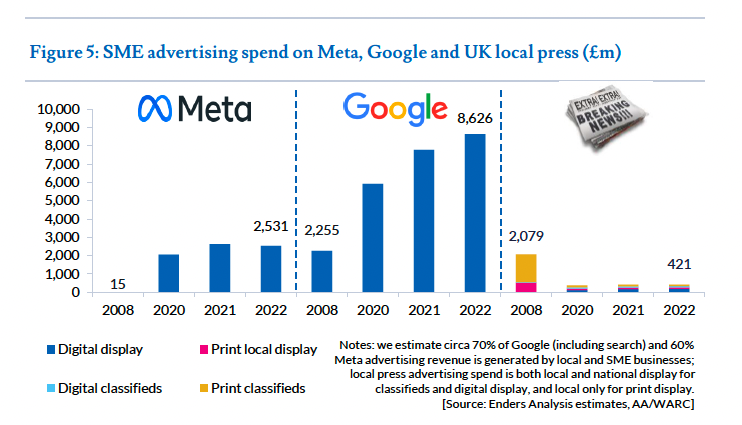 The authors said: "No amount of innovation or market intervention is going to bring £2bn of classified advertising into local media.
"But this report will go on to show that a prize is starting to come into focus, as are the means of achieving it… This report argues a measure of success will be commercial local media attracting meaningful, hard-nosed, growth investment again."
Local media still has strengths
The sector has "fundamental" strengths that differentiate it from social media and non-journalistic content, according to the report. Publishers, it said, need "to shout these distinctions from the rooftops" and return to "first principles, consider how technology has changed those principles, and reason how best to deliver in the future".
And it argued: "The sheer scale of local media traffic is mind-boggling. One way or another Reach's journalism is seen by well-nigh every UK adult."
But Enders also laid out a series of changes it suggested local publishers should adopt, including two "fears that are uncomfortable but need to be aired": that online advertising on some local sites degrades user experience and that public-interest journalism "may have retreated from the industry peak, when there was more investment in journalism".
Besides these concerns, the report suggested that local publishers navigating the end of third-party cookies should build out "exemplary first-party data", "exceptional targeting tools to use this data effectively", "a shared tech stack" and "a simple self-service buying tool for [small and medium-size enterprises]… and provide simple dashboards to demonstrate effectiveness against a range of criteria".
But more broadly, the authors claimed that publishers need to tailor their modern offering to what online local news audiences want from them.
"Publishers need to design the right product and the mechanism for expressing and retailing those utilities and services in the online world… These questions require radical change, not marginal tweaks to journalism, product implementation and marketing."
And government, meanwhile, should allocate any funding it hopes to put into local media toward "discovery" of local media and "ancillary support such as national, regional and local data processing, design and an easy-to-use interface".
Will change happen in time?
Enders identified DC Thomson as a publisher it believed was innovatively approaching the remaking of the local news business model.
Enders described the company's approach as "an entrepreneurial, bullish mindset, focused on describing and realising a better future", highlighting for example its switch from unique visitors to time spent as a principal metric of success, as well as its shift to "depth and expertise rather than a structure of geographic coverage".
The report was optimistic about the industry more broadly, saying: "In the round, local media organisations are increasingly focused on the benefits they bring to communities and the use-cases that people value.
"Such thinking is closer to 19th century founders, proprietors and editors than the advertising-centred Private Equity investment thesis of the late 20th century and early 21st".
But it suggested any investments to bring these changes about need to be made soon.
"This report considers the next three to five years to be a critical period for local media, as industrial print provision enters its final phase (print will continue indefinitely, but at a lower scale), during which businesses have to transform themselves into sustainable digital media."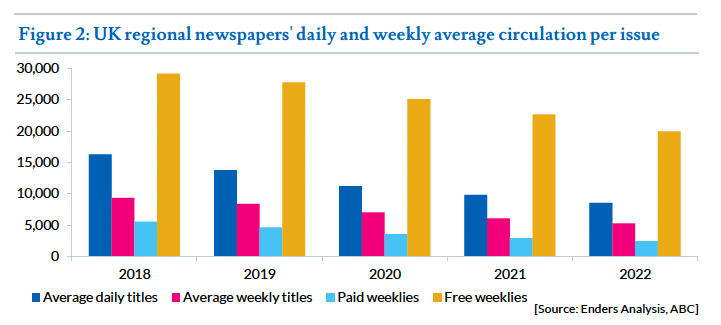 Email pged@pressgazette.co.uk to point out mistakes, provide story tips or send in a letter for publication on our "Letters Page" blog