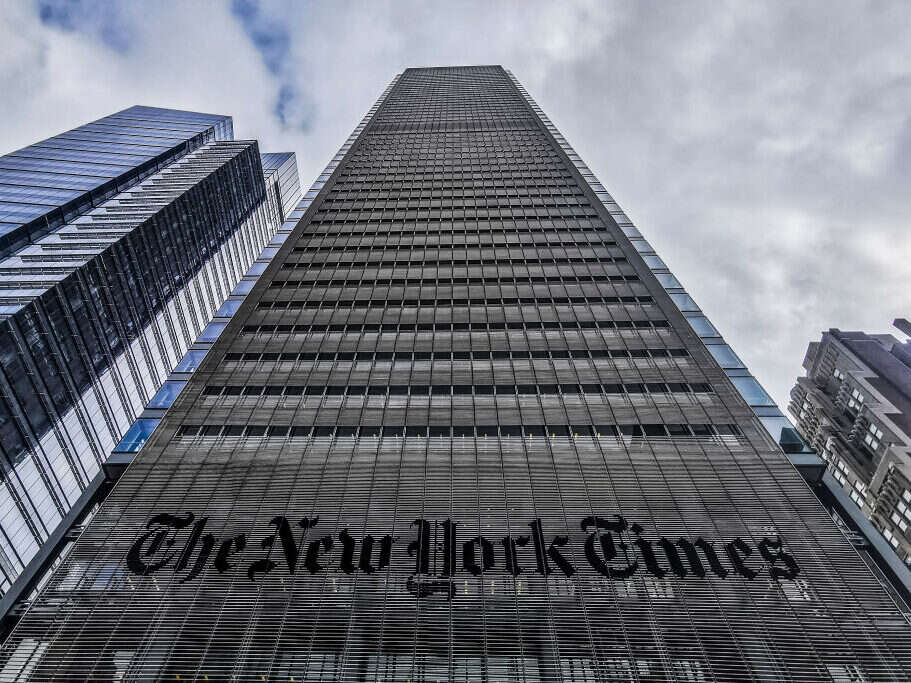 Pay transparency remains unusual in UK media, but in parts of the US, it's a legal requirement.
Since November, employers based in New York City – which includes much of the American media – have been required to disclose minimum and maximum pay in advertisements for jobs in the city. The same rule has applied in Colorado since 2019 and in California since the start of this year.
Prompted by Insider's decision to reveal to UK staff how much it pays for different editorial roles, Press Gazette has captured a snapshot of who in US media is hiring journalists – and how much they're offering to pay them.
The analysis of 12 news organisations' job postings (principally in NYC and California) finds the average advertised pay ranges at some news organisations are four times larger than at others – and that a non-American outlet is one of the best-paying publishers in the country.
[Read more: Revealed – Insider discloses UK newsroom salaries to staff]
US journalist salaries at Insider
Press Gazette reported on Monday that salaries in Insider's UK newsroom start at £35,000 for a junior reporter and rise to a base of £60,000 for a senior editor.
The publisher had few roles advertised in New York at the time of Press Gazette's analysis, but the figures available illustrate how much more, in nominal figures, US media workers get paid than their British counterparts. (Differing living costs mean that in real terms the salaries are not as different as they appear at first sight, however.)
[Read more: Why pay transparency could help with journalism's class and nepotism problem]
The New York Times' advertised salary ranges
The New York Times was advertising for more than 20 roles at time of Press Gazette's analysis, ranging from an "associate writer, games" who would be paid $74,816 to a media editor (replacing Semafor's Ben Smith whose former role has remained vacant for more than a year) who might draw a salary as large as $185,000.
In common with most organisations, the NYT was advertising narrow pay ranges for more junior staff and far wider ones for those with more experience. A columnist assistant at the Times could expect to be remunerated between $74,816 and $75,000 a year, according to nytco.com/careers; an economic correspondent, meanwhile, might earn anywhere from $115,507 to $170,000.
Fox Corporation
The half of Rupert Murdoch's US media empire that publishes Fox News and Fox Business, Fox Corporation was advertising for more than 20 jobs, both in reporting roles and those focused on supporting its entertainment side. The best-rewarded role listed was managing editor of politics, which will earn the successful applicant between $180,000 and $240,500; lowest-paid were four associate roles, each drawing a maximum salary of $74,500.
The New York Post
In the other half of the Murdoch domain, pay ranges look notably wider. At Fox Corporation, the average gap between minimum and maximum salary was $23,667, similar to the $26,328 figure at The New York Times. But at News Corp tabloid the New York Post, that gap averages at $94,325:
On 9 February, there were three pay bands for journalism roles on newscorp.com/careers. Between $31,200 and $125,000 was being offered for nine different roles, ranging from photo editor to city hall reporter; between $75,000 and $145,000 was available for roles including digital editor and SEO manager; and a deputy editor for news features might make between $75,000 and $170,000. A journalist earning the lowest amount offered at the Post would make just above New York's yearly minimum wage, according to one calculation on minimum-wage.org.
The Wall Street Journal
The average range is even wider at the upmarket Wall Street Journal, where the gap between the lowest and highest possible salary for the same job was $128,139.
The worst-paid jobs at the Journal, currently including video journalists and audio producers, can earn as little as $40,000 or as much as $160,000. At the top end, a standards editor for The Wall Street Journal could be paid less than the audio producer, at $100,000, or more than The New York Times' media editor, at $250,000.
Barron's
Barron's, a division of News Corp also focused on finance, records a similarly broad range of pay offers. A spokesperson for Dow Jones, the News Corp division which publishes the WSJ and Barron's, declined to comment for this article.
CNN
News Corp is not the only business offering potentially very different salaries for similar roles: a CNN Business "US economy writer" might make $78,000 while an "economy and investing explainer writer" earns $144,000. The average gap between minimum and maximum earnings at a single role at CNN was $83,156.
CBS News
Elsewhere among the broadcasters CBS News was advertising a medley of roles earning very different sums. A broadcast associate at CBS Evening News could not expect to earn more than $45,000, while a digital content writer and producer at CBSNews.com would garner no less than $75,000.
ABC News
At Disney-owned ABC News the company was advertising for the two best-compensated roles Press Gazette saw in its analysis: an executive producer for special events (meaning major emergent news stories, for example, a hurricane) and an executive producer for race, culture & inclusion. Each role is set to earn $258,100 at minimum and $354,860 at maximum.
NBCUniversal
Meanwhile, NBCUniversal, publisher of NBC News, CNBC, MSNBC and Telemundo, advertised likely the best-remunerated beat reporting role found in this analysis: one lucky unionised local TV reporter with NBC Los Angeles can expect remuneration between $125,000 and $300,000.
Guardian US
The US edition of The Guardian boasts the highest average minimum salary of any publisher in this analysis, with over half the open positions earning at least six figures. The best-paid job, managing editor, will earn its holder no less than $250,000 a year.
Reach - Express US
Reach has begun to hire for its forthcoming bid for the US market – but at time of Press Gazette's analysis, only two roles, both at the Express US, were being advertised.
[Read more: Reach to launch US operations for Mirror, Express and Irish Star]
Comparison of salary ranges between the news organisations
Averaging minimum and maximum advertised salaries at each news organisation hiring for more than ten roles, it becomes clear how wide the ranges are at CNN, the WSJ and New York Post.
Email pged@pressgazette.co.uk to point out mistakes, provide story tips or send in a letter for publication on our "Letters Page" blog