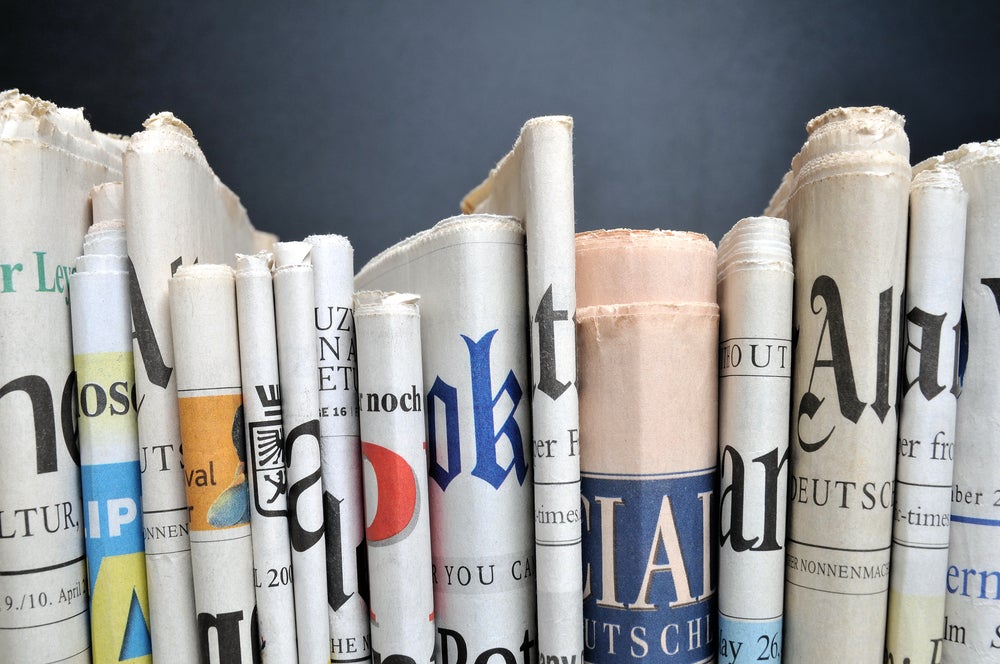 I read with interest your article, Regional ABCs: UK daily local newspaper circulation down 20% in first half of 2023 – writes Alan Evans, editor if Carmarthenshire News Online.

I recall publishing items relating to the ABC figures as far back as 2014 pointing out that advertisers are throwing bad money after good. It was telling that many of our local newspapers stopped publishing the figures.
In its heyday the Llanelli Star and South Wales Evening Post were big sellers. Apart from the street based vendors, most homes in the Llanelli and Swansea area would receive a copy through the letterbox paying weekly for the pleasure. The Carmarthen Journal was another popular paper, which catered for the more rural farming areas.

You would be hard pushed to find many people with any of those newspapers in their hand today. I wish to make clear that the tone of my missive is not one of gloating or 'I told you so'. It is tinged with sadness to see the demise of what were once great community news resources.

There is also the issue of pulling the wool over the eyes of advertisers who in the main are being sold ads on the basis that these newspapers are somehow the same giants they once were.
As a member of the ICNN and as an independent news publisher, which has struggled to get a crumb of any public or government advertising campaigns and omitted from local government's staple circular for public notices payments because we are not by definition 'a newspaper', i.e. 'a printed publication (usually issued daily or weekly) consisting of folded unstapled sheets and containing news, articles, advertisements, and correspondence'.

I respectfully submit that it is time to redefine the definition of newspaper to include independent online news outlets and it is time to evenly distribute the share of government paid advertising and public notice payments to include independent online news outlets, which judging by the figures you have highlighted in your article are more than able to hold their own with audience numbers.

Members of the ICNN have fought hard to try and get a seat at the table with those agencies who hold and distribute the huge sums of cash for campaigns meant to reach the masses. It is a monopoly, which needs to be changed in the public interest.
---
7/7/23: A note on flongs, banging out and stone subs
As a retired old hack who went from hot metal to InDesign by way of mainframe systems, Aldus PageMaker and Quark XPress, I wonder if I might add a note or two to your item on journalism jargon – writes Alex Collinson of Penarth, South Wales.
Banging out: This tradition has its origins in the hot metal composing room and was adopted by newsrooms. Back in the days when newspapers were wrought from craft skills and heavy machinery, the final stage of making up a hot metal page involved the compositor (aka comp) bashing a rectangular block of wood know as a plane with a mallet over the face of the type to make sure every line of type was firmly seated. So when a comp walked away to retirement, all his mates would send him off with a cacophony of banging thus created. It was a questionable honour given to me, a former stone sub, at the Daily Mirror. 
Stone sub? A page of metal type obviously requires a flat surface on which to sit in its metal frame (forme) and though such workshop tables were made of steel, they would once have been made of slate, hence 'stone'. So a stone sub was a sub-editor who worked with the compositor fine-tuning copy to make it fit its allotted space and mending 'bust' headlines, ie. headlines where the sub upstairs had overestimated the wording that would fit in the typeface specified on the page layout.
A particular skill the stone sub had to acquire was reading type upside down and from right to left. Really? Yes, really. The stone sub would work on the opposite side of the stone to the comp with the top of the page nearest him. With a deadline fast approaching, it would be expedient for a stone sub to lean over the forme and indicate cuts to the comp rather than trying to find appropriate proofs among the pile of wet dabs and galley proofs — don't ask.
Flong, helpfully described by Neil Benson as papier-mâché, it was in fact made of something rather more durable, a card for sure, about two millimetres thick and very dense, thus able to withstand the considerable pressure and heat of the moulding process that produced the semi-cylindrical plates for the presses. Looking at a flong in the flesh, it seems little short of miraculous that it could hold the detail of the dot structure of the monochrome pictures (half-tones). 
I regrettably failed to secure the flong of the last hot metal front page of the Daily Mirror, but I do have the first edition front page (see the three stars in the dateline) from April 15, 1981, celebrating the landing of the Space Shuttle Columbia. You might ask, why three stars for the first edition? Well if the page didn't change for the second edition, the printer would just chisel off one star from the printing plate on the press to identify all copies for that edition. And if it didn't change for the third edition, another star would be dispatched, thus the third edition was known as the one star. No prizes for guessing the moniker for the fourth edition, sometimes dubbed the Fleet Street edition due its limited circulation.
20/2/23: Why no mention of Maxim in PG's look back at the world of Lads' mags
I was pretty amazed to read this article and see there isn't a single mention of Maxim magazine which became arguably the biggest men's magazine globally of the era, writes Pete Wootton.
It had a larger circulation in the UK than many of the examples in the piece but crucially became huge in the US and was licenced globally (in 50+ countries from memory).
Big omission IMHO (as someone who worked for Felix Dennis during that period)
---
When the weekly Nuts and Zoo came along they plunged lowest common denominator to new depths, fully embracing the "more birds, less words" maxim – writes Owen Ralph. They also had a much trashier design and fewer ads for luxury goods than FHM, GQ etc. Whilst they may have given the sector one last adrenaline shot, they also chipped away at their monthly stablemates' circulation (Loaded and FHM), therefore hastening their demise.
You make a good point re LadBible as a natural successor to lads mags – only with less "birds", which I guess people can find elsewhere online. The name is awful though, especially if they've changed their focus somewhat of late. But as LBC and Capital (both referencing London, but now national radio stations) have shown, once a brand reaches a certain level of success, the name almost becomes meaningless.
Newspaper bosses were not 'forced' to cut staff
In your article about the BBC, you say newspaper bosses were 'forced' to shed staff – writes Maurice Blisson.
Is this not editorialising in what was supposed to be a neutral news item, albeit with a byline?
They may not have been 'forced' at all.  It may have been a deliberate management decision because of new technology or other changing circumstances. A neutral phrase could have been substituted. Bland I know – but accurate.
Pejorative words should surely be saved for comment pieces.
Editor: You are quite right Maurice, noted for the future!
9/2/23: Laurie Purden's memorial: 'May her mischief reign elsewhere'
A full house today at St Bride's in Fleet Street for Laurie Purden's memorial (obituary here), writes Victor Olliver. It was a very Laurie-esque occasion: elegant, amusing and beautifully done. The church choir was blissful – I loved the rendition of Fly Me To The Moon.
In case you didn't know her or of her, Laurie was the celebrated editor of Good Housekeeping and Woman's Journal in the 70s and 80s, awarded an MBE for her excellence. She was rather larger than life, a smoker of cigarillos at her desk – living into her 90s nonetheless – always coiffed in the most complex of ways. And 4pm was when she'd reapply makeup and redefine the mascara. Almost a ritual worthy of liturgy.
I'd freelanced for Woman's Journal through the 80s. Then in 1986 the features editorship became vacant. At that time Journal was in its prime with sales well-north of 250,000 per month and known for its good writing. Though Laurie knew me already and of my work, I wrote her a formal application letter. It began absurdly: 'Dear Madam. ..' My job interview with her was quite surreal as she gossiped about certain members of staff and she scarcely asked me any questions, except to say: 'You live in Brighton. Brighton seems very dubious to me…don't you agree?' When she phoned one Saturday to offer me the job – against some comically intense lobbying by some noted doyennes – she said: 'Darling, when you called me Madam, I knew we had to have you….' That was Laurie. Always ever-so slightly perverse and unpredictable.
At the memorial some lovely stories were told of her. I had no idea she had got to know Robert Maxwell and attended one of his lavish parties. One story, however, needs a little revision, one supposedly set at a celebrity event at the Dorchester involving Laurie introducing guest English actor Dirk Bogarde as Kirk Douglas. As told at the memorial, Bogarde didn't notice the mix up and only learnt of it later from his PA. In fact the muddle occurred at the Savoy, at one of Journal's annual fashion shows. Dirk Bogarde had arrived a little the worse for wear to make a presentation, and Laurie introduced him as Humphrey Bogart. Dirk Bogarde was actually most put out and his eyes flew heavenward as the audience cackled.  But the show went on.
She rarely held back if disappointed. If a feature had not measured up to expectation, the editor responsible would receive a phone call from Laurie – 'Darling come to my office now – and bring a box of tissues.' She was no fan of clever-clever writing and invariably would say of anything that fell short – 'Yes, but where's the HEART, darling'. Much of her success owed to her supreme understanding of the readers – a timeless gift when I think of other successful editors I have worked for.
The editor-in-chief in my naughty little novel Curtains is based on Laurie, at least on the mannerisms.
It was a fabulous day catching up with former colleagues at the memorial, some of whom I had not seen in over three decades. I think I spotted Nigel Havers, but am still unsure. I was seated to a close friend of Laurie's who told me that despite a few health problems her mind remained super-sharp to the end. We all felt Laurie had somehow planned her own memorial.  May her mischief reign elsewhere.
---
28/11/22: Readers reflect on changing newsroom fashions and a new look for Press Gazette
What journalists wear and a new look for the Press Gazette website were the two big talking points from Press Gazette readers over the last week.
Press Gazette's first redesign in a decade drew mostly positive criticism. The absence of an all-stories news page was noted (we are fixing) and more than a few deadlinks (again nearly all fixed now). But design wise most found it easier on the eye.
Freelance showbiz interviewer Rob McGibbon said on Twitter: "Looks really good. Cleaner, sharper, easier on the eye – more grown up!"
And Owen Ralph from Manchester welcomed the return of the letters page (which replaces below the line comments).
He said: "It's nice to see a 'letters' page appear again in Press Gazette. I note that, in the spirit of the New York Times, you will be publishing all the correspondence that is fit to print. Not that space will be an issue online, of course. When working with a US colleague some years ago on a print publication with limited pagination, he used to quip: 'We print all the news that fits'."
Hamish McKay from Aberdeen wrote: "Very much like your new-look website, plus the ever-increasing more widespread, catholic content. Goodness knows how you manage it all with such a small permanent staff.
"You and your staff are doing an excellent job in providing us with a first-class media industry outlet."
William Turvill's investigation into the collapse of sartorial standards in newsrooms prompted plenty of debate on Twitter. Turvill divided newsrooms up into four fashion tribes: Old Guard suit wearers, Geography teacher smart/casuals, Gen Z fashonistas and work-from-home types.
Jack Simpson wrote: "I really enjoyed this, and launched me into a period of self-reflection of my geography teacher fashion choices. I suppose better than the last memorable comment I got on my choice of clothes, when someone told me I dress like an IT manager."
Tony Paley: "Comprehensive guide to newsroom dress codes. Always make an effort when venturing out, and into the office. Shorts, which should be verboten, are definitely spotted in warmer climes in Guardian Towers."
Marc Shofman: "This is brilliant! I work from home but find being smart is more motivating. However, it seems I fall into the category of geography teacher!"
Bette Lynch: "I once worked with a Pic Ed who always wore a suit, tie, cufflinks. In all the years I only ever saw him take his jacket off once and that was when the temp went over 35 degrees. The newsroom cheered."
James Maloney: "This is excellent and very funny for anyone who's ever worked in newsrooms. Sadly overlooks the sartorial disaster zone that is photographers."
Jeremy Nicholl said: "Remember very vividly my old news editor on the Merseymart & Star making me wear a Maghull Chamber of Commerce tie when I forgot to wear one. Never made that mistake again. Even when I was a sub.
"Thankfully, it never applied as a snapper. No-one cares."
Janis Blower: "Great read. In the early 1970s at the Shields Gazette the editor called me in and asked if I had a hat. Turned out I was to cover the last funeral where you stood at the church door – it was at St Hilda's – and took down mourners' names. I borrowed one of my mother's."
Email pged@pressgazette.co.uk to point out mistakes, provide story tips or send in a letter for publication on our "Letters Page" blog