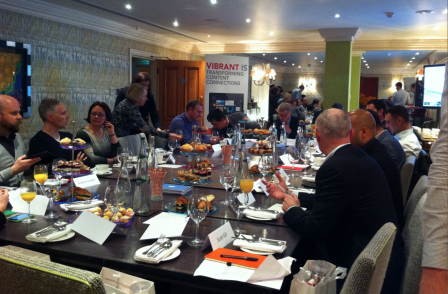 Native advertising is the current 'big idea' sweeping through the commercial side of the journalism business.
For many editors the prospect of taking native advertising is about as enticing as getting a letter from Carter Ruck. But like it or not, if it hasn't come to your publication yet – it probably will soon.
I was the only journalist (alongside chairman Ray Snoddy) at a round-table on native advertising hosted by digital advertising company Vibrant Media working with the Association of Online Publishers.
The assorted publishers and advertising people present (full list at bottom of this piece) were keen to establish some ground-rules about what native advertising is and how to use it in what appears, to me, to be its Wild West phase. 
The first myth to dispel about native advertising is that it is NOT just advertorials or sponsored features by another name. 
Native advertising goes much further towards crossing the divide between editorial and advertising.
Head of planning and insight at AOL Steve Payne describes it as "paid-for content that's in keeping with the user experience" adding that it it should "look and feel as similar as it possibly can to the surrounding content".
There were differing views about the extent to which journalists from the core editorial brand should be involved in creating native advertising.
But most seemed to agree that they were key to making it work.
Jo Holdaway, director of strategic and commercial data at the Standard and Independent, said: "We work closely with editorial staff….editorial are involved in every pitch."
She said that journalists were initially "dragged kicking and screaming" but that now they "saw the value of it".
Similarly, head of investment at The Guardian Rob Smallwood said that native advertising initially "scared everyone shitless" there.
The Guardian's take on native advertising appears to be to take cash to do things editorially that they broadly agree with. Thus the GuardianWitness citizen journalism app is also a promotional vehicle for mobile network EE, Unilever is paying The Guardian more than £1m to write about Sustainable Business and The Rockefeller foundation pays for The Guardian's 'Cities' section.
Would the Guardian bother having sections on 'Cities' and 'Sustainable Business' without those deals? To what extent, if any, do advertisers affect the editorial content? It's not entirely clear to the reader. But in keeping with the views at the round-table, all this Guardian content is flagged in different ways as having a commercial aspect.
Everyone at the Vibrant Media/AOP round-table appeared to agree that native advertising has to be labeled as commercial content in some way. But no-one appeared to favour a prescriptive regime on what form that should take.
Thus, those with excellent eyesight could tell that this page in the Daily Mirror was a 'special feature'. But would the general reader realise this means it is in fact an advert, albeit for a very worthwhile cause?
Huge humour and news website Buzzfeed is largely dependent on native advertising.
This story looks like any other Buzzfeed content, bar a bit of subtle branding:
But when you get to the end, you realise that it is in fact an invitation to buy a product:
Bauer-owned women's website The Debrief is another site heavily dependent on native.
Editor Hattie Brett told the Vibrant/AOP round-table: "My editorial integrity is very important to me. I see journalism as protecting your reader. I quite like being involved in commercial deals because it gives me a sense of control to make sure we are working with like-minded partners who share our brand values and who understand how to talk to our readers."
She said that there are some commercial partners she would refuse to work with but that this has not come up yet.
This Debrief feature has the same look and feel of any other content on the website, and is written by the fashion editor, but it is headed 'H&M made this happen' and it concludes with an invitation to buy some of the clothes mentioned at H&M:
The argument seems to go that if editors are involved in conversations around native advertising from the start they can maintain a degree of control and police the boundaries.
There appeared to be consensus at the round-table that native advertising has to be clearly "watermarked" as one person put it, which was a relief to my editorial ears.
And there was broad agreement that if the reader feels they are being deceived than then the native advert will fail for all concerned.
The big question that remains is what form that watermarking takes, because if the publishing industry is irresponsible in the way it produces native advertising Ofcom could well step in.
I threw the cat among the pigeons a little at the end of the round-table by pointing out that 63 journalists have been arrested over the last three years for, amongst other things, allegedly paying for 'content'.
While the comparison was a little flippant, journalists do need to be extremely careful ethically in this post-Leveson world. Portraying paid-for content as independent editorial is deception and a clear breach of the ASA code.
That said, it is clear that display advertising on its own is not going to pay our wages in a digital journalism world and that journalists (on free websites at any rate) are going to have to be open to working with advertisers on new ways of getting their message across.
The challenge is finding a way to do that which is honest and does not undermine the faith the reader has in your title.
Here are the main 'take-homes' from last week's round-table put together by hosts Vibrant Media:
Responsibility to the user and advertiser – find the balance
Collaborate with your editorial team
Be credible and transparent
Relevant and quality content
Be respectful and signpost
Educate your clients on native advertising
Native advertising benefits the industry and the user
Invest in quality content
Distribution channels – adaptability and scalability
The round-table was attended by the following:
Autotrader, Naomi Hahn, Head of Display Advertising
Bauer, Hattie Brett, Editor of The DeBrief
Reed Business Information, Chris Martin, Sales Director
Conde Nast, Malcolm Attwells, Digital Trading Director
ESI Media, Jo Holdaway, Director of Strategic and Commercial Data
Guardian, Rob Smallwood, Head of Investment
Hearst, Steve Edwards, Group Digital Sales Director
AOL, Steve Payne, Head of Planning, Insight & Research
Dennis, Gary Rayneau, Head of Online Sales
IPC, Andrew Sanders, Digital Brand Partnerships Director
Maxus Global, Tom Dunn, UK Digital Strategy Director 
RAH, Katia Hountonji, Digital Manager
IDG, Simon Jary, Publishing Director
MEC, Justin Taylor, Managing Director 
Immediate Media, Duncan Tickell, Commercial Director
Email pged@pressgazette.co.uk to point out mistakes, provide story tips or send in a letter for publication on our "Letters Page" blog