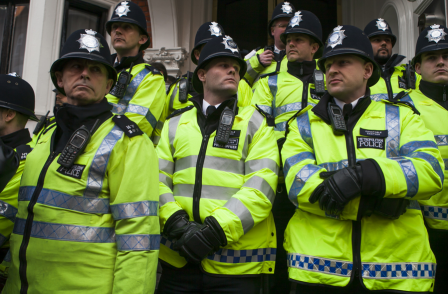 Six journalists have launched a legal challenge against the Met Police after finding that surveillance information about them is being held on a "National Domestic Extremism" database.
The Times reported earlier this month that the Met Police National Domestic Extremism and Disorder Intelligence Unit holds 2,000 records which relate to photographers and journalists.
Now the National Union of Journalists has started legal action on behalf of six of its members who appear on the database. It wants the information destroyed and for the Met to stop gathering intelligence about journalists who are not under suspicion of breaking the law.
The six are: Jules Mattsson (who works for The Times), Mark Thomas (the comedian and journalist) and four photographers: Jason Parkinson, Jess Hurd, David Hoffman and Adrian Arbib.
According to the NUJ they have all worked on media reports that have "exposed corporate and state misconduct" and they have all previously "pursued litigation or complaints arising from police misconduct".
The journalists have been able to see the Met Police files held on them by making subject access requests under the Data Protection Act.
Mattsson said: "In the disclosed information from my file, there isn't even a hint that I'm suspected of any offence, nor do I have a criminal record. Instead the entries held about me contain such obvious statements as the fact I am 'always looking for a story' and 'has previously recorded police officers'.
"I can see no justification for keeping this information, or reasonable defence of the impact it has on my ability to do my job – like disclosing it to third parties when I apply for press accreditation, which notes on my file show to have happened.
"I hope the Metropolitan Police won't fight this action. If they argue these files should continue to be retained, it would in my view contradict previous statements in which they have expressed their respect for press freedom and support for the rights of journalists."
Comedian and journalist Thomas said: "The fact that none of the journalists are suspected of criminality but all of them cover stories of police and corporate wrong doing hints at something more sinister, that the police seem to be spying on those who seek to hold them to account.
 
"The inclusion of journalists on the domestic extremist data base seems to be a part of a disturbing police spying network, from the Stephen Lawrence family campaign to Hillsborough families, from undercover officers' relationships with women to the role of the police in the construction blacklist."
Parkinson said that his file runs to 12 pages and includes 140 separate surveillance logs spanning nearly a decade.
He said: "The files make it very clear they have been monitoring my movements, with whom I associate and even what clothing I wear, in order for police intelligence units to build up a profile of me and my network of associates and contacts. The files also show signs that my social media and internet activities have been monitored. They also logged that I was asked to give a speech at a conference in 2011, which ironically was about police surveillance.
 
"The disclosure of my domestic extremist files seem to show what I had suspected for the last eight years, the police have been keeping journalists that cover political protest under surveillance and it is not merely an intimidation tactic that should be ignored, as some have suggested in the past.
 
"My video work has been published across the world and, among many other things, it has exposed police, state and corporate misconduct from the UK to the Middle East and Central America. I have faced multiple legal battles to defend press freedom under the Human Rights Act. I have endured years of harassment, repeatedly detained under the Terrorism Act and other laws and I have faced abuse and even violence at the hands of police.
 
"My detailed files read like I am some kind of public enemy, simply for doing my job as a journalist."
 
Freelance photographer Hurd said: "I have faced intimidation, surveillance and on occasion violence, from the police all my profession life. It should not be the case that I sometimes fear going to work."
Hoffman, another freelance photographer, said there can be no reason for him to be on a register of extremism.
He said: "Simply being documented on a state extremism database is itself harmful. I fear my face is likely to be flashed up at pre-protest police briefings and my name passed to officers for special attention.
"I fear officers that I meet in the course of my work will be mistrustful. The normal constructive and professionally cooperative relationships that might otherwise exist between journalists and police feel sabotaged: in tense situations my requests for access are more likely to be denied and the police are less likely to share any information with me that would otherwise help me to report properly on public events.
 
"We want all records on us to be revealed to us together with their associated metadata and then we want these records destroyed. If they are to restore the trust betrayed by these excesses the Metropolitan Police need to make public for discussion the basis on which decisions to put journalists under surveillance are made."
Press and features photographer Arbib said: "I've been a press and features photographer for around 30 years having studied photography at the London College of Printing in the 1980s. I've been particularly privileged to be able to cover stories on social documentary and environmental issues. This has taken me all over the globe to cover key topics of the time.
 
"I did all these stories and many others, as any journalist should do, with a keen eye for the truth. It seems that this fundamental and important exercise now makes journalists subjects of covert surveillance and intimidation."
NUJ general secretary Michelle Stanistreet said: "There is no justification for treating journalists as criminals or enemies of the state, and it raises serious questions for our democracy when the NUJ is forced to launch a legal challenge to compel the police to reveal the secret evidence they have collected about media workers."
A spokesman for the Met Police told Press Gazette: "Can confirm we have received a letter of before action which we will respond to in due course."
Email pged@pressgazette.co.uk to point out mistakes, provide story tips or send in a letter for publication on our "Letters Page" blog