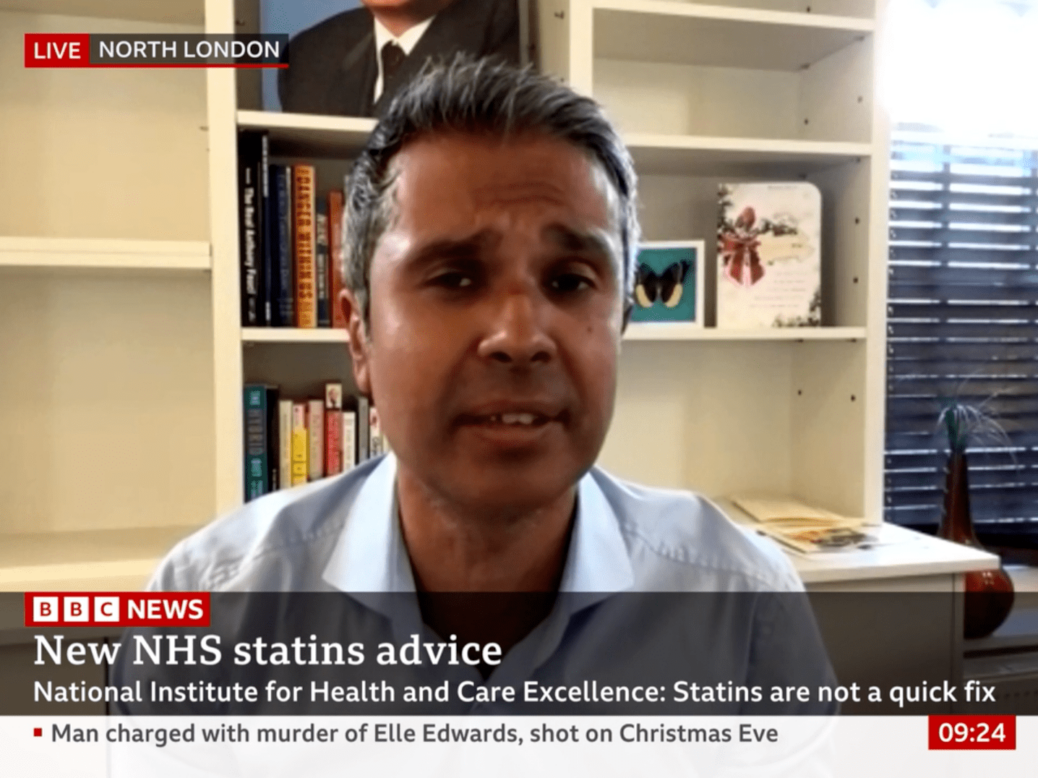 Update, Wednesday 18 January 2023: The BBC has apologised for not being "better prepared to challenge" claims made by a guest who hijacked an interview to call for a suspension on mRNA vaccines.
In a statement issued on Wednesday, five days after the incident, the BBC contextualised some of Dr Aseem Malhotra's claims and wrote: "Professor Peter Openshaw from Imperial College London, and also a member of the UK Vaccine Network, was also interviewed on the News Channel and explained that cases of myocarditis (inflammation of the heart muscle) following the Covid vaccine are very small and the risk of complications that are seen after Covid by comparison is 'probably 100 times greater or more.'"
Nonetheless, the corporation said: "We apologise that we were not better prepared at the time to challenge Dr Malhotra's points during his interview."
Original story, Friday 13 January 2023: BBC News appears to have been taken by surprise by a guest who used his appearance to call for a suspension on mRNA vaccine inoculations against Covid-19.
Dr Aseem Malhotra appeared on the BBC News channel on Friday morning to discuss new NICE [National Institute for Health and Care Excellence] guidance that more patients should be issued statins for their cardiovascular risk.
However, about three minutes into his appearance Malhotra pivoted suddenly to claim Covid vaccines that use mRNA technology – i.e. the Pfizer and Moderna jabs – were themselves a cardiovascular risk.
Malhotra said: "What is almost certain – if I can just say this – my own research has found, and this is something that is probably a likely contributing factor, is that the Covid mRNA vaccines do carry a cardiovascular risk. And I've actually called for the suspension of this pending an inquiry, because there's a lot of uncertainty at the moment over what's causing the excess deaths."
Presenter Lukwesa Burak, apparently unprepared for the claim, asked: "So what you're saying in terms of the mRNA link to cardiovascular risk is that that's been proven medically, scientifically?"
The overwhelming bulk of peer-reviewed literature suggests that mRNA vaccines are safe. One recent meta-analysis did identify a slightly elevated risk of myocarditis following a second mRNA vaccination among younger people, in particular men, but the author of that paper nonetheless said: "As a clinician, I strongly recommend that people get a Covid-19 vaccine unless there are absolute contraindications such as known allergies."
Malhotra subsequently tweeted a video of his seven-minute appearance shortly before 10am on Friday with the caption: "BREAKING BBC News – Cardiologist says likely contributory factor to excess cardiovascular deaths is Covid mRNA vaccine and roll out should be suspended pending an inquiry." At the time of writing his tweet had received 3.1 million views and the video 1.2 million.
The BBC News broadcast was met with triumph among those opposed to the vaccine, who often complain of being shut out of the mainstream, and anger toward the corporation in most other quarters.
A typical quote tweet from a supporter of Malhotra said: "This is huge. If the BBC is willing to acknowledge the dangers of mRNA jabs, it's all over."
Another said: "Hard to believe MSM [mainstream media] is finally admitting the harm being caused by the vaccine."
From the opposite camp, one person commented: "Very, very poor judgement from the BBC in inviting him on."
A BBC spokesperson said: "Dr Aseem Malhotra was invited on to the BBC News Channel to talk about the latest NICE recommendations on statins. During the discussion he made unprompted claims about the Covid mRNA vaccine.
"We then asked Professor Peter Openshaw, who represents the overwhelming scientific consensus on the vaccine, to be interviewed on air on this topic and he challenged and rebutted the claims that had been made."
Email pged@pressgazette.co.uk to point out mistakes, provide story tips or send in a letter for publication on our "Letters Page" blog