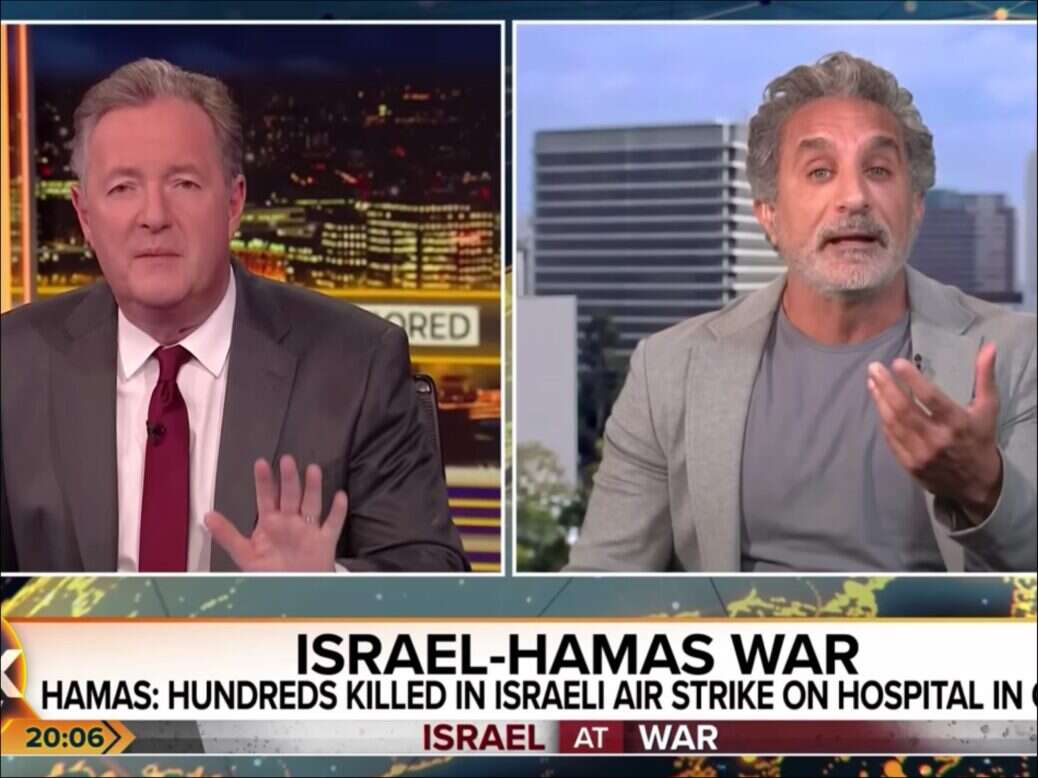 TalkTV has claimed that Piers Morgan Uncensored is "the world's fastest-growing current affairs Youtube channel" after it hit two million subscribers.
Morgan's programme launched on Youtube 18 months ago, and has more than three times as many subscribers on the platform than TalkTV's main channel.
The announcement comes two weeks after competitor opinion-led channel GB News pronounced itself "officially the fastest-growing British news provider ever" on Youtube. The channel's Youtube account passed one million subscribers in September and one billion views last month.
Piers Morgan: Youtube 'going to be hugely important' for current affairs broadcasting
TalkTV said Piers Morgan Uncensored (PMU) "enjoyed continued acceleration in October, adding 450,000 subscribers in one month".
When Press Gazette published its 2023 ranking of the biggest English-language news publishers on Youtube on 24 October, PMU had 1.86 million subscribers.
[Read more: Biggest news publishers on Youtube – GB News and Piers Morgan Uncensored pass 1m subscribers]
The growth in the past month was driven in part by an interview Morgan conducted with Egyptian satirist Bassem Youssef, who later returned for "round two". Their first interview garnered some 20 million views in two weeks.
The News UK-owned channel said Morgan's interviews in the month to Friday 3 November had garnered "nearly 100 million views". Interviewees over that period included former Israeli prime ministers Ehud Barak and Naftali Bennett and Palestinian diplomat Husam S Zomlot.
Morgan's coverage of the Hamas attack on Israel, and Israel's subsequent bombing of Gaza, has drawn some positive coverage, with Slate publishing an article under the headline: "The Person Covering Palestine-Israel Best Is … Piers Morgan?"
Morgan said in a statement: "The secret behind the [Youtube] growth has been, first, I have a brilliant digital team who work incredibly hard across all social media platforms to ensure we get maximum eyeballs for our content.
"Second, we worked out very early into PMU's existence that there is a massive and fast-growing young audience that voraciously watches our stuff on Youtube."
Coverage of the Israel-Hamas conflict has helped draw an additional 450,000 subscribers to Piers Morgan:Uncensored in October.
Morgan said: "The conflict is an incredibly difficult and complex issue and I took a view early on that it was vitally important for us to have guests from both sides of the debate, however provocative or 'controversial' they are deemed to be, and to let them express themselves as passionately as they wanted to. Our show is called Uncensored for a reason."
TalkTV and GB News have each touted their reach online as true indicators of their audience size. In linear broadcasting terms, TalkTV remains well behind BBC News and Sky News, with GB News usually third for overall viewership but often beating the incumbents in prime time.
Morgan said: "Obviously, I expected big numbers for my exclusive interviews with the likes of Donald Trump, Cristiano Ronaldo and Kanye 'Ye' West. 
"But we've also had huge audiences for my conversations with people like Andrew Tate, Jordan Peterson, Ben Shapiro, and in recent weeks, for many pro-Palestinian guests like Mohammed Hijab and the Palestinian ambassador to the UK. 
"And we've also had very high numbers for political interviews from Rishi Sunak to US presidential candidates Ron DeSantis and Vivek Ramaswamy.
"I think Youtube as a platform is going to be hugely important in the future of broadcasting globally. 
"My sons are aged 22 – 30 and all watch most of their TV content through Youtube, as do their friends. That doesn't mean there isn't a future for linear TV, because there definitely is, but our success on Youtube shows it is an increasingly important platform for people making content like ours." 
Email pged@pressgazette.co.uk to point out mistakes, provide story tips or send in a letter for publication on our "Letters Page" blog