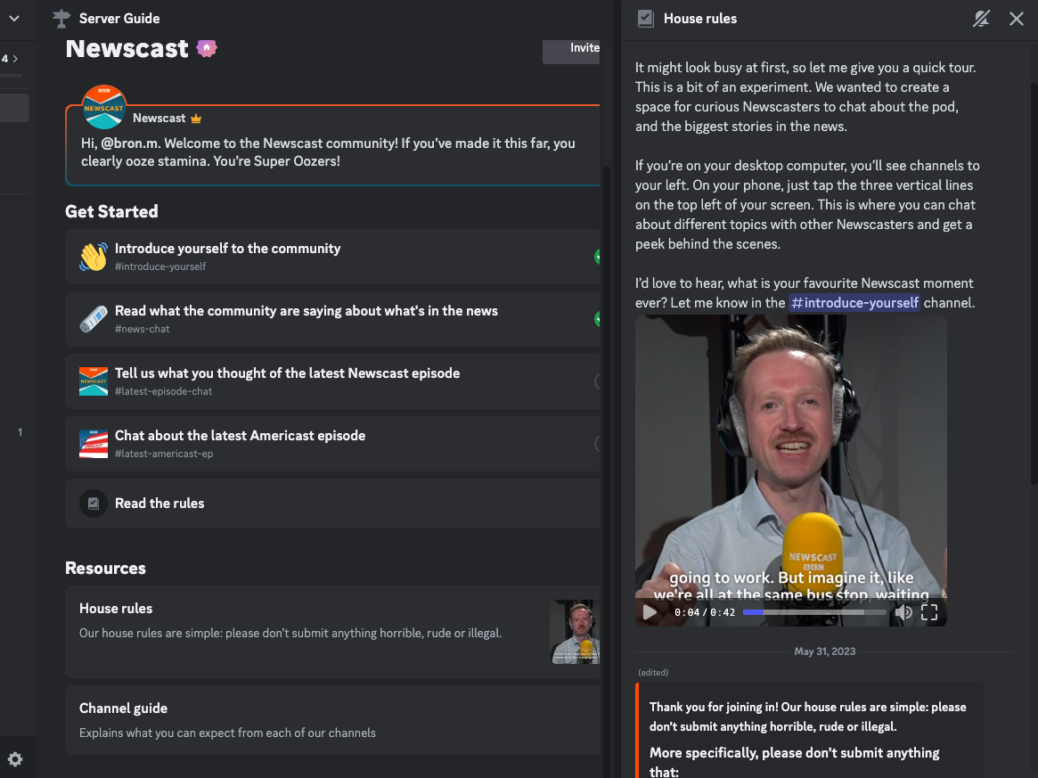 It's now over a month since BBC News' flagship podcast, Newscast, launched a server on Discord.
The messaging platform is best known as a home to gamers – but its producers told Press Gazette the real-time interactions between hosts and audience on Discord are already feeding back into on-air editorial choices.
And they explained how Newscast, with the help of this server, intends to be "front and centre" in the BBC's coverage of the next general election.
What is Discord and how did the BBC get on it?
Discord remains relatively niche, not appearing in Yougov's list of the 20 most famous social networks in the UK.
It is an instant messaging and voice calling platform that works similarly to a web forum, albeit much faster-moving and with the ability to chat in live audio.
Most famously associated with gaming communities, the platform is organised into servers, each of which might be focused on, for example, a particular television show, music genre or subculture.
Within a Discord server there are channels into which users may post, each focused on a different discussion area. On the Newscast Discord server, for example, there are channels dedicated to "latest episode chat", "ideas for guests" and to peeks behind the scenes at the podcast. Newscast's hosts, producers and listeners may interact with one another in real time on these channels.
The Newscast team mostly use the text chat functions but have run one live audio discussion about climate change for their Discord users so far, with another coming soon.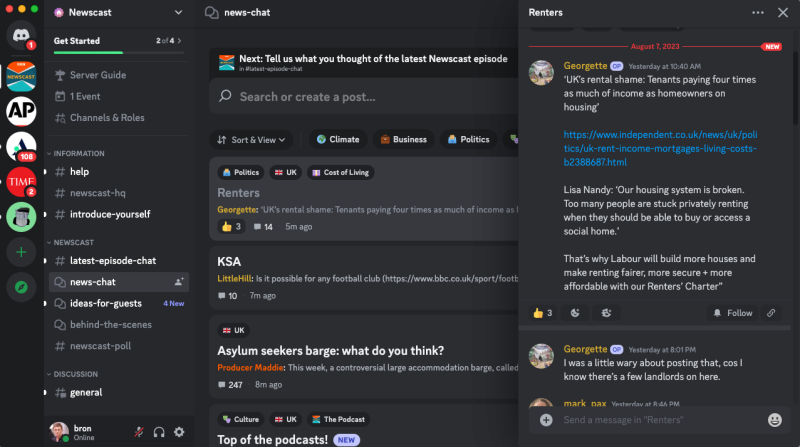 Jonathan Aspinwall, the senior news editor for BBC News Podcasts, told Press Gazette that Newscast launched its Discord server because the show's team had already been looking for a way to "connect with the audience in a deeper way and really start to get them almost to feed into our editorial conversations.
"We really wanted them to shape our news agenda. They're such smart listeners with such good ideas and on a daily basis they're feeding into the chat now."
Newscast is leading the BBC's efforts on Discord, with BBC News Podcasts senior news editor Sam Bonham describing the effort to Press Gazette as "an experiment". But Aspinwall said the launch came amid a push for greater audience engagement across much of the BBC.
"The BBC are so mindful that it's not just only about getting listeners, it's also about deepening your relationship with those listeners," Aspinwall said. "And there's loads of work – loads and loads of work – going on at the moment about how you deepen your relationship with existing BBC users and what value we can add. And this is a really key part of that."
But Bonham said he thought Newscast's listeners in particular had been looking for something like the Discord server.
"They might not have known it," he said, "but I feel like there's just quite a sizeable community of listeners that are really engaged with what we do. And they're looking, I think, for ways to connect with Adam [Fleming, Newscast presenter] and Chris [Mason, BBC News political editor] and Laura [Kuenssberg], and us as well."
In an introductory video on the server, Fleming tells Discord users to "imagine it like we're all at the same bus stop, waiting for the same bus, and we've just listened to the latest episode of Newscast and decide to have a chat about it.
"But it can be a chat about anything in the news, really, or anything to do with the podcast. I don't know – your take on Chris Mason's take on something else, or if you see an MP saying something in the House of Commons and you think: 'What!' We want you to be able to talk about it. It's up to you."
How is Newscast using Discord?
The Newscast Discord server is a collaboration between BBC News and BBC Sounds, with discussion moderation handled by a team from the latter part of the corporation during working hours.
Out of hours, Bonham said, "informally basically the Newscast team is keeping an eye on it… I will read pretty much everything".
He estimated that the Newscast team begin 10% to 20% of the discussions on the server – asking, for example, what they think about the Government's controversial barge to house asylum seekers.
The remainder are organic discussions initiated by users themselves, including this week conversations about the women's World Cup and the origins of Covid.
The BBC told Press Gazette the server has reached 3,700 members since its launch in late June, 40% of whom "have been listening to the podcast since its days as Brexitcast". (The similarly popular first iteration of the podcast was renamed Newscast and took on a wider remit after the UK formally left the EU in January 2020.)
More than 100 users were displayed as being online at 9am on the morning of Wednesday 9 August, and a new message was being posted somewhere on the server every few minutes or so. The BBC says around 800 messages are currently sent each week.
Aspinwall said that since the server launched, there had been a few standout cases where editorial decisions were influenced by discussions on Discord.
"During the Nigel Farage banking story, they pretty quickly were quite hot on the Discord community. They wanted to know where the truth lay quite early on – 'What are the facts in this?' 'We want a clarification, can you get your people to research and find out more?' 
"There was an element, on climate change, of an explanation on some of the presumed phrases that keep on coming up in news coverage. 'What is carbon capture?…'"
Aspinwall noted these are all "quite specific, chewy topics" which he described as the "reason why Newscast exists… to take those kind of subjects, those kind of questions, get our most accessible, best journalists onto the pod and, in a really informal, accessible way, answer those questions".
Among those journalists, Aspinwall said, was BBC News political editor Mason, who "can't get enough of" the Discord.
"He laps it up. For him it's just a key means of actually being in touch with your audience.
"And obviously, he's doing so much broadcasting – constantly opening his black book and making phone calls, the man is an absolute dynamo. He is an extraordinary ball of energy. And one of the key means in keeping in touch with what the audience are asking, what they need clarification on, is this Discord channel."
The strategy behind the server
Aspinwall said Newscast had been "a big success for the BBC".
"It's going to be expanded, it's going to be even bigger, there's lots of exciting things that I can't really say but, like – some really exciting opportunities for Newscast."
The BBC One TV broadcast of Newscast on Thursday nights after Question Time is doing well in its slot, he said. The BBC does not release podcast listening figures but said last week Newscast was "once again the most listened to podcast for all adults" on BBC Sounds in the second quarter of the year, and that it had increased on-platform plays by 30% in the past year.
Looking ahead Aspinwall said Newscast is "going to be really central to the BBC's general election coverage. So we're trying to do all our homework about deepening that relationship right now because actually we want it in place for the general election when Newscast will be front and centre, right at the heart of BBC News' election coverage".
In time, Bonham added, "we will start using [the Discord] as a way to encourage some of our listeners to migrate some of their listening habits from RSS, Apple and Spotify, etcetera to BBC Sounds, which is a key ambition and objective of Tim Davie and the broader BBC and BBC News to drive audiences on our own platforms".
Aspinwall said: "Newscast is seen as, now, a BBC hero brand… It's such an exciting time to run Newscast, it's brilliant.
"It's a totally brilliant time to be in news podcasting, and there's so much potential in news podcasting. And we're just loving it. And this is part of creating that deeper connection with the audience."
Email pged@pressgazette.co.uk to point out mistakes, provide story tips or send in a letter for publication on our "Letters Page" blog