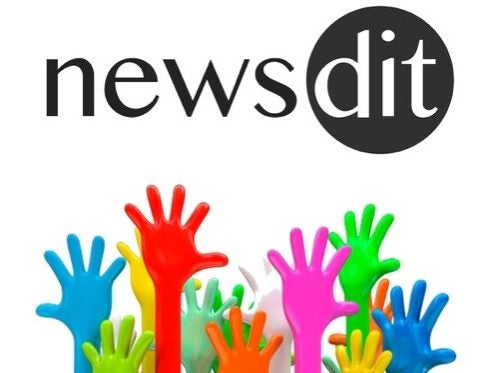 It's evident that the desire to quell fake news and the demand for quality journalism remains strong in both the UK and the US, but what do you do as newspaper publisher when the newspaper business model is broken?
The answer is: you get together with other publications, create a collective news engine and thwart the newspaper business model disruption that Google and Facebook have imposed.
The broken model
Before we get to that, it's helpful understand how the modern newspaper business model was created. In the book The Attention Merchants, author Tim Wu tells the story of the birth of newspaper advertising.
In the 1830s, the largest New York City newspaper had a pretty poor circulation of 2,600 copies and with a high cover price of six cents, it was unaffordable to most people and so it was considered a luxury product.
New York entrepreneur and print shop owner Benjamin Day had the inspired idea of selling a newspaper for a penny, because, he calculated, the cost of printing could be subsidised and he would use the low price to attract an audience of readers which could in turn be marketed to businesses to generate advertising sales.
He had the capacity and insight to recognise that the customers were indeed the product. His paper, the New York Sun, first appeared on 3 September 1833 and within two years it had a circulation of 20,000 and had decisively demonstrated that a business could be founded on the resale of human attention.
The saleable audience was stolen from publishers
Over twenty years ago, news publishers began giving away online content for free because they didn't know how to monetise it. They were placing it online and then struggled to develop any viable digital advertising model, and so free news became normal and the era of devalued journalism and content arrived.
In the meantime, search engines like Google, and social networks like Facebook, smothered newspapers in targeting consumers and the saleable audience became theirs.
Changing the news source starting point
Free news has added to the demise of responsible journalism and so populism, sensationalism and fake news in the extreme has dislodged its audience from facts, truth and accurate reporting.
Wikipedia founder Jimmy Wales recently announced the launch of WikiTribune and in an article in The Atlantic, titled The Problem With WikiTribune, reporter Adrienne LaFrance rationally explains why there is scepticism regarding this model.
What Jimmy Wales and many publishers avoid is that, although there is an appetite for credible news, the digital starting point for sourcing news needs to be changed.
Pew Research shows that 62 per cent of US adults currently obtain their news via social media, and two-thirds of Facebook users consume news on its site. Given Facebook's vast user base and high engagement levels, it's widely reported that the accuracy and credibility of this content is frequently suspect.
Facebook is a first base for news and only by changing it can publishers, through a collective, claw their audience back, and so what is demanded is a credible and responsible grown-up, news-based social network.
The cost of the loss of human attention
Newspapers on both sides of the Atlantic have now been affected by a busted business model to a greater or lesser degree.
Sunday Times journalist Danny Fortson in a recent article, highlighted the dilemma for publishers, reporting: Facebook must stop killing news. Even Warren Buffet in an article in Fortune Magazine said: "Most newspapers, including his own, are doomed," and there's even a US website called the Newspaper Death Watch to mourn the deceased.
Fundamentally, national and regional newspapers have lost their mojo. They've lost their position with consumers and without a revolution against Google and Facebook, publishers remain in a dire position.
The cost of lost consumers
Each publication, or publishing group, knows what they have lost in revenue but in 2016, Facebook's ad revenue increased by 57 per cent to $26 billion, up from $17bn from the previous year.
So now the coffee needs to be smelled in that, without that revolution in publishers' thinking and the disruption against search engines and social networks happens, there is a life expectancy prognosis for newspapers that can only be terminal.
The fastest growing independent publisher worldwide
Newsdit has become the fastest growing independent publishing company in the world with 160 digital news publications launched across the UK and US between October 2016 and April 2017.
Examples of these can be found in San Francisco, Dallas and New York in the US and London, Oxford and Glasgow  in the UK, but the full list can be found on our regional listing. An example of other publishers embracing the platform include Health21.
Taking back readers
Publishers on the newsdit platform can hone relationships with their readers and sell content through another publisher's audience – it's a two way process balanced by content appeal, value, support and quality.
A reader is a free user or subscriber with a selected publication, but also inhabits a news and content shopping mall, where he or she can buy articles individually, or alternatively subscribe to other newspapers or magazines.
The reader never has to leave the platform to access content and the strength lies within the collective.
Publisher news engine
Publishers on newsdit are focussed on credible, regulated news, delivering reader bespoke and clever news, determined by geo location, story strength and trust bias.
Including mobile, newsdit provides an immediate ready-to-go publishing platform for both established and new publishers, which massively reduces business investment costs for existing and new publishers and generates new revenues in revolutionising a sector with a dying business model.
What publishers get by participating
Publishing cooperative where publisher controls and connects with audience directly
White label app at an extremely affordable price
Savings on software development, support and hosting
Mobile/tablet native app provided which is expensive to develop
Technology cooperative that replaces most of the present digital spend
Payment, accounting and analytics software
Virtual currency, making transactions simple
Sale by single article purchase through micro syndication and annua subscriptions
Full annual subscription revenue awarded to publisher who has control of subscribers/readers
Business premium revenue from analytics and business opportunities
Automatic news generator NewsGen, leveraging open sourced data from government agencies.
Readers/user participation
The market is vast
There are 600 newspapers in the UK. The Periodical Publishers Association represents about 400 individual companies, accounting for some 2,300 consumer, business and professional magazines accounting for 80 per cent of the UK magazine market by turnover.
It has been estimated that there are a further 5,000 "casual", titles published in Britain.
The US has 1,300 daily newspapers and 7,300 established periodicals with thousands of casual titles.
Other English language markets are: Canada, Australia, Ireland, South Africa, India, New Zealand, Caribbean, Hong Kong, Africa and they can be added to the publishing and readership opportunity.
Newsdit is currently focusing on the English language markets, but our software is quickly able to incorporate local language publishing in markets such as China, Japan, France, Germany, Spain, Portugal, Italy, Sweden, Norway, Denmark, Netherlands, Russia, The Middle East – Arabia and in fact any language determined. The software fits all.
The English language market size alone is estimated in excess of 50,000 existing publications and 500 million readers.
Anyone can become a publisher
Existing and new publishers can embrace the opportunity because of the low entry cost of participation. Publishing quality content is our focus and a range of bodies can contribute towards that objective.
Trade associations, business organisations, charities, NGOs, real estate agents, legal or professional services companies, independent journalists, bloggers, indeed any body generating content might become a publisher within the newsdit collective.
Google and Facebook have given publishers a headache for far too long but now newsdit has created collective to give publishers that massively needed lifeline.
Why not get in touch with us and see how you can participate?
Please drop me a line.
Karl Capp
kcapp@mac.com
Email pged@pressgazette.co.uk to point out mistakes, provide story tips or send in a letter for publication on our "Letters Page" blog