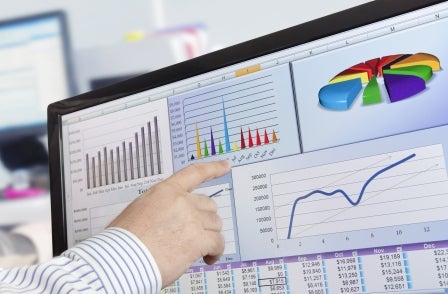 'Connected Newsroom' to be introduced across TM's 'core regional businesses'
Scheme will see up to eight jobs lost across Cardiff, Manchester and Huddersfield
Aim of Connected Newsroom is to build local audiences using 'analytics to help us drive the kind of content we produce'
Will also see roll-out of individual and team audience goals
Audience goal approach was introduced in Midlands in June, attracting negative criticism
Editorial director of regionals Neil Benson: This is not 'the end of journalism as we know it'
Trinity Mirror's editorial director of regionals has defended giving journalists individual audience growth targets as the publisher prepares to roll out the scheme nationwide. (Picture: Shutterstock)
The regional and national press group faced negative criticism in June when Press Gazette reported that its journalists in the Midlands were being held personally responsible for online audience growth. The briefing note was issued to staff shortly after 25 job cuts were announced.
According to Benson, staff in the area now "understand" and "buy into" the approach, which he said is not "the end of journalism as we know it".
And "similar changes" are now being introduced to the rest of Trinity Mirror's "core regional businesses" – Merseyside, Cheshire and North Wales, Manchester and Huddersfield, Wales and the North East – this month.
The publisher announced the shake-up this week as part of the "Connected Newsroom" project.
Benson said the changes will result in up to eight job losses – four in Cardiff, with one created, and three or four across Manchester and Huddersfield.
Explaining the goals of Connected Newsroom, Benson said: "We need to keep growing our audience, with a particular focus on growing our local audience –  that's an absolutely key point for us.
"We're not going to say no to the overseas audience, but increasing our penetration in our key markets is the key focus."
On how this will be achieved, he told Press Gazette: "It's using analytics to help us drive the kind of content we produce.
"A high proportion of our audience comes from a relatively low proportion of stories. So what we want to do is to actually do the big stories better, and we want to look at how we do certain stories.
"If we've got particular stories that are underperforming we want to look at why that is. Is it because the content's wrong? Is it because the content's the right sort of content but not done well for digital? Or is it stuff that people just aren't interested in?
"So it's taking a more methodical approach to that rather than just writing things that journalists want to write and see what sticks."
In a press release announcing the launch of Connected Newsroom, Trinity Mirror said:
The key principle of the Connected Newsroom is a continuation of the digital first approach introduced in Newsroom 3.1, but with the ambition of growing a local and engaged audience. This will be facilitated with an increased use of analytics and trends analysis to focus on producing content that audiences want to read, when and how they want to read it. All editorial teams will be focused on these audience goals, which will also be achieved with a mobile-centric approach and greater use of video.
When Trinity Mirror's audience goal approach was unveiled in the Midlands, some commentators described the move as "the death knell of journalism" and "Trinity Mirror's latest cowardly withdrawal from the front line of news ".
But Benson said: "Actually, when we sat down with staff and explained how it will work, and that it's not about clickbait – because clickbait wouldn't get us anywhere in our aspirations to grow the local audience and to engage them – we've actually spent a lot of time walking the staff in the Midlands through that. And they now understand that and I think buy into it.
"So that's part of what we will do – extend what we've done in the Midlands in terms of audience goals. We'll be testing that over the rest of this year because we've not done it before so we've got to make sure we refine it and pitch the goals in the right way and then we can support staff in achieving them."
Asked if there is a danger that journalists, with traffic goals in mind, will focus on quantity of stories rather than important investigations, Benson said: "We think, firstly, that that kind of journalism [important investigations] will attract traffic anyway. Because if it's relevant public interest in the local market place then it ought to interest readers –  so we don't see that dichotomy, really."
Benson also explained that different journalists will be given different goals for traffic. A sports journalist, for instance, will have higher targets than a public affairs correspondent.
He added: "We won't just be measuring page views and unique users – we'll be looking at engagement as well.
"That's equally important, building up an engaged local audience who come back and use us.
"Again, that's the opposite of what you were doing if you were just aiming for clickbait. What we want is loyal local readers who come back to us all the time."
Benson also said the scheme will see Trinity Mirror build on the growth of mobile and apps, "where we see the future", and the development of a "detailed training plan" involving social media and analytics.
ABC figures for the first half of 2015 showed that Trinity Mirror is the biggest regional publisher online, attracting an average 2,069,527 unique users per day.
The Manchester Evening News is the UK's biggest single regional newspaper website. In July, it attracted an average 701,717 daily unique users, up 107 per cent year on year and 22 per cent month on month.
Email pged@pressgazette.co.uk to point out mistakes, provide story tips or send in a letter for publication on our "Letters Page" blog