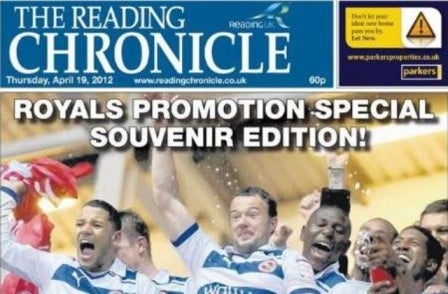 The editor-in-chief of the Reading Chronicle has accused BBC radio of reading out page leads from her paper "masquerading as its own news bulletin".
Sally Stevens raised her concerns with Labour's Deputy Leader Harriet Harman at a recent meeting along with nine other regional newspaper editors.
Writing in the Chronicle this week, she said:
… I await Labour's reaction to the Leveson Inquiry confident that the Opposition will quote at length my passionate plea not to tar local newspapers with the same brush as the national media; to protect The Chronicle's right to give a voice for the many people in the communities we serve who feel they are not being heard; to respect Berkshire Media Group as a business and local employer; to tell the BBC off for paying 60p a week for our reporters' hard work so its radio presenters can read a page lead out every day masquerading as its own news bulletin and castigate other newspapers for copying and pasting our online news onto their own websites.
Stevens said she also raised concerns over the use of the phrase "the media' to cover "everything from an independently-owned local newspaper to the international portfolio of the Murdoch Empire".
She added:
No one would expect to lump together a little church hall pre-school and a university so why not refer to 'the national media' and 'the local media'?

I expressed support for the Press Complaints Commission which I feel works fairly and promptly to resolve issues between local newspapers and readers, free of charge to both parties, and was supported by the other editors who strongly argued against statutory regulation for local newspapers and national papers which was described as 'using a sledge hammer to crack a nut'.

I personally would not be against the PCC accepting complaints from third parties.

I just hope I am not misquoted by the Shadow Deputy Prime Minister and Shadow Secretary of State for Culture, Media and Sport – after all, to whom would I send my complaint?
Email pged@pressgazette.co.uk to point out mistakes, provide story tips or send in a letter for publication on our "Letters Page" blog