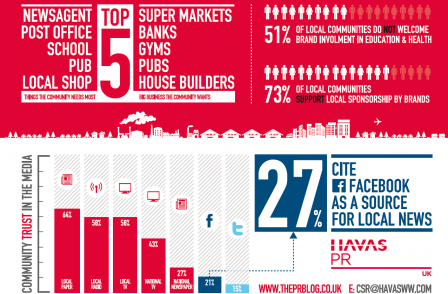 Local newspapers remain by the far most trusted and popular source of local news, according to a YouGov survey.
But Facebook appears to be growing in popularity as a source of local news.
The report, commissioned Havas PR UK (their infographic above), was based on a survey of more than 2,000 Britons and found that Facebook is by far the most popular social media platform – with 60 per cent planning to use it over the the next two years.
But it also found that a significant minority, 30 per cent, don't plan to use any social media platform.
Nigel Hughes, board director at Havas PR, said:?? "There's no doubting the importance of local print media, hence their number one position of trust for the second year running. Yet social media is making its way into a position of more influence locally too."
When asked how they hear about local news, 63 per cent said local newspapers (versus 67 per cent in 2013). Some 41 per cent said local television (compared with 47 per cent a year earlier).
The research suggests that Facebook is a growing source of local news, with 27 per cent of respondents using it (versus 22 per cent in 2013) and some 11 per cent listed Twitter (versus 9 per cent a year earlier).
Local newspapers were by far the most trusted local news source in the survey.
Asked how trustworthy they find various news sources, the following were said to be trustworthy:
Local newspapers: 64 per cent
Local television: 58 per cent
Local radio: 59 per cent
Noticeboards: 58 per cent
National TV: 43 per cent
Local gossip: 34 per cent
National newspapers: 27 per cent
Facebook: 21 per cent
Twitter: 15 per cent
Blogs: 14 per cent.
The survey also asked what social media platforms people expect to be on over the next two years:
Facebook: 60 per cent
Twitter: 26 per cent
LinedIn: 16 per cent
Google+: 9 per cent
Instagram: 7 per cent
Pinterest: 4 per cent
Not a member of any/won't be a member of any: 30 per cent
Some nine per cent of those surveyed said they plan to leave Facebook within the next two years.
Sponsored message
On October 16 many of the UK's leading figures from digital journalism will gather at The News Building, London Bridge, to discuss new ways of making journalism work on mobile.
News on the Move III is organised by Press Gazette and held in association with News UK. Speakers include: News UK chief executive Mike Darcey, Guardian mobile editor Subhajit Banerjee, BBC news mobile editor Nathalie Malinarich, Buzzfeed UK editor Luke Lewis and former head of digital at Metro.co.uk (now digital director of City AM) Martin Ashplant.More details here. 
Email pged@pressgazette.co.uk to point out mistakes, provide story tips or send in a letter for publication on our "Letters Page" blog