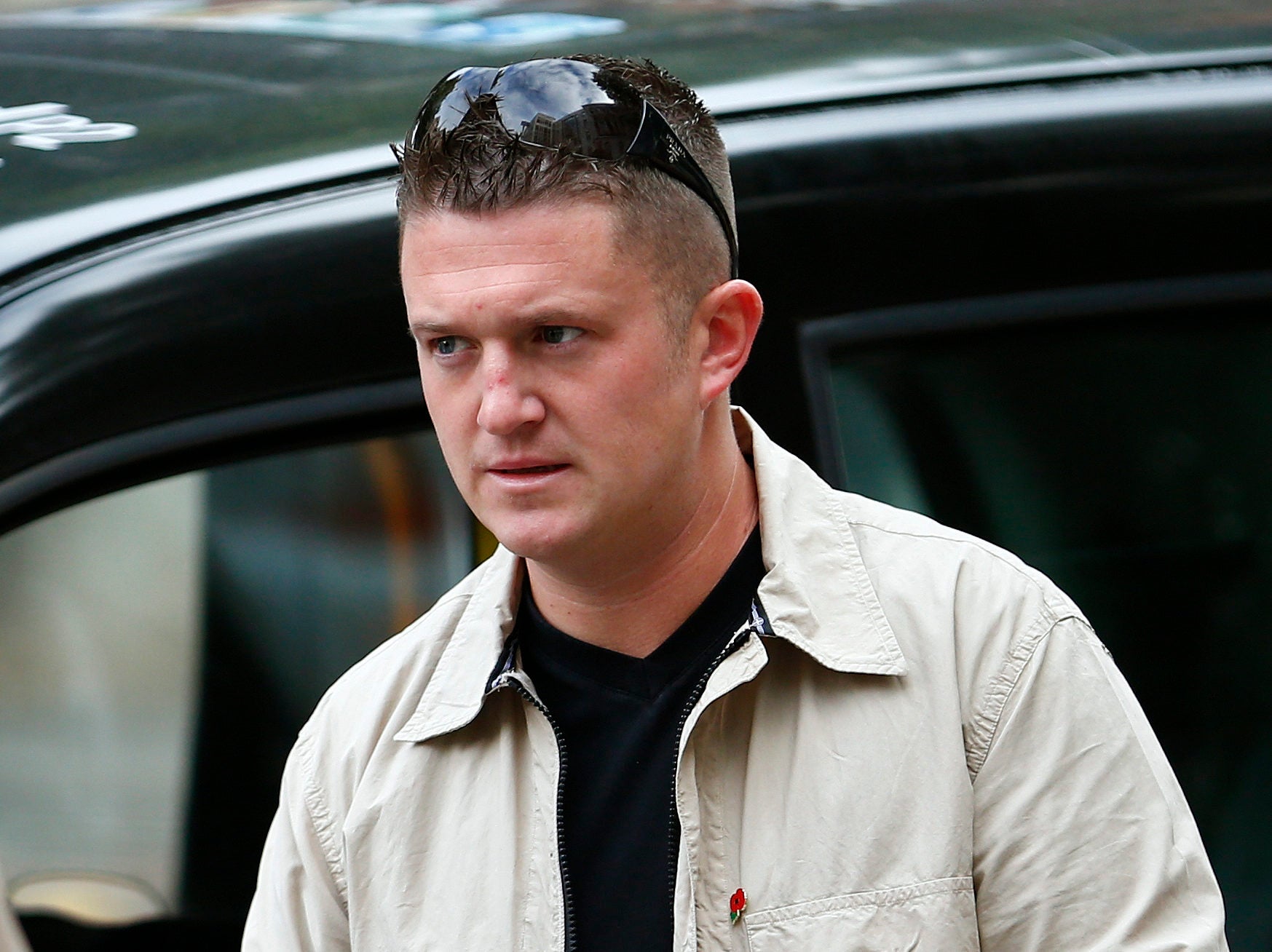 Since breaking the story of English Defence League founder Tommy Robinson's imprisonment for contempt yesterday, a regional court reporter has faced a torrent of violent abuse from online trolls.
Stephanie Finnegan has received threats, including those insinuating rape, while her colleagues at Leeds Live have also faced abuse over the coverage.
Leeds Live, along with The Independent, issued a successful legal challenge to lift reporting restrictions imposed on the case against Robinson, real name Stephen Yaxley-Lennon.
Both publications yesterday revealed that Robinson had been jailed for 13 months for contempt of court after he live streamed details of an active trial that is subject to a blanket reporting restriction outside Leeds Crown Court.
Robinson was still serving a suspended sentence for breaking contempt laws in a separate incident last year when he was arrested during the Facebook Live video on Friday last week.
He was charged and sentenced on the same day. Finnegan was present in court and issued a legal challenge to the gagging order, which was rescinded by Judge Marson QC yesterday.
The judge had intended to defer reporting until after a verdict had been reached in the trial about which Robinson had commented in breach of reporting restrictions and so risked prejudicing the jury.
Coverage of Robinson's case on Leeds Live, which is owned by Reach (formerly Trinity Mirror), has prompted a number of his apparent supporters to attack the publication and its journalists.
Populist news website Politicalite, which describes itself as providing "news, politics and spin that's not from the liberal London bubble", called the Leeds Live team "utter scum" after it revealed Robinson's home address in a report.
In a separate article, Leeds Live publisher Matt Millington defended the decision to include Robinson's address.
He said: "Under British media law, the full name, age and address of a defendant is included in a court report for identification purposes. In terms of the address it is only the street and town, not the house number.
"This information is given in open court for the media to publish, and is designed to ensure identification of the correct defendant in a case.
"If there are legal reasons for an address not to be published, a judge can make a court order prohibiting its publication. No order of this nature was made at the hearing on Friday."
Politicalite also called for a boycott of all of Trinity Mirror's titles and shared journalists' mobile numbers, encouraging readers to "voice your outrage" by contacting them.
The website said: "Their reporters are left-wing elites who sneer at you, the whole Leeds Live debacle is a prime example – they don't even understand why we are angry and are refusing to apologise.
"Robinson has had threats from Islamic extremists and he keeps his family out of the limelight, but the paper used its regional brain and defended its decision to publish his address."
Finnegan's original court report on Leeds Live has now been read 25,000 times, with more than half of its referrals from social media, while her tweets have been viewed 2m times in the past 24 hours.
She told Press Gazette: "This shows not only the importance of having local court reporters who attend court daily, but also the importance of having a social media presence and using it responsibly."
Finnegan has received threats through Twitter and her Facebook page, and added: "I've received threats to harm me and members of my family, both physically and sexually."
But, she added: "I've also gotten an overwhelming amount of support, including from the co-author of McNae's Essential Law for Journalists [Mark Hanna], the Secret Barrister and [Mirror associate editor] Kevin Maguire as well as interviews on BBC Radio 4's Today programme and BBC Asian Network, which I think takes precedence over the abuse.
"Honestly, that's the only thing in all of this that has me on the verge on tears. I'd like to all my Leeds Live colleagues for supporting me during this. There's no 'i' in team and I'm really glad that we're putting Leeds on the map together."
Editors at Reach also stepped in to defend the reporters on Twitter. Ed Walker, digital editor for Reach Regionals, told those unhappy with the report to "put it in writing" using their complaints process.
Leeds Live and Huddersfield Examiner editor Wayne Ankers tweeted that the "vile abuse" Finnegan was receiving for doing her job was "beyond belief".
"Excellent and brave regional journalism throughout, especially dealing with this reaction," he added.
Politicalite editor Jordan James said in a statement: "For the record I never told anyone to send abuse, I simply told them to voice their outrage. 
"I do no condone rape threats or violent threats and I'm sorry if Stephanie received such abuse.
"I'm proud [of] the readers who didn't send abuse and stood up for what they believed in by telling the biased MSM what they think."
Carole Watson, journalism lecturer at the University of Sunderland, who taught Finnegan media law, said today: "She richly deserves all the praise she's receiving for successfully challenging the reporting restrictions in this case, and none of the horrific online abuse she's been subjected to.
"Her fight for open justice in this case will become a part of my teaching from next year."
Picture: Reuters/Andrew Winning 
Email pged@pressgazette.co.uk to point out mistakes, provide story tips or send in a letter for publication on our "Letters Page" blog