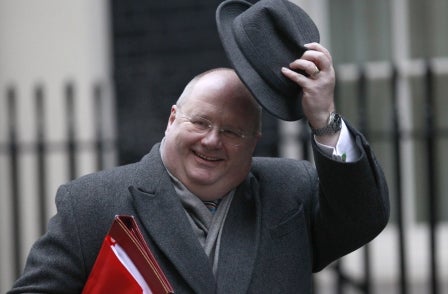 The National Union of Journalists has defended council-run newspapers in  the face of proposed legislation that would impose tighter control over them.
Communities Secretary Eric Pickles is attempting to introduce measures to limit the publication of newspapers by local authorities to no more than four times a year.
The Local Audit and Accountability Bill, which will be debated in the House of Lords today, would enshrine in law existing guidance – the 2011 Publicity Code – which reccomends how councils must use publicity material, including the free newsletters and papers distributed to millions of homes.
The NUJ and Local Government Association have said that dictating how often council can publish material is unnecessary.
Michelle Stanistreet, general secretary of the NUJ, said: "The NUJ sees no case at all for Eric Pickles and future secretaries of state to be given extra statutory powers to decide when local authority newspapers are published. We do not believe that this element of guidance reflects the needs of many communities, nor the practicalities of providing prompt, accurate advice and information to them. In areas where there are no, or limited local newspapers, then sharing planning details, service changes and details of consultations on a quarterly basis is insufficient"
Stanistreet denied that council newspapers are used to deliver political messages, adding that "PR officers in local government act on behalf of the authority they represent and not the political party.
"Their job is to promote the democratically-agreed decisions of the authority and defend its reputation when unjustifiably attacked. Councils which attempt to use these publications as political platforms already face sanctions and all members of our union follow a code of conduct which says: 'Members working in local and national government shall maintain professional political neutrality at work, unless their conditions of employment specifically allow otherwise'."
The Newspaper Society has come out in support of the Government's move.
It said: "We have been concerned that many of the most aggressively competitive council newspapers have been allowed to continue unchecked since the Publicity Code was introduced two years ago and hope that the legislation designed to crack down on them is implemented without delay.
"Council newspapers and their websites compete with independent local newspapers for private and public sector advertising, the lifeblood of independent local newspapers in their areas. By doing this, local authorities are siphoning off the primary source of revenue which enables independent local journalism to hold authorities to account on behalf of local people.
"It is vital that this unfair competition, which causes real damage to local newspapers, be stopped as a matter of urgency."
Sir Merrick Cockell, chairman of the LGA, said that the Government "has been unable to evidence" claims that council newspapers "compete unfairly with local newspapers".
He added that "there is simply no justification for…micromanagement from Whitehall" over the issue and that a restriction on how much and how often councils could publish material "sets a dangerous precedent".
He continued: "Councils work closely with many local newspapers and see them as a key part of local democracy. However, we've not been shown evidence council publications compete unfairly with local newspapers, and a government select committee couldn't find any when it looked into the issue two years ago. Before any decision is made on legislation an independent review should be undertaken to establish what, if any, impact council publications have on local newspapers."
The Government unveiled proposals aiming to clamp down on council publications in February 2011 when it revised the Code of Recommended Practice on Local Authority Publicity.
While most authorities accepted the recommendations, a handful – including several in London – ignored them. These stated that only parish councils could produce monthly magazines, with other councils limited to quarterly frequency.
An amendment to the Bill, proposed by Liberal Democrat peer Lord Tope, has also called for an end to the requirement for councils to publish public notices in local papers.
The NUJ and Newspaper Society have urged peers to reject the amendment, but the LGA has said it will stop councils "wasting" up to £26 million a year on such advertisements.
Email pged@pressgazette.co.uk to point out mistakes, provide story tips or send in a letter for publication on our "Letters Page" blog