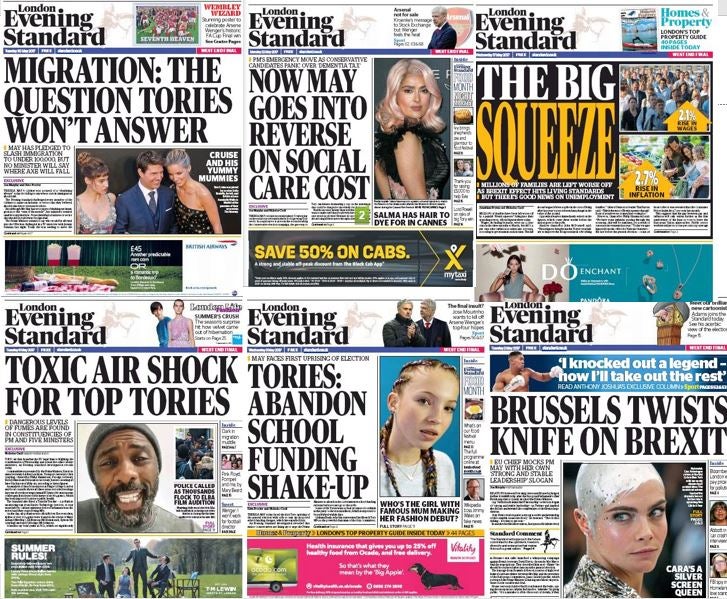 George Osborne has so far delivered on his pledge to report on the general election campaign "without fear or favour".
Editors show their bias, if they have it, over the choice of stories which they choose to put on the front page.
My analysis of Osborne's first month of Evening Standard front pages suggests, if anything, he is giving the Tories a harder time than Labour.
Fears that he would use the Standard as a vehicle for pro-Tory propaganda have proved to be well wide of the mark.
I judge that eight of Osborne's Evening Standard front pages have been stories which put the Tories in a negative light, versus two which were either pro Tory or anti Labour and 13 which were either non political or judged to be neutral.
This matters because with a circulation of 900,000 the Evening Standard is the fourth most popular daily newspaper in the country. According to the National Readership Survey it reaches 5m readers a month.
I am bound to say that Osborne has confounded those, like me, who felt his lack of journalism experience made him woefully unqualified to do the job.
The Standard has been compulsive reading throughout the election.
It has been a long time since the Standard's leader column made headlines, but it did on 17 May when it revealed that no senior members of the May cabinet supported her pledge to get net immigration to the UK under 100,000.
Osborne is no-doubt mindful of the fact that Londoners sway towards Labour so it would have been absurd to present them with a local version of the Daily Mail or Telegraph.
Data from the Standard's polling partner YouGov put Labour support in London on 41 per cent a month ago, when Osborne took over as editor, versus the Tories on 36 per cent. The latest figures, published today, have Labour on 50 per cent in London versus the Tories on 33 per cent.
Evening Standard deputy editor Ian Walker has no reason to love Osborne after the former chancellor beat him to the top job at the title.
But asked why he is leaving the Standard to join Mail Online last week he told me, unprompted: "It has been great since he [George] has been here, I've really enjoyed working with him. It is a wrench to be leaving because it genuinely has been brilliant.
"In terms of setting the agenda he has been putting the Standard back where it has been leading the political debate. You couldn't have asked for a more diverse range of stories since he has been here."
Osborne has, of course, shown his true colours in leader columns which have been critical of Theresa May whilst promoting his brand of pro-European free market Conservatism.
This most notable today clearly urges readers not to vote Labour saying: "Has Mr Corbyn or his colleagues demonstrated an ability to manage the British economy? The answer is patently no."
But this is more than balanced out by the drubbing he has given his party colleagues on the news pages.
Osborne's anti-Tory Evening Standard front pages:
Osborne's pro Tory/anti-Labour front pages:
Email pged@pressgazette.co.uk to point out mistakes, provide story tips or send in a letter for publication on our "Letters Page" blog