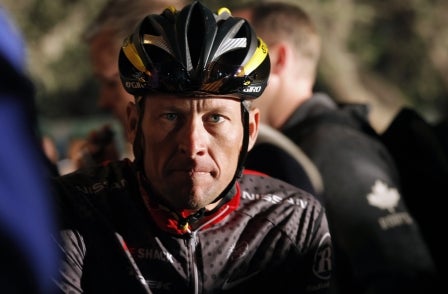 Kimmage received lawsuit two weeks after being made redundant

Defence fund raises more than $40,000

Swiss libel action is 'astonishing', says former pro cyclist
Ex-Sunday Times cycling journalist Paul Kimmage fears a defamation action brought against him by the sport's governing body is an attempt to silence his 22-year crusade to expose doping.
The award-winning journalist was hit with a Swiss lawsuit two weeks after being made redundant by the paper in January, and was served with a subpoena last Wednesday summoning him to a court in the town of Vevey, near Geneva, on 12 December.
In response to the action, the US site nyvelocity.com, which published a full transcript of the Landis interview, set up  the Paul Kimmage defense fund to his legal battle against the UCI. More than $40,000 has been raised in the space of a week.
While the articles the Union Cycliste Internationale (UCI) claims are defamatory were published in The Sunday Times and L'Equipe, the body is targeting Kimmage personally and is not pursuing any action against the publishers.
Irishman Kimmage has exposed the secret world of doping that has blighted cycling since publishing his book Rough Ride in 1990, when the former professional cyclist was accused of "spitting in the soup" by breaking the sport's silence on drug use.
Last year The Sunday Times published Kimmage's interview with Floyd Landis suggesting the UCI was complicit in protecting his former teammate Lance Armstrong (pictured above), the disgraced cyclist who was stripped of his seven Tour de France victories by the United States Anti-Doping Agency in August.
Kimmage is being sued by the UCI, its president Pat McQuaid and its honorary president Hein Verbruggen. If successful he would be forced to take out full-page advertisements in L'Equipe, The Sunday Times and the Swiss paper Le Matin to apologise.
Kimmage (pictured above) told Press Gazette he was "not surprised, but astonished" that the UCI continued to pursue its claim after Armstrong was stripped of his titles.
"Given the tidal wave of evidence out there about Armstrong and the degree to which the governing body were complicit in that, I'm absolutely astonished that they are pursuing this," he said.
Kimmage said he had "absolutely no idea what it's [the legal action] going to cost but I don't imagine it's going to be cheap".
Asked why he was being personally targeted, he replied: "I think it's purely a gagging order. They want to try to shut me up basically."
Enrico Carpani, communications director at the UCI, said it was  "normal – at least under Swiss law – that when the author of the denounced statements is known, this author is sued and not the editor".
He added: "Please bear in mind also that the Sunday Times had put a disclaimer on the Landis-Kimmage interview.
"Having said that, UCI is not trying to silent the press at all, nor to question the freedom of journalists: we are just defending our self from unacceptable and defaming statements made by a journalist who never could prove his allegations."
Thanks to the funding raised by NYVelocity, Kimmage said he was "in a position where I can actually defend the case".
He is meeting with Swiss lawyers this week to discuss his defence.
Email pged@pressgazette.co.uk to point out mistakes, provide story tips or send in a letter for publication on our "Letters Page" blog