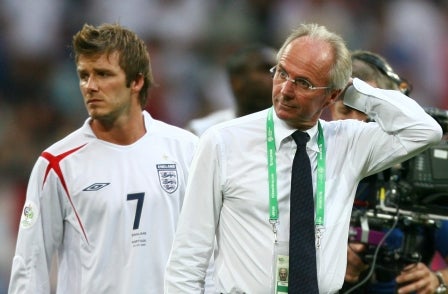 A senior Mirror Group journalist "regularly paid" £125 for mobile phone numbers and pin codes from a private detective, High Court documents lodged by the alleged victims released today claim.
The newspaper group was also accused of "habitually" using phone-hacking techniques lawyers for the victims have claimed in the High Court.
MGN limited is being sued for damages by former England manager Sven Goran-Eriksson, former Blackburn footballer Garry Flitcroft, former Coronation Street actress Shobna Gulati and the former nanny to David Beckham's children Abbie Gibson.
The claimants' legal teams said the Metropolitan Police had evidence of these payments to a private investigations agency which will be released to the court at a later stage.
The newspaper group failed to have the four claims dismissed today.
Mr Justice Mann, in his judgment delivered today said all four respective claimants allege that their mobile phones "were hacked by persons working for the defendants" based on other newspaper articles.
It is alleged that journalists working for MGN: "Habitually used phone-hacking techniques and call data blagging to obtain or verify the accuracy of stories for publication."
Garry Flitcroft's legal team claims in April 2001 he was having an affair with a woman called Helen Hammonds. He was also involved with an affair with "Pamela James, a lapdancer practicing in Manchester".
Flitcroft's lawyers said it was "too much of a coincidence" that the People's "lap-dancing correspondent" who they called "Miss Cock" could have tracked down the woman the footballer was having an affair with "without the aid of data obtained by phone-hacking".
It was claimed that lap-dancer Pamela James and Flitcroft had left messages on each other's phones, which were then hacked by the newspaper.
The Beckhams' former nanny Abbie Gibson also alleges that the paper accessed her voicemails to source stories about messages left by the former footballer.
The court documents show that Eriksson's legal team intend using a report prepared on behalf of MGN, including evidence from senior Mirror reporters, which outlined the hacking of his phone and that of Ulrika Jonsson.  
The documents also cite public interviews with former Mirror editor Piers Morgan talking about phone-hacking.
In one interview with Charlotte Church quoted from 2003, Morgan claimed: "There was a spate of stories that came out because of mobile phones.
"When they first came out, mobile phones, journalists found out that if the celebrity hadn't changed their pin code … you can access their voicemail just by tapping in a
number.
"Now, are you really telling me that journalists aren't going to do that? If they know they can ring up Charlotte Church's mobile phone, listen to all her messages."
An application for permission to appeal by MGN Ltd will be heard at a later date.
In his ruling, the judge said that none of the claims for breach of confidence and misuse of private information, which were launched a year ago, set out direct evidence of hacking but were based on inference from various facts which were said to be evidence of a pattern of phone hacking in the tabloid industry generally, and the Mirror Group in particular.
He said that the application relating to Flitcroft and Gibson was made on the basis that their claims have no reasonable prospect of success.
Lawyers for MGN said that Flitcroft's case was "fundamentally flawed" in that it had been demonstrated that phone-hacking had no part to play in the story complained about.
Neither Flitcroft nor Gibson had been told by the Metropolitan Police that they might have been victims of hacking.
The judge said that some significant blows had been landed on Flitcroft's case but they had not destroyed it to such an extent that it had no reasonable or real prospects of success.
He also rejected argument that Gibson's case was fatally flawed evidentially.
He took into account that, in her case, MGN had not denied that the source was phone-hacking or sought to say that the source was a human source.
He said: "The absence of even a bare denial is, for the purposes of the present application, of some significance, and the alternative disclosure would not require the identification of a source. It would simply require that the source be identified as human – or of some other nature that would exclude phone hacking.
"That has not been done. Of course, the newspaper is not obliged to do that, but its failure to do so cannot be ignored."
The judge added that Gibson's case, while weakened, had real – certainly not fanciful – prospects of success, which should be allowed to proceed so that the full relevant material could be made to emerge.
Email pged@pressgazette.co.uk to point out mistakes, provide story tips or send in a letter for publication on our "Letters Page" blog