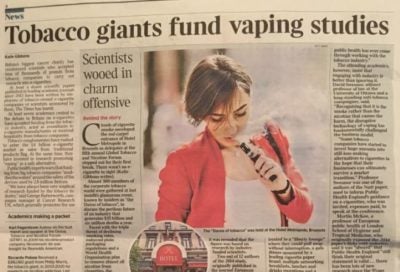 Last week The Times was forced to publish an apology for a set of articles and a leader about a group of scientists and their alleged financial links to the tobacco industry.
"Tobacco giants fund vaping studies", "Scientists wooed in charm offensive" and "Smoke in their eyes" were published on 12 October and have since beeen taken down.
The experts mentioned in The Times report included Professor David Nutt of Imperial College London and four other smoking cessation and addiction experts.
The apology was the opposite of mealy mouthed. Acknowledging that the scientists "are internationally respected for their longstanding global work to reduce smoking", The Times said "Our report…implied that these experts had received funding for research into e-cigarettes. We accept that this was wrong and that their work has not been tainted by the influence of tobacco industry funding. We apologise for our errors and omissions and for the embarrassment caused."
Some will argue that the apology was forced on The Times after the scientists threatened to sue for defamation; others that the apology should have the same prominence as the original allegations. I am more positive.
I think we should credit The Times for issuing such a clear and unequivocal apology so quickly.
As someone who has taken issue with many similarly flimsy and misleading conflicts of interest stories in recent years, I found The Times response refreshing. In one exchange after a front page in another paper on the 'hidden conflicts of interest' (COIs) of GM experts I spent days debating the semantics of the word 'hidden' with the reporter. Given that the scientists had been asked for COIs at the press conference and had answered in full with information that was freely available on the internet I could not quite see why their 'hidden' conflicts merited the splash. Believe me, there was no apology for the implication that the report published by these scientists was tainted by their links with industry.
So is there a lesson here?
There are many great journalists who have exposed genuine conflicts of interest. Sarah Boseley from the Guardian comes to mind as do Brian Deer, the Sunday Times journalist who unearthed the financial conflicts behind the Andrew Wakefield MMR and autism claims, and Deborah Cohen, who won last year's Press Gazette award for a story in the BMJ.
This reporting is critically important and should be encouraged and adequately resourced by the press. But it's hard work.
Extraordinary claims need extraordinary evidence. Exposing genuine conflicts is difficult and unfortunately the media rarely has the time or money to conduct these investigations properly. There can instead be a temptation to simply pick on the low-hanging fruit from a few well-known scientists and flag superficial associations that happen to be easier to highlight than the real issues.
I have no idea how The Times story came about but journalists have told me that such stories are often tip-offs from campaigners. The Science Media Centre (SMC) has noticed that critics of the scientific consensus on e-cigarettes, statins and mainstream nutrition advice are increasingly using COIs as their weapon of choice.
Instead of assessing the scientific evidence on its merits, as is the culture of science, they ask the public to dismiss the evidence because, in their view, the researchers are fatally compromised. When NICE recommended extending statin use to people with a lower risk of heart disease a joint letter on over medicalisation quickly descended into a list of the industry links, however weak, of all those advocating statins. Perhaps journalists need to apply the same levels of scepticism to the vested interests of their sources as to the scientist they are pursuing.
Almost every scientist will have some 'link' to industry and every science funder, all our universities and governments are insisting on the need for ever closer links. Any researcher who is involved in clinical trials of new treatments, for instance, is almost certainly going to have some involvement with industry. Independent environment researchers who discover ways of improving agriculture will ultimately want to work with companies like Bayer and Syngenta to turn their discoveries into products for mass use by farmers.
This is not a plea to be complacent or dismissive of COIs as an issue. It is a plea for journalists to invest more time on proper investigations that can shine a light on the complex ways that links to industry or other commercial presses are impacting independent research. Right now our newspapers are missing real problems in their enthusiasm for a quick and easy guilt by association story.
Does it matter? Yes. If the public start to dismiss the very best evidence from world class scientists while trusting the views of single issue campaigners who have done little or no research we are in trouble.
Fiona Fox is chief executive of the Science Media Centre
Email pged@pressgazette.co.uk to point out mistakes, provide story tips or send in a letter for publication on our "Letters Page" blog