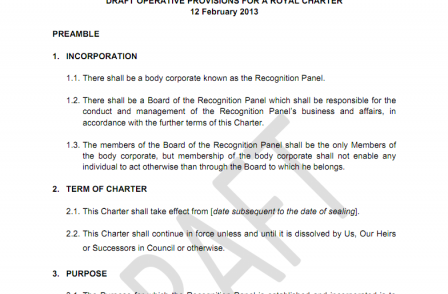 A meeting between senior figures in Westminster and Hacked Off helped to kill off discussions between Government and the newspaper industry over press regulation, MPs have heard.
Giving evidence to the Commons Culture, Media and Sport Committee, Peter Wright, editor emeritus at the Daily Mail, The Mail on Sunday, Metro and Mail Online, said that negotiations stalled after ministers and senior opposition figures met the campaign group.
Wright claimed that, up until February this year, there had been intensive consultations with industry on implementing the recommendations of the Leveson report.
But the Government unveiled its Royal Charter – a plan for a new regulator underpinned by legislation – in March after late-night talks in Labour leader Ed Miliband's Commons office between members of Hacked Off and representatives of the three main parties.
Since the meeting between the parties and Hacked Off on March 18, Wright, who has been one of the main negotiators for the industry, said he has had only one telephone call from an opposition politician.
"It seems to have put a stop to discussions between us and ministers," he told the committee.
His company would finally be meeting with Culture Secretary Maria Miller this week, he said.
Paul Vickers, the secretary and group legal director of Trinity Mirror who has also been closely involved in the discussions, said that in February they believed that they had an agreement with the Government but then had been excluded from the final stages of the negotiations
"We had a long period of consultation, a very, very intensive period of that. We thought we had achieved an agreement. Things changed, we weren't involved in the last stages of consultation and after March 18 for a very long period people wouldn't talk to us," he said.
The deal between Hacked Off and the political parties has caused deep concern within the industry which has since put forward proposals for an alternative royal charter with the support of most national, regional and local newspapers.
Wright said the deal with Hacked Off, which most newspapers were unwilling to sign up to, made it difficult to restart negotiations.
"I think it has placed the Government in a position where they are trapped with a royal charter proposal and a set of recognition criteria that they know the industry are not going to sign up to. I can quite see that it may be difficult to get things moving again but at some point they do need to be got moving," he said.
The Government's proposals, including compulsory arbitration of complaints and the threat of exemplary damages for newspapers which refuse to sign up, could limit freedom of expression while imposing an "insupportable" financial burden on many struggling local papers, he said.
It could also make it more difficult for newspapers to break stories such as the MPs' expenses scandal.
"I certainly think that if I were the editor of The Daily Telegraph and I was offered the MPs' expenses (computer) disc under this regulatory regime, I would think a great deal longer and harder about doing stories based on it than I would have done two years ago," he said.
Vickers agreed that the Government's plans would expose newspapers – particularly local and regional titles – to a tidal wave of small legal claims.
"Our big concern is that the system will be taken over by lawyers trying to earn fees from small struggling newspapers," he told MPs.
"Under the present system, people prefer to go a body that offers a free and quick resolution. But if they thought there was a couple of thousand quid in it for them and there was no risk, they would make a compensation claim."
The fears echo those expressed by a group of regional publishers when they gave evidence to the committee last month.
But Labour's former culture secretary Ben Bradshaw accused the newspaper industry of positioning itself against the three-party proposal in order to obtain favourable appointments to a new regulator set to replace the Press Complaints Commission.
During the evidence session, Bradshaw questioned why the press industry's Royal Charter sought to ban working peers from sitting on the board of the proposed regulator.
"I rather think it looks like you are trying to keep a seat warm for Lord Black or Lord Hunt," he said.
Telegraph Media Group executive director Lord Black is chairman of PCC funding body PresssBof, which published the industry's Royal Charter. Lord Hunt is current chair of the PCC. 
Email pged@pressgazette.co.uk to point out mistakes, provide story tips or send in a letter for publication on our "Letters Page" blog