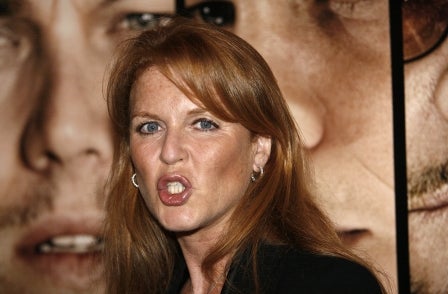 The Duchess of York settled her phone hacking damages claim at the High Court today, receiving a public apology and damages.
The announcement came at the latest hearing before a judge in London to deal with actions brought against News Group Newspapers, publishers of the now defunct News of the World newspaper.
Statements of behalf of 17 people who have settled their claims were being read out before Mr Justice Vos today.
They include singer James Blunt, former Doctor Who actor Christopher Eccleston, entertainer Uri Geller – who was present in court – actor Hugh Grant, former Labour Government minister Geoffrey Robinson and Colin Stagg, who was wrongly accused of murdering Rachel Nickell.
Other statements being read out today are on behalf of TV presenter Jeff Brazier, actress and singer Kerry Katona, presenter June Sarpong and anthropologist and adventurer Christopher Terrill.
David Sherborne, counsel for the Duchess of York, told Mr Justice Vos: "During the period from 2000 until 2006 the claimant experienced unusual activity on her mobile phone.
"The claimant also noticed that journalists and/or photographers appeared to know her location in advance, meaning that when she arrived at functions or planned events, it was often the case that journalists or photographers were already present."
She commenced proceedings last year for "misuse of private information, breach of confidence and harassment in respect of the interception of her telephone messages".
He told the court that the Duchess was "targeted" and voicemail messages on her mobile phone "were intercepted for the News of the World over a considerable period of time".
He added: "I am here today to announce that NGN has accepted liability and agreed to pay damages to the claimant plus her legal costs."
Anthony Hudson, for NGN, told the judge: "NGN is here today through me to offer its sincere apologies to the claimant for the damage and the distress caused to her by the accessing of her voicemail messages and obtaining confidential information.
"NGN acknowledges that the information should never have been obtained unlawfully in the manner in which it was, and that NGN is liable for misuse of private information and breach of confidence."
Paul Tweed, senior partner at law firm Johnsons, said in a statement: "Following an admission by News Group Newspapers Limited, publishers of the News of the World, that Sarah, Duchess of York, had been the victim of unlawful interception of her voicemail messages for a number of years dating back to the year 2000, my client has this morning received a comprehensive and categoric apology by way of a formal statement in open court, together with a significant payment in damages and her legal costs.
"Notwithstanding this successful outcome, my client remains extremely concerned that questions beyond the scope of these legal proceedings still need to be answered in relation to other instances of inappropriate and extreme intrusion into her private life."
Actor Hugh Grant also received a public apology, substantial damages and his legal costs.
Grant is to make a donation to Hacked Off, the non-profit organisation campaigning for a "free and accountable press".
The star's solicitor-advocate Mark Thomson said the actor was targeted at various times from about 2004 until the closure of the News of the World.
He was often unable to understand how information concerning his private life came to be published.
Grant was "shocked and distressed" when "considerable evidence" was discovered indicating he was targeted as an individual of particular interest to NGN and was placed under surveillance.
Thomson said: "The claimant was particularly distressed to learn that he had wrongly mistrusted and avoided certain friends and acquaintances in the past, and would never find out the full extent of the defendant's misuse of his private information."
Actor Christopher Eccleston received a public apology, "substantial" damages and his legal costs.
David Sherborne, representing the star, told the judge that the star was "repeatedly targeted" by NGN in 2005 and 2006 "not only because of his successful acting career, but also because his private life was apparently of significant interest to the News of the World".
He said Eccleston was a "private individual who has always taken care to keep his personal life out of the press".
The News of the World "targeted" him as "part of their unlawful activities, to obtain private information belonging to him, and then sought to publish articles about his personal relationships and private life".
Eccleston, who was contacted by officers from Operation Weeting, was "shocked and distressed" to discover that his mobile voicemail had been "intercepted repeatedly on 16 separate occasions and that his private and confidential information" had been obtained by NGN.
Counsel told the court: "The claimant was deeply angry and upset to discover that, owing to the deliberate destruction of documents by the News of the World, he will never find out the true extent to which his privacy, and that of those close to him, was invaded."
He said NGN now accepted responsibility for its unlawful actions and agreed to apologise to the actor.
James Blunt also received an apology and "substantial damages" and his costs.
The court heard the singer was "shocked and concerned" to learn that he had been targeted and that his concern was exacerbated by the fact that, during the relevant period, he was in telephone contact with serving members of the armed services who were on operations in Afghanistan and Iraq.
Colin Stagg received £15,500 damages plus his legal costs and a public apology from NGN for the damage and distress caused to him by the "blagging of his confidential information, in particular his medical information, and the accessing of his voicemail messages".
Former professional footballer Jeff Brazier, who is the father of two children from his relationship with the late Jade Goody, received "substantial" damages.
The court heard he was targeted by NGN from about 2002 onwards because of interest in him and his on/off relationship with Ms Goody.
Mark Thomson, for Mr Brazier, said: "The claimant is particularly upset by the defendant's unlawful activities as their activities caused distrust between the claimant and Ms Goody, which led to arguments during their relationship.
"The claimant is very distressed that he can now never apologise to Ms Goody for the times that he did not believe her despite her denials that she was the source of particular private information in the public domain."
Uri Geller, described as an "internationally renowned mystifier", was present in court to hear his lawyer announce that NGN "has agreed to pay damages to Mr Geller plus his legal costs".
Former Atomic Kitten Kerry Katona also received "substantial" damages.
The court heard from her lawyer that she was considered to be newsworthy because of her personal relationships, particularly her marriage to singer Brian McFadden, "her family life and personal issues in her private life".
Today's hearing comes
a day after f
igures released by News Corp reveal the enormous financial impact of the News of the World phone-hacking scandal.
In the three months to 31 December the company incurred $56m (£35.7m) in costs relating to phone-hacking – bringing the total figure to more than $340m (£216.9m).
In January last year, actor Jude Law headed a list of 37 people from all walks of life who settled their cases – with the star's compensation of £130,000 the biggest of the 15 awards disclosed.
Other payouts have included £40,000 to former Labour deputy leader John Prescott, £50,000 to Law's ex-wife, designer Sadie Frost, and £30,000 to MP Chris Bryant.
A year ago, singer Charlotte Church and her parents, James and Maria, settled their action for £600,000, including £300,000 legal costs, just days before it was to go to trial.
Actress Sienna Miller was the first to publicly settle her privacy and harassment claim – for £100,000 – in June 2011.
While News Group Newspapers, publisher of the defunct News of the World, has apologised and made payments in many cases, it maintains that the action brought by Elle Macpherson's former adviser, Mary-Ellen Field, should be struck out on the basis it was "fantasy".
Field holds the group to blame for being dismissed from her job with Macpherson in November 2005 over 11 alleged instances of leaking information to the press.
In December, the case was adjourned to enable her lawyers to apply for a deposition from Macpherson.
Despite the hacking payouts News Corp was able to report a strong set of results yesterday with overall revenue up 5 per cent in the last quarter to $9.43bn (£6.02bn), while profits reached $2.38bn (£1.52bn).
Email pged@pressgazette.co.uk to point out mistakes, provide story tips or send in a letter for publication on our "Letters Page" blog