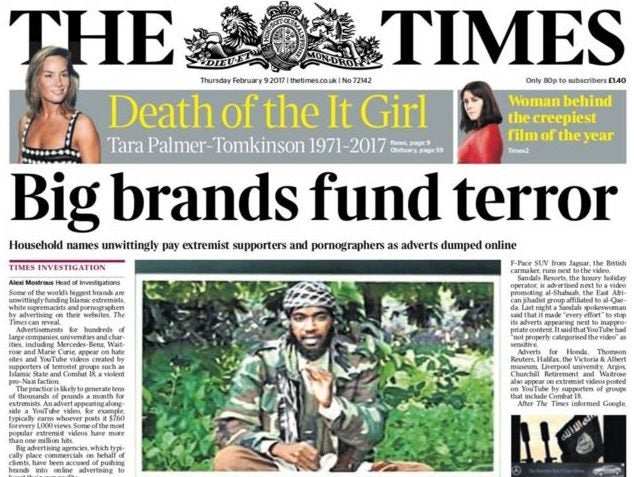 The Times has revealed how programmatic advertising has led to adverts from reputable brands appearing alongside extremist online content and porn.
The investigation comes as the newspaper industry fails to cash in on a booming online advertising industry.
Over the last year online advertising growth has levelled off for many established UK news publishers, despite growing traffic.
Advertising is instead being spent with Google, Facebook and with advertising agencies which increasingly make use of programmatic ad-buying methods.
Programmatic advertising is automated, using auction sites (or exchanges) to serve ads to specfic internet users based on their browsing history.
The Times found that an authorised Nissan dealer's adverts appeared on the official Youtube page of the far right English Defence League, Argos appeared on sexually explicit Youtube videos and advert for Marie Curie appeard over a video fora  racist song posted by Combat 18.
The Times also warned that advertising agencies are exploiting the complexity of online advertising to exploit clients and make huge profits
The findings mirror those of The Guardian which found last year that when it bought its own online advertising space via the programmatic method as much as 70 per cent of the total spend went to agencies in between the publisher and the ad buyer.
Associate professor of media design at the New School David Carroll told The Times: "Oneof the problems with programmatic advertising is that ads don't know where they appear. That makes it extremely easy and lucractive for extremely partisan and fringe medio to succeed widely."
The Times investigations follows concerns which have been raised about fake news sites which pander to readers' prejudices and also make money from automated advetising.
Last month the US creator of a fake news website called Christian Times Newspaper made thousands of dollars from a site which included a story which accused Hillary Clinton of vote rigging which was viewed six million times.
Internet advertising is estimated to have grown 14.4 per cent last year in the US last year to nearly £10bn. Advertising on national and regional newspapers and their websites both declined by 9.8 per cent and 12 per cent respectively to around £1bn each.
A spokesperson for Google said: "When it comes to content on YouTube, we remove flagged videos that break our rules and have a zero tolerance policy for content that incites violence or hatred.
"Some content on Youtube may be controversial and offensive, which is why we only allow advertising against videos which fall within our advertising guidelines.
"Our partners can also choose not to appear against content they consider inappropriate, and we have a responsibility to work with the industry to help them make informed choices."
Email pged@pressgazette.co.uk to point out mistakes, provide story tips or send in a letter for publication on our "Letters Page" blog