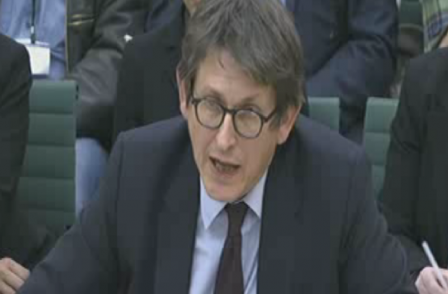 Guardian editor-in-chief Alan Rusbridger has called for "urgent action" to protect journalists' sources after last week's revelation that the Met Police had spied on the phone records of Sun political editor Tom Newton Dunn.
Rusbridger (pictured above being questioned by MPs) said that "confidentiality of sources is in peril" last night as he called on journalists to learn cryptology in order to protect their contacts.
And he said that in order to begin offering sources the right sort of protection, other newspapers and journalists need to start "learning the lessons of Snowden instead of just throwing rotten tomatoes at it".
"We as journalists tell our sources that we will always keep their identity private," he said.
"We make these promises to the people we deal with, and yet we've seen this in the last week in Britain, with the political editor of The Sun – the police wanted to know who he'd been talking to and they just went through his phone records. His source was blown. And they can do that any day they like to journalists, they could just track our mobile phones, work out where we were, see who else was in that location at the same time."
He added: "This whole thing that's supposedly sacred to journalists about confidentiality of sources is in peril. And that requires urgent action by journalists to make sure they understand the technologies that will enable them to communicate."
Speaking at the British Library's Benjamin Franklin House Annual Symposium, Rusbridger revealed that the Snowden story has cost the paper "well into seven figures".
But he bemoaned the fact that the story has not had the impact in the UK that it has had in the United States and elsewhere.
Asked why this might be, he said it had been suggested to him that British people like spies – picturing characters such as Alan Turing and James Bond – and also highlighted the fact that the Liberal Democrats, a party that would usually be more interested in the issue, are in Government.
He added: "This has been put to me, I don't volunteer it as my own opinion necessarily, but it was put to me by a visiting journalists… visiting editors, that this has all become toxically tied up with Leveson.
"The Guardian had done the phone-hacking story, it's not the most popular paper with some other mainstream titles, we weren't joining IPSO. 'Why should we help The Guardian? The Guardian's in trouble, we're not going to report it. It's a left-wing story of whinging civil liberties.'
"I think the BBC found it very difficult to report the story because it looked like a left-wing story. Actually in America it's a right-wing story…
"For whatever reason, the rest of the British press and the BBC didn't really pick it up and Parliament had no inclination to discuss it, so it never really got off the ground. But the global debate has been astonishing."
If the British press had taken the Snowden story seriously, he suggested, it would be better prepared to protect sources.
Asked by Press Gazette how sources, particularly from the police, can be reassured and made to feel like their confidentiality is maintained, he said: "The question about protection of sources is one that I think we are terribly complacent about.
"The fact the rest of the British press has not taken this story very seriously is particularly surprising because I don't think there's been enough debate among our own journalists about what it means.
"You can take a view about whether you like Edward Snowden or not, and it's obvious that some of our colleagues don't much like him. But the thing that he has revealed… I would have thought is something that we have a professional duty to take seriously."
Rusbridger added: "And that means teaching ourselves cryptology, That means every journalist in every newsroom should understand how to do end-to-end encryption of the kind that Snowden himself used – not when reporting the Moreton-in-Marsh flower show…
"But if you're reporting anything where you think somebody would want to know who your source was, that's our responsibility. And we should be talking about that.
"However much you don't like The Guardian or you don't like Edward Snowden or you think this is a rubbish story, there are things there which are or intense importance professionally.
"And so before we carry on offering confidentiality which we can't actually ensure – Tom Newton Dunn I've got great sympathy for – papers like The Sun ought to start learning the lessons of Snowden instead of just throwing rotten tomatoes at it."
Asked by Press Gazette whether he believes he or The Guardian may have been targeted by police in the same way as Newton Dunn, Rusbridger said: "I don't know. There is a police investigation into The Guardian. No one's yet come to see us about it. But they would obviously have the powers to be very intrusive if they wanted to."
Evan Harris, of Hacked Off, asked why Rusbridger was reluctant to press for a "legislative solution to your problem".
He said: "So for example with the access through RIPA to journalists' phone numbers, my instinct was to say: Right, let's have an amendment that gives the same provisions that appear in PACE for judicial or other oversight for journalistic and indeed legal material for the issue about the adverse judgment in the Miranda case where a judge says journalists don't have a special position.
"Why not pass a legislation to say that would be absolute that government must have regard for the role of the media in a democratic society before acting – and, indeed, Leveson offered that…
"There's no way that The Sun, whose political editor it was [who was targeted], could without hypocrisy argue for clamping down on getting phone numbers without permission – because they've been doing it a lot… So would you consider changing your position of just putting it out there and not arguing for the legislation needed?"
Rusbridger said: "I was always told that journalists shouldn't argue for special priviliges – that we accept the same rules as everyone else. I think we ought to be able to have a public interest defence to everything we do."
Email pged@pressgazette.co.uk to point out mistakes, provide story tips or send in a letter for publication on our "Letters Page" blog